Tim's motorbike broke down for good some time ago so she's been without transportation since working at L&S. This morning, the first thing I did was check my email and was happy to see one from her — complete with photos of her new motorbike.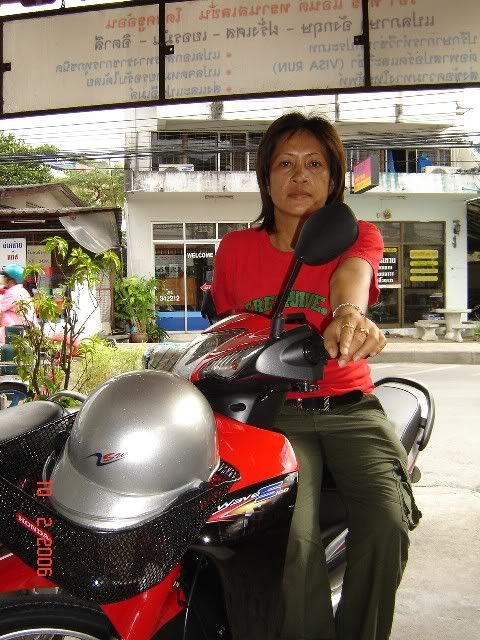 It's a red Honda Dream; I called her just now and found out that Jum had taken her to Phuket Town today (Thailand is 14 hours ahead of New Mexico) so she could buy one ("I look, look, look, no have black so buy red motorbike — sexy like me," she told me with obvious delight in her voice). In fact, it was the happiest I'd heard her sound in quite some time (she's been sick off-and-on for a while) and was just bubbling with excitement. I told her I was very happy for her and that I really liked seeing the photos although she should have smiled ("Khun yin suai jang" ["you have a pretty smile"], I said — causing more squeals of laughter as she loves it when I speak Thai).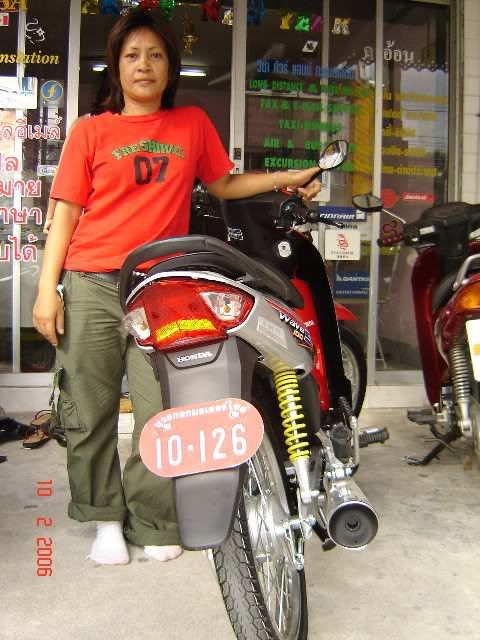 Tim is very happy working at L&S, even though she works very long hours and doesn't often get to leave. Lek is paying her 5000 baht per month (about $128) which seems extremely low but is close to an average wage in Thailand. She also gets a place to stay for free as well as complimentary meals and beverages in the restaurant (which she cooks and serves herself). I'm a little unclear whether she will keep her apartment over the mountain ("you want stay Kathu, we stay Kathu; you want stay Kamala, we stay Kamala — up to you," she says) or whether I'd have to pay full-board at L&S should we stay there. Tim understands that I'm not made of money ("you come back Thailand, I take care of you," she tells me) and that I would rather stay elsewhere. Perhaps the next time I call, I'll ask to speak to Lek or Silvio and see if they can give me a good rate for a couple of weeks. Once I get there, we can go out looking for a less expensive place (I found a few nice houses online that rent for under $400 per month) with good neighbors.

Another reason Tim was so happy (other than the fact she's happy anytime we talk on the phone) was that Lek had hired Jum to bartend at L&S. So now her best friend ("sister") is working with her as well, and staying in her room with her, so she has someone else to talk to and doesn't feel lonely. (She called me earlier this week at noon, which was 2a.m. Thailand time, just crying because she was so lonely and had nobody to talk to. She was laughing and in a very good mood by the time we hung up.) Tonight, when I called, her other good friend and roommate in Kathu — Laa — was at L&S with Tim and Jum; they were all having a party with Lek and Silvio, celebrating the new jobs and motorbike as well as the new car Lek and Silvio purchased today. The little parking lot there must be getting full!

Silvio returns to Italy next week, without Lek. Tim's happy about that — "I in charge of L&S with Lek," she said. He wasn't certain when he'll return, so I might not see him at all this summer. I had hoped to show him a copy of my last visit's DVD when I returned but I suppose I'll just mail him a copy instead (he was very interested in all of the filming, as well as my photos, I did when I was there). In fact, finishing editing this DVD has held up souvenir packages I've been planning to send to some friends and family members. I made some progress on this yesterday, but then my computer crashed (again) and I lost all that work. Oh, well — mai pen rai.

My dad had made a suggestion a few weeks back to buy Tim some Southwestern jewelry for Valentine's Day. At the time, I'd dismissed the idea under the assumption that this wasn't a holiday the Thai people knew about. Further research revealed, however, that at least in areas like Bangkok and Phuket where many Westerners have Thai girlfriends it has become tradition to send flowers on this day. I then discovered a number of Thailand-based online florists so yesterday I placed an order for a bouquet of roses and an "I Miss You" teddy bear. They'll translate the note into Thai and deliver everything to Tim at L&S on Valentine's Day ("you work all day Tuesday?" I asked her this morning, to make sure she'd be there). (There was one company that included a "free" emailed photo of the recipient receiving the flowers, but the same bouquet cost almost $100 more from them...) I think Tim will be pleased and I won't have to worry about a package getting lost in the mail (the Thai postal service isn't very secure).

I still like the idea of giving her some Southwestern jewelry — silver with some turquoise — but I'd like to give her that in person. Hopefully, I can get down to Old Town sometime in the next couple of months; perhaps I'll wait until Keith comes out here so he can help me pick out something nice.

Speaking of the Thai postal system, I have a box of "souvenirs" all ready to send to Tim — an Albuquerque Tricentennial t-shirt, several other New Mexico shirts, a couple of ball caps from the Isotopes and the Scorpions (she loves logo t-shirts and caps and can be a real tom-boy at times), as well as a lot of photos, etc. The problem is that most packages coming from Western countries seem to be rifled for valuables during the long truck ride from Bangkok down to the southern provinces. Registered mail sometimes gets through and many expats recommend using a service like FedEx or DHL. I checked out FedEx last night and they wanted $104 for their "International Economy" service. I think I'll stop by DHL today to see what rates they'll quote me. If it's that expensive, either I'll take my chances with Registered (I'll insure the package) or just pack the items in my suitcase. But I think Tim would really get a thrill out of receiving a package from me...

I had been preparing myself for the "sticker-shock" of a $500 or $1000 cellular bill this month, given how often Tim and I call each other. But I was pleased today to find out I only have to pay Cingular $217, and that includes the $80-per-month Blackberry all-inclusive package. To compare, last month's bill was $247 — I wasn't using the phone as much but I did make several calls from Thailand to the U.S. I'll be interested when the paper bill arrives in the mail to check out the per-call charges. (I also have a couple of Thai phone cards which cost me 2.8 cents per minute to call Tim's cellphone, but the connection is usually so poor that I don't like to use them...) When I return to Thailand, I think I'll try buying a local SIM card for my calls back to the States (my phone is "unlocked" so I can use them); it will be a lot less expensive.