We returned from our whirlwind trip up north early Tuesday morning. Tim and I have both been suffering from colds since so I haven't felt much like writing. I'll see how this entry goes...

Thanks to a connection of Opat's, we managed a significant discount on the bus tickets from Phuket to Bangkok. The four of us (my wife and myself, Nadia, and Opat) took up the rear third of the bus and actually managed to get some sleep on the overnight journey (we left Thursday evening and arrived in the capital at six Friday morning). Upon arrival at the Southern Bus Terminal (which is actually on Bangkok's west side), we took a taxi to Opat's wife's home in Minburi (way on the eastern edges of the city) where we were able to get cleaned up a bit and slept some more until it was time for Nadia, Tim and I to check into our hotel.

We actually stayed at a very nice youth hostel right at the entrance to Sukhumvit Soi 25, a short walk from the Asoke BTS (Sky Train) station. It was brand-spanking new, having only opened this past June — our room was spotless — and featured a large enclosed courtyard with seating for an excellent Italian restaurant (Pizza Aroy) and a number of Thai food vendors. Due to our last-minute booking, we ended up with a (very large) room containing three single beds but at least had an en suite bathroom with hot shower plus cable television, huge refrigerator, and ice-cold air conditioning. I was very impressed and the 960-baht-per-night rate can't be beat for the location and facilities. Ironically, the same company owns the Phuket Youth Hostel located about 1km from our home in Chalong.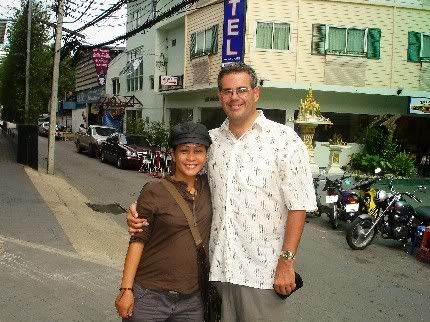 Tim and I outside of the Bangkok Centre Sukhumvit 25 Hostel.

After a much-needed shower, we headed out again and met Opat for the first of our planned car-shopping excursions. Friday afternoon saw us visiting several Thai (no English spoken here) used-car dealerships. It was very frustrating for me as I couldn't understand any of the negotiations but Tim seemed very adept at talking to the salesmen. By this time, she knew what I was looking for as well as my budgets for down and monthly payments. We found several likely candidates including several Hondas (three-doors) and Toyotas (four-doors). All of the dealers assured my wife that financing wouldn't be a problem even though we were looking in Bangkok while living in Phuket. I wasn't so sure...


Tim wheeling-and-dealing at yet another Bangkok used car dealership.

We put in several rather exhausting hours checking out used cars (mostly in the Minburi and Bang Ka-Pi districts on Bangkok's east side) before retiring back to our hostel. I managed to get (English) Mark (from the TEFL course) on the phone and he agreed to meet us on Sukhumvit. The plan was to check out Soi Cowboy for a few drinks and see how it compares to Bangla Road. Once Mark arrived however, somehow he talked everyone else into going to Khao San Road as his favorite watering holes are over there. So, we took our fifth taxi of the day to my displeasure (one of the reasons I picked Sukhumvit was for the easy access to both the Sky Train and the subway lines as I wanted to save on transportation costs). Anyway, we did have a good time on Khao San checking out the backpacker crowd and street performers. Nadia did a bit of shopping and we all danced up a storm at a really nice Irish bar. Mark disappeared after a while (one of his bad habits — he'll take us out somewhere and then meet a girl, forgetting all about the rest of us...). We took a tuk tuk back to the hotel, Opat continued back to his home, and we turned in around one a.m.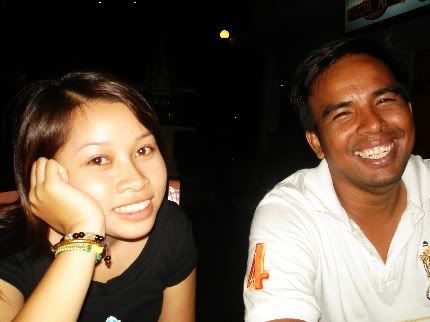 Nadia and Opat enjoying a laugh on Khao San Road.


Tim had a good time trying on hats.


Some of Khao San's more colorful street performers.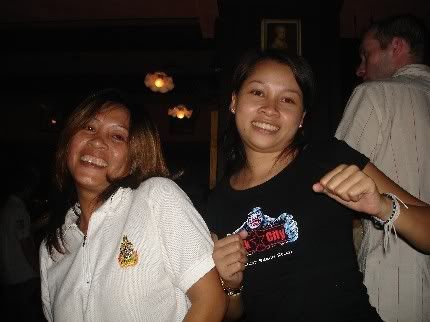 Enjoying ourselves at the Irish bar.

A rather late start on Saturday decreased our car-shopping time as we planned to visit Adrian, Chris, and Michael in Sri Racha — a two-hour journey from Bangkok — that afternoon. I had found a company on the Internet, Expatriate Motors, which specializes in selling cars to expats and are experts in helping them properly register and insure the cars. We took a taxi (by this time, we had a regular driver who gave us honest rates for chauffeuring us around) over there (it's on Sukhumvit Soi 101). I finally got some actual (based on fact rather than heresay) answers to my questions. The bottom line is that although sellers will try to convince you otherwise, no bank will finance the purchase of a car to a foreigner who doesn't have a work permit and at least six months of proof-of-employment in Thailand. In order to register the car in my wife's name, she would need six months of pay stubs (and most Thai employers, unless they are a large firm, simply don't put employees on the books at all). So that brought our plans of financing a car to a screeching hault. The only way I'll be able to purchase a car here will be to pay cash in full which will take a little longer to move money from my American accounts (I can only withdraw 10,000 baht per day from the ATM and can't do a SWIFT transfer without actually visiting a branch of my home bank).

Back to the hostel for lunch (we became big fans of the attached Italian restaurant — Nadia and I shared a HUGE pepperoni pizza one night) and showers before piling into our regular taxi for the long drive out to Sri Racha (located in Chonburi). Michael met us at the Robinson's in the center of town and then took us on a walking tour of the very large Assumption College campus. Chris and Adrian met up with us there and then showed us their apartments (provided by the school). They really put on the hard sell trying to get me to come up and join them there; Assumption will be hiring more English teachers at the beginning of the next term (March) and my friends promise to put in recommendations for me. Now would be the time to start the process with the Ministry of Education's current emphasis on background checks, etc.

The guys decided to take us to a late dinner in Pattaya so we piled into our taxi, plus a tuk-tuk, for the hour trip to that city. We managed to get lost before we located the favored restaurant, an English pub called The Pig & Whistle on Soi 9. I had an excellent ham sandwich on homemade bread with Bradford pickles (the first time I'd ever tried this wonderful English treat). We then walked to The Pick Up Bar for a couple of hours of drinks and conversation (and a bit of dancing by Tim, Nadia, and Michael's girlfriend Oh).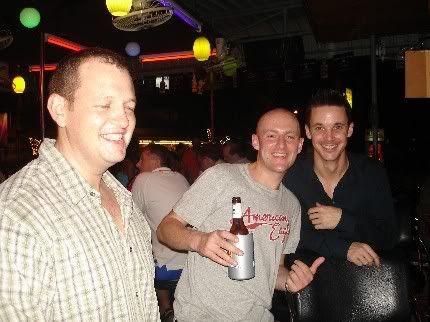 Good friends Michael, Chris, and Adrian.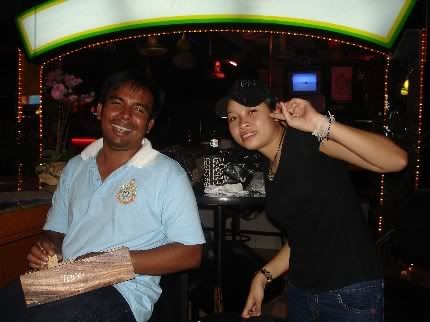 Opat and Nadia, and a Jenga game, at Pick Up Bar in Pattaya.

Leaving our friends in Pattaya around 12:30, we took the long drive back to Bangkok. By now, our driver seemed like an old friend and the Thais in the car (everyone but myself) had a great time chatting up a storm while I was left out of the loop. Sometimes I can feel really lonely despite being surround by people so it seemed like an even longer ride than usual.

Anyway, arriving back to our hotel in the wee hours of the morning my wife suddenly got her second wind. First we ate at a street-side stall (including some very nice soy sauce-marinated beef strips for me — bringing back a flood of memories of the birthday dinners Mom used to prepare) before taking a tuk-tuk to Bobae, an all-night clothing market. It was pretty amazing wandering among shirt and jeans stalls amidst huge crowds of Thais (I seemed to be the only farang around) at 4:30 in the morning.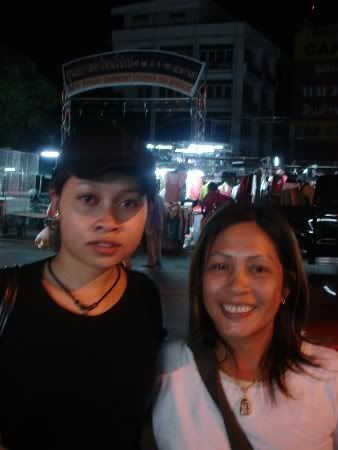 Nadia and Tim at Bobae Night Market

Finally back to the hostel around six on Sunday morning, we spent much of the day in our beds. We thought about taking the bus back to Phuket that afternoon but Tim decided she wanted to visit our granddaughter up in Bang Pa-In. That area, along with Ayutthaya and many other places in Thailand have been hard hit by the floods this year. In fact, the lower level of Miao and Ant's home has been under water until very recently. We managed to get lost a few times on the drive up and didn't arrive until almost 10 in the evening. We did spent a couple of nice hours with Ant's side of the family and I played with Noo-Dang most of that time. Our departure was delayed a bit as the State Police and Royal Guard blocked off the road for the imminent arrival of one of the princesses to the nearby Bang Pa-In Palace. When they finally drove by (one of the cars was a Mercedes SLK Kompressor just like my Dad used to own) they did so at very high speed and I was warned not to take photos. Our taxi driver treated us to a late meal at a roadside stand somewhere in the middle of nowhere; he seemed genuinely sorry that he wouldn't see us again on this trip...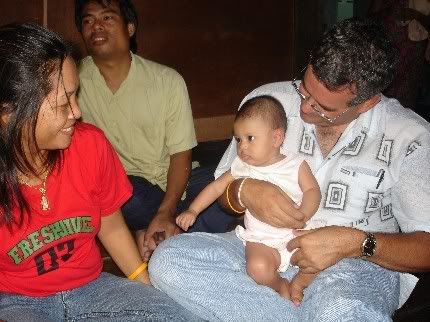 My wife, our taxi driver, granddaughter Noo-Dang, and your's truly.


Noo-Dang really seems to love her grandpapa.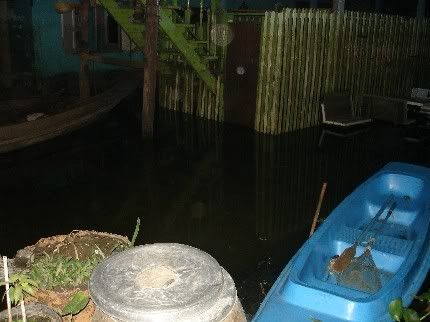 Outside of Miao's home the water level is still very high. Note the high-water mark towards the top of the fence.

Since we couldn't get on a bus back to Phuket until Monday afternoon, we spent much of the day just hanging out near the hostel. We checked out and then had a nice lunch at Pizza Aroy before taking the Sky Train (finally!) over to Central World, a megamall in the heart of Bangkok's shopping district. Our main goal there was to find an outlet of Thai Ticketmaster so I could pick up our Eric Clapton concert tickets (these are pretty cool — like plastic debit cards — and came with free EC greatest hits CD's and drink coupons) but we also did a bit of browsing in a few high-end stores. Tim wanted some new shoes but was shocked at the prices; we had fun looking, however. We did come across "Asia's Biggest Christmas Tree" and I was pleased to see plenty of holiday decorations. We decided to venture over to the huge Big C across the street; in trying to get back to street level from the walkway beneath the Sky Train tracks we ducked inside of Grayson Department Store where we found yet another Christmas tree.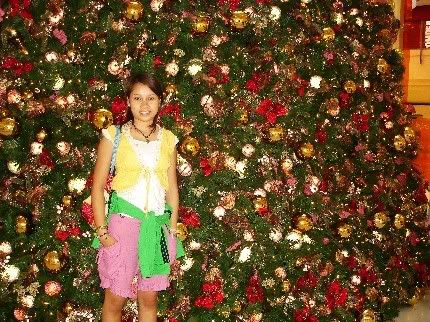 Nadia standing in front of the Central World Christmas tree (the photo of Tim didn't come out that great...).


Another try at photographing Tim in front of a Christmas tree, this time at Grayson's.

A few doors down from Big C, we explored a large marketplace full of Thai handicrafts (more of an OTOP style of shopping area) but didn't buy anything. We then encountered a large grouping of streetside vendor stalls and Tim happily went around buying good things to eat. We spent a while inside Big C; Tim purchased two pairs of walking shoes and we got a few munchies for the long bus ride home. Finally, we took a tuk-tuk back to the hostel where we retrieved our bags (stored for free in their left luggage office) and got a taxi to take us to the Southern Bus Terminal (after some difficulty; no less than four drivers turned us down because they didn't "have time" to drive us that far!). We arrived at the chaotic bus terminal (I truly hate it — there are no sidewalks and you have to squeeze between the numerous busses while trying to get to the ticket office and waiting area). The earliest bus leaving was at 6:30 (just a two-hour wait from the time we arrived) but it was the most uncomfortable one I've yet ridden on in this country (we were packed in like sardines and the chairs definitely weren't made for Western-sized people!).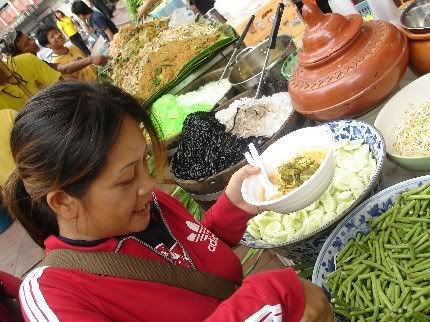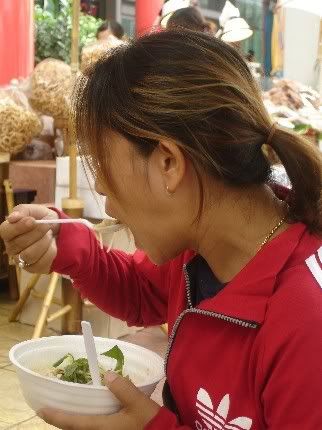 Tim at the street food market across from Central World mall.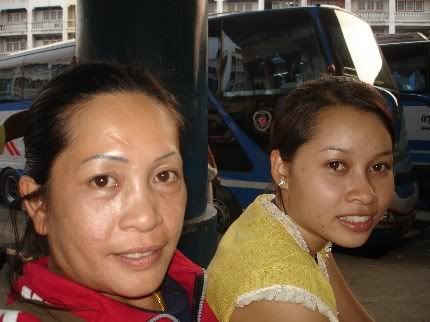 Tim and Nadia waiting for our bus back to Phuket.

We got back home early Tuesday morning after a sleepless night. My knee was badly bruised from being jammed under the seat in front of mine for 10 hours as the Thai man sitting in it refused to adjust it for the farang. All I could think about for the last several hours on the bus was getting home and being able to take a shower before sleeping in my air-conditioned room all day. However, upon arriving home we found that one of Tim's friends who had checked our mail had locked the master bedroom door. There's no key (and I still haven't been given a reason why they should have opened that door in the first place) but luckily we managed to get our landlord on the phone at the early hour and he sent someone over to replace the door knob! My "wonderful luck" continued when we discovered that there was little to no water pressure due to some work on the main pipes so I couldn't even take a shower. Add insult to injury, I sat down at my desk chair to check email and the chair promptly broke sending me to the floor (the second one to do that in as many months, due more because of bad welding than because of my weight...).

Anyway, it is nice to be back home although we have had sore throats and the sniffles the past few days. It's either from the pollution in Bangkok or the arctic temperatures of the taxis and busses compared with the roasting temperatures outside. Although we didn't accomplish our goal of buying a car (nor was I able to get to the U.S. Embassy — it was closed for the Thanksgiving holiday) I'm still happy we made the trip.

For now, the focus seems to have shifted to plans for my birthday, coming up on Sunday. I'd told Tim and Nadia I didn't want a big deal made of it, that we should have a combination party when Nadia's birthday comes up on the 19th, but the girls seem to be plotting some sort of shindig (with plenty of giggling going on lately!). Stay tuned...