Sorry about the slight delay in posting these. I do have some good news, however: Later this week, I'm having a broadband service installed which provides the fastest Internet speeds possible on Phuket (this side of 3G, anyway). Once that's connected, I'll no longer have a real excuse for not (finally) getting caught up with uploading photos to Photobucket and Webshots.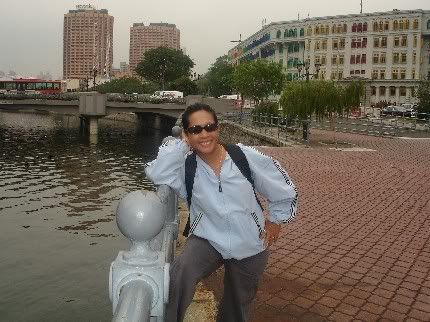 Tim standing on Clarke Quay with the Hill Street Building in the background. Standing on the site of Singapore's first jail and distinctive for it's Italian-influenced facade and multicolored windows, the building currently houses the Ministry of Information and Arts. Constructed in 1934, it served as the police headquarters since 1980.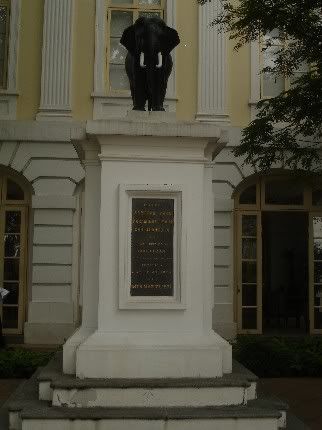 In March 1871, His Majesty Somdech Phra Paramindr Maha Chulalongkorn (Rama V) landed at Singapore marking the first foreign country ever visited by a Siamese monarch. This monument commemorates that event, standing outside of the old Parliament House (which now contains an arts center and, ironically, a Thai restaurant).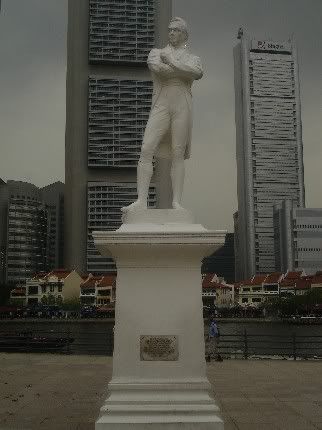 This statue on North Boat Quay marks the spot where Sir Stamford Raffles first set foot at Singapore on 29 January 1819.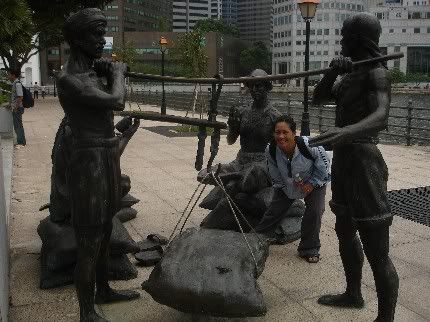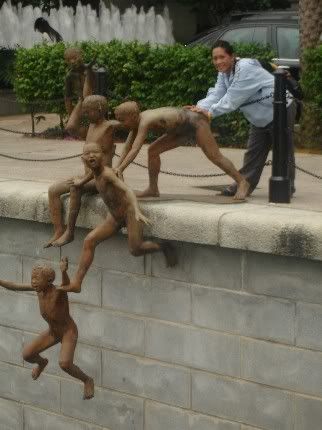 Tim poses amongst some more public art alongside the Singapore River.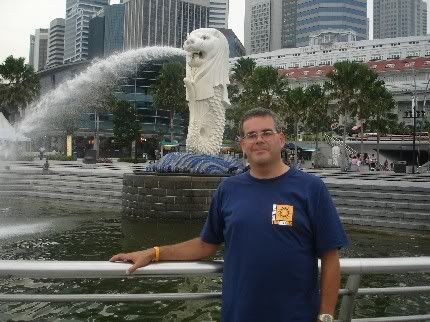 You'res truly posing in front of the Merlion, symbol of Singapore, at the head of the river. The neighboring Fullerton Hotel is the former General Post Office which replaced Fort Fullerton in 1925.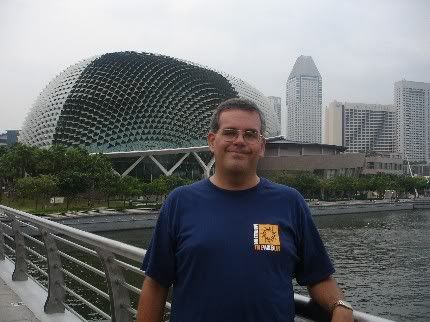 The Esplanade — Theatres On The Bay houses a large theatre and concert hall for all sorts of cultural events. I think it looks like a giant durian.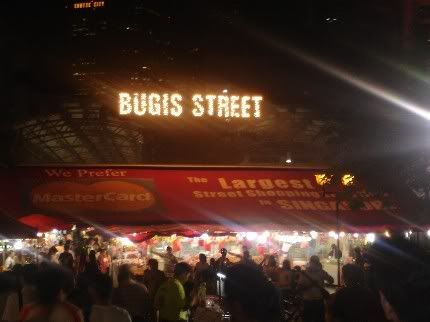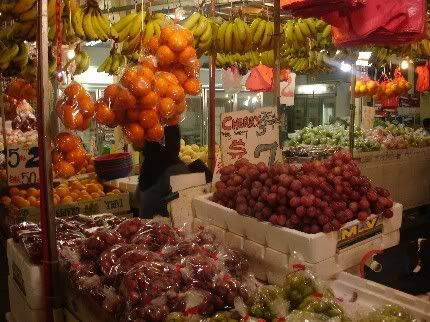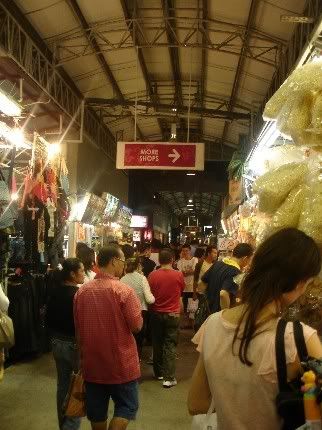 Bugis Street, a covered night market on Victoria Street south of the Little India and Kampong Glam areas, reminded me somewhat of Bangkok's Chatuchak Weekend Market on a much smaller scale — plenty of clothing, watches, and food to be had for (relatively) low prices. It was just a ten-minute or so walk from our hotel (once we got our sense of direction) from our hotel and close to an MRT (subway) station so we spent quite a bit of time here.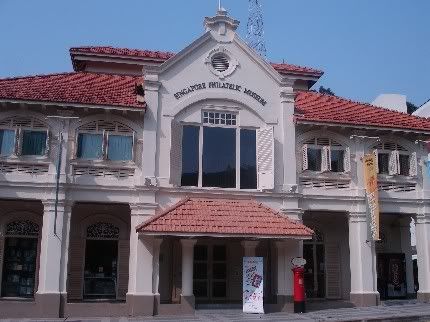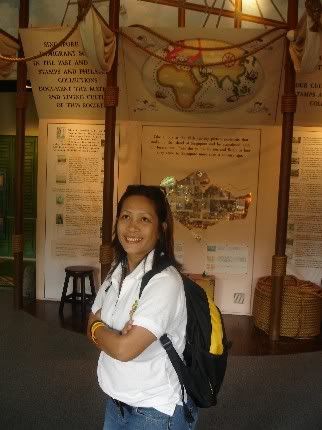 I made a special point of visiting the Singapore Philatelic Museum on the outskirts of Fort Canning Park. I found it to be the best stamp museum I've ever seen (although I never did get to the Royal Philatelic Museum in London) with plenty of really nice displays; the Malay Postal History section is particularly strong. I really had to contain myself from buying anything in the excellent gift shop (in retrospect I wish I had at least bought a postcard to send to myself, receiving the special SPM postmark) but I felt Tim was worried about how expensive the city was at that point. Indeed, the entire trip I had to resist buying souvenirs which will come as a huge shock to my family as they know I tend to return from even the shortest of trips weighted down with new t-shirts, postcards, and other assorted knick-knacks.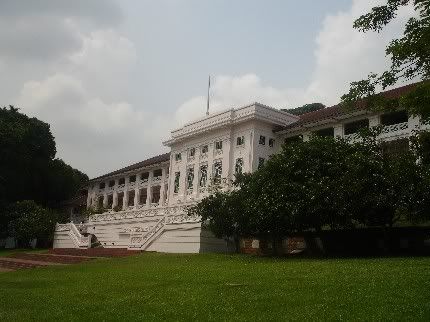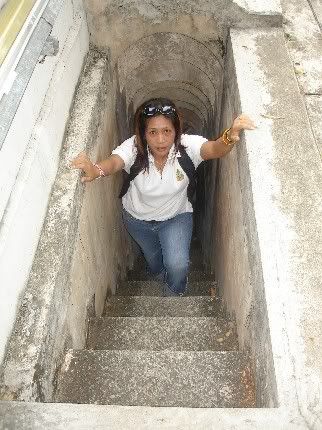 We spent much of the first half of our last full day in Singapore walking around Fort Canning Park, center of the 14th century Malay kingdom of Temasek and site of Singapore's first Christian cemetery. In the early 19th century, a fort was built on the summit of the hill here and an bombproof bunker serving as headquarters of the Malay Peninsular military command was constructed underneath in the late 1930's. It was here that the British surrendered to the Japanese forces in February 1942. The entire park is filled with historic sites including the above Fort Canning Centre, built in 1926 as British army barracks and now used as performance space for local arts companies and as a culinary school. Tim is seen climbing to the roof of Fort Gate, part of the few remaining structures of the original fort constructed in 1861.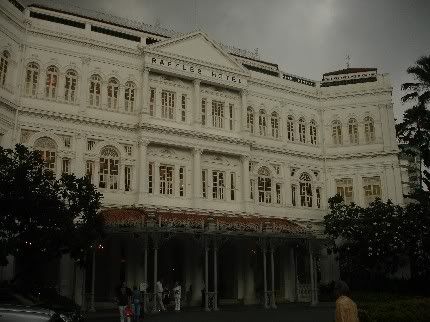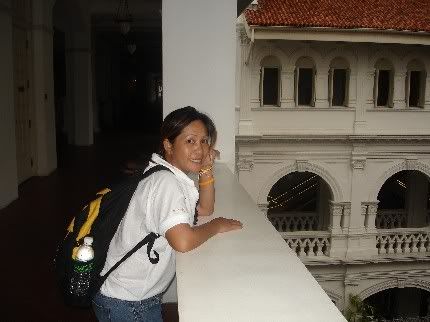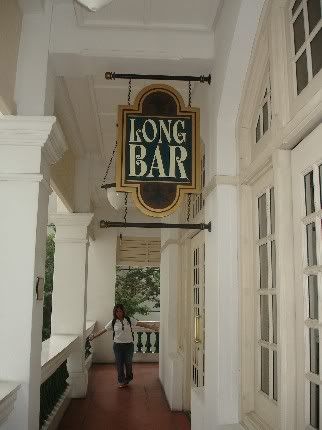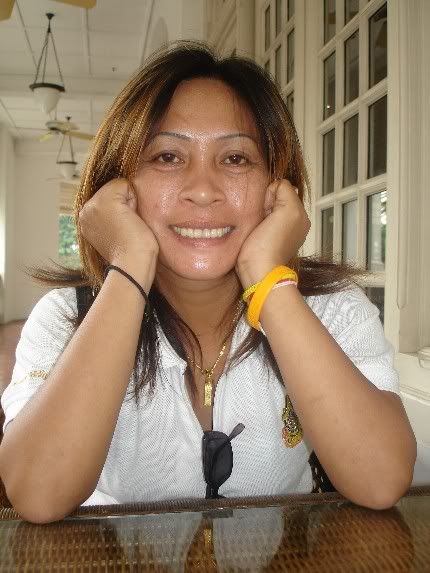 Our long day of sightseeing ended with a visit to the historic Raffles Hotel, originally opened in 1886. I made a pilgrimage to the Writers Bar which had been frequented by such wordsmiths as Joseph Conrad, Somerset Maugham, and Noel Coward. Unfortunately, the Long Bar — where the Singapore Sling was created in 1915 — was closed. During our visit, it began to pour (the skies had been threatening rain since our arrival in Singapore) so we more or less were trapped inside the hotel for a couple of hours which allowed me to check out the very impressive museum on the third floor and purchase a few (rather expensive) items in the gift shop, including a nice polo shirt and a souvenir Singapore Sling glass (which comes with the recipe so we can make our own). We actually thought about eating at the Raffles Grill, probably Southeast Asia's most prestigious, exquisite, and upmarket restaurants looking out on the Palm Court but in the end the rain stopped and we walked the final two blocks to our own little hotel.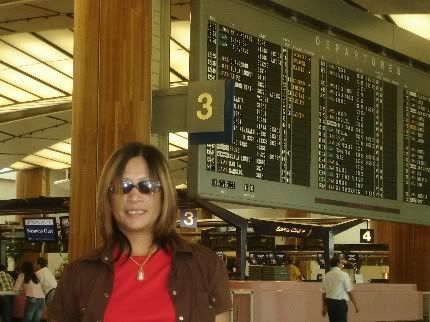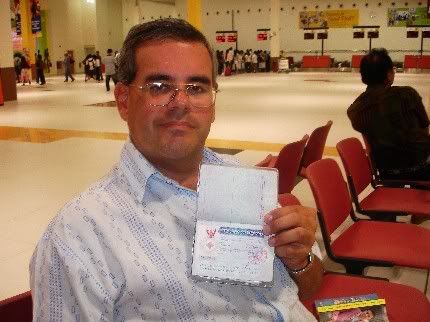 We checked out of the Oxford at noon on Thursday. Since Tim was a little tired from our previous two days of sightseeing we took a taxi (the fare in Singapore are VERY reasonable) back to Changi Airport and settled in for a long wait — our flight wasn't scheduled until 9:30 in the evening. We spent most of the time in the impressive Terminal One, checking out some of the shops and eating way too much food (including desserts at Swenson's). In the early evening, we took the free bus over to the barebones Budget Terminal and finally made our flight (although our boarding passes listed the wrong gate and we almost went to Krabi!). Upon arriving back in Phuket we took a taxi to our home, having to pass all of the mafia limo guys at the airport in order to get to the metered taxi stand (a new addition to Phuket as they are trying to eliminate the price-gouging of tourists). However, we had a problem when I paid the driver when he dropped us off. He tried to charge me an extra 200 baht in addition to the 320 showing on the meter. He kept insisting I pay his "service fee" and I kept insisting that I wasn't some dumb tourist who was willing to be fleeced. It wasn't until I threated to call the Tourist Police — a special English-speaking unit who work at solving such "misunderstandings" — that the driver backed down. It left a sour taste in my mouth; "Welcome to Thailand," indeed.
My next photo post will be of some of the pics I took at the various local festivals last week...