A few days ago, my wife and I spent several hours with Alexander at Surin Beach, just west of the twin Muslim communities of Chergtelay and Bang Tao. We'd actually wanted to visit Bang Tao Beach but there are so many resorts and restaurants lining the road that we couldn't find a way to get through to the beach!


Click on the maps for a more detailed view

We used to come here quite often with various friends last fall but hadn't visited in quite some time. There are quite a few nice restaurants lining the beach — more farang-oriented huts at the northern end and more Thai-style stands towards the south. It's also one of the few beaches on Phuket where the price of a lounge chair with umbrella is still only 50 baht (it's 100 baht per chair virtually everywhere else); how long that will last is anybody's guess.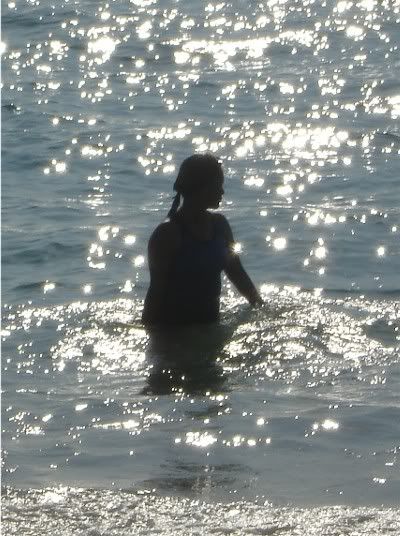 During this particular day, there were some very large waves (which Alex and I both enjoy quite a bit) as well as a strong outward tidal pull (which tires you out quickly as you try not to get sucked out towards India). Alex loves diving headfirst into the approaching waves and then being rolled back onto the beach where he waits for the suction to pull him back into the water thus signalling another approaching wave. It does tend to frighten others when they first see him rolling head over foot in the surf but they soon see how much fun he's having (and how diligent Mum & Dad are at preventing him from being swept out very far).

We stayed until almost six before making the long journey back to Chalong (made even longer by cutting across the island to the Heroines Monument Circle, then south on Thepkassatri Road to the Bypass Road before finally picking up Chaofa West down to Chalong). For a then-unexplained reason, my wife didn't feel like driving the more direct (and rather shorter route) south along the coast through Kamala and Patong where we can either continue south through Karon and Kata before veering east or across the mountain into Kathu and thence to the Dara Samut Intersection. When we finally arrived home, Tim revealed that she'd wanted to eat dinner at the Super Cheap Prawn Barbecue but couldn't find the proper turnoff from Thepkassatri (she took me there once, last May or June).



Alexander looks more like a little gangster in this photo than someone ready to go swimming.