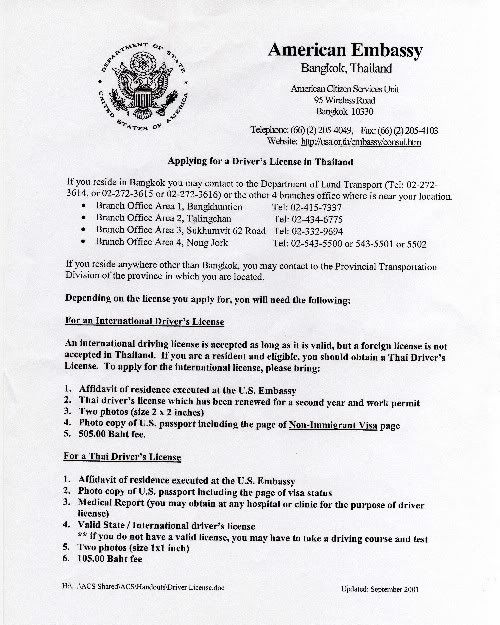 Franz and I are heading over to the Provincial Transport Office tomorrow in order to obtain our Thai driver's licenses. Although most residents don't even bother (you can drive here using your home country license AND an International Driving Permit) but it does have it's advantages including being recognized as a form of credit and a proof of residency (allowing you to pay Thai admission prices rather than the two-tiered rates).

If you do have an IDP, you can basically just swap it out for the Thai license without having to take the driving course or test (administered in the Thai language). I believe we will have to take a vision test, however.

You need to take several things with you to the transport office: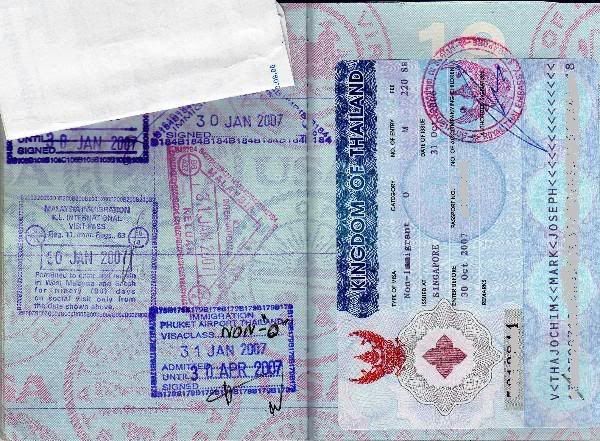 1) Passport with valid Non-Immigrant visa (Tourist visas don't qualify). The list from the American Citizens Services Unit of the U.S. Embassy says to take one photocopy of both your details page and the page with your current visa; past experience with Thai bureaucracy suggests it's a good idea to take two copies of each.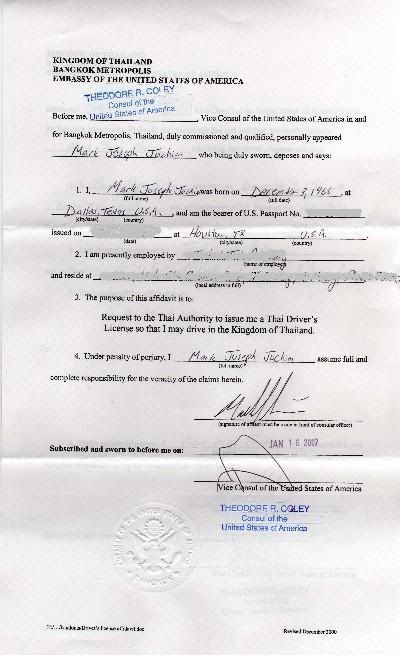 2) Proof Of Residency. Previously, you could obtain this at any local Immigration Office presenting your rental lease or house registration (tabien baan) book but they now require you to obtain a notarized affadavit from your home embassy or consulate in Bangkok. This is one of the many changes in immigration policies instituted around the time of the September coup. My form cost 1,140 baht (approx. USD $30) at the U.S. Embassy last month.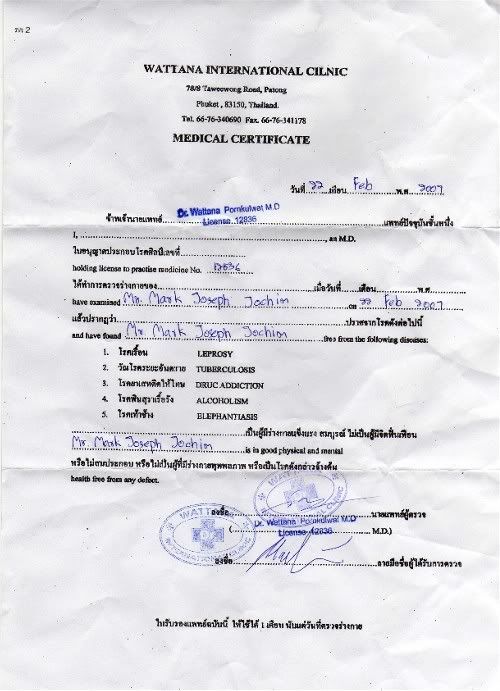 3) Medical Certificate. You can obtain this at any local clinic or hospital (just don't use one of the big international hospitals). It's sort of an expat joke that this is the easiest obtainable official Thai document —
"Are you breathing?"
"Yes."
"Congratulations. You passed."
I obtained my medical report from the Wattana Clinic in Patong (on one of the small sois leading off the beach road) today. We'd had a bit of difficulty actually finding a clinic that was open — most of them on Phuket don't have daytime hours, only operating between five in the afternoon and around midnight. I told the receptionist that I needed a health report for a driver's license and she retrieved the proper form. She took my passport and gave me a number. After a two- or three-minute wait, the doctor took me into a small examination room. She touched the stethoscope to my heart and to my belly button and asked how long it had been since my last doctor visit. I honestly don't know but it was at least ten years ago. I told her "three."
"Nothing has happened in the last three years?"
"No."
"Okay. Sign here."
She then had me follow her back out to the cashier where I paid 100 baht (USD $2.95). The cashier stamped the form and I was on my way five minutes after entering the clinic.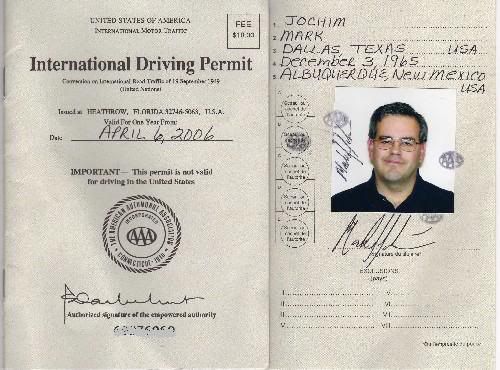 4) International Driving Permit
. These are good-for-one year translations of your regular license issued in your home country by the national automobile association or similar agency. There are many people who advertise international driver's
licenses
but these are a scam that have no validity (although I doubt if most Thai traffic police would know the difference — I've heard stories of foreigners presenting school ID's or even library cards, passing them off as licenses). The U.S. Embassy list mentions the state license but I don't think you can swap this for the Thai license without the IDP.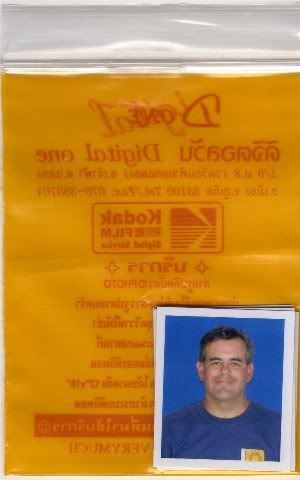 5) Two 1-inch by 1-inch photos
. I obtained mine at the Kodak Express in Chalong Circle — six for 80 baht.
The fees are 105 baht for a car license and 55 baht for a motorcycle license (I think I might get one of each). Oh yes, if you want the license laminated (and who wouldn't?) it's an extra 10 baht.