With our lease expiring in early April, Tim and I have begun the search for a new home. She never really liked our current location in Chalong and our recent water woes has led her into finally convincing me to relocate. There are two other main considerations:
My wife has long wanted to operate a small restaurant;


Alexander doesn't have any friends to play with (nor is there much yard space to play in around our present house)
Because of consideration number one, we have been focusing our search to
shophouses
. In such a building, Tim could have her dream restaurant on the ground floor which would save us having to rent a separate location for the business — in the process cutting down on having to hire security and also on commute time since we would be living upstairs. Of course, this means that we would never be able to completely have a holiday away from the restaurant... Most shophouses on Phuket are three storeys tall, although the second level usually consists of a half-floor overlooking the ground floor.
We haven't yet looked at any "traditional" houses but I want to show Tim a few before making any decisions. My requirements for these would be
a completely detached house (our current home is "semi-detached" meaning we share a long wall with one of our neighbors — there's a small sliver of land and a wall separating us from the other neighbor)
at least a small yard on at least three sides of the house, complete with grass (a tropical garden would be the ideal)
must have a large auxiliary water tank already installed in addition to a reliable water source
I really don't have any preferences for location on the island although, for some reason I'm not sure of, I have some sort of prejudice against living in
Kathu
.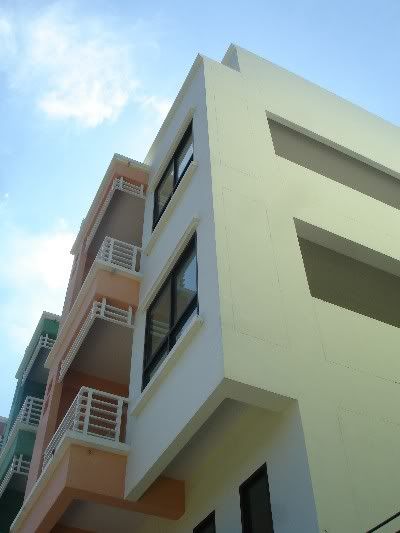 Ironically, our favorite so far is a shophouse on the northern edge of Kathu, near the large open-air market. It's a four-storey building with fairly large floors. The ground floor is open with a bathroom to one side and a kitchen/washing area at the rear. There are balconies along the back on the second, third, and fourth floors and along the front on the third and fourth. The second storey indeed has an overlook to the main floor below but there's actually enough floor space to house an office or sitting area between the stairs and the overlook (the railing has yet to be installed). The third storey is a vast open space with large restroom near the rear balcony; it would be an awesome living room and could even be partitioned into two (or even three) rooms. There's a small bedroom at the rear of the fourth floor and the master bedroom occupies the front half with enough room in between for another living area.
There isn't a whole lot of development (yet) in this area of Phuket and both the front and rear of the house offers wonderful views of the surrounding mountains. It's on a wide road; turn left and it's a fast way over to
Phuket City
, bypassing
a lot
of traffic while you can turn right to get back into Kathu and have easy access over "Death Hill" into
Patong
. The price of 30,000 baht per month (approx. USD $880) does seem a bit steep but is still doable (I've seen a few three-storey shophouses advertised for 10,000 per month; we haven't yet looked at any of those).
Anyway, here are a few photos of our current favorite. Click on the thumbnails to see a larger view.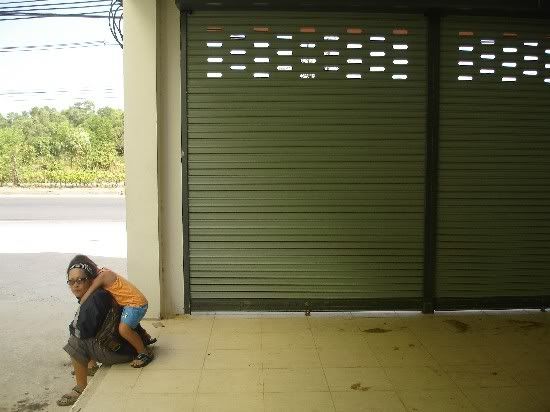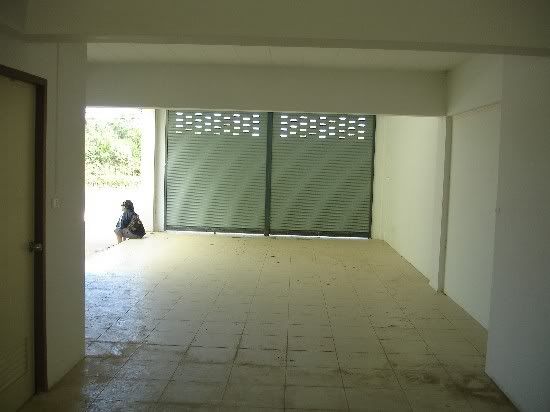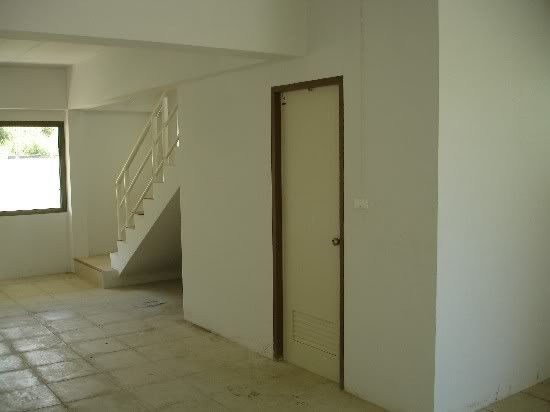 The ground floor features a garage-door style front entrance. There's a bathroom to one side and the rear area has space for a Thai-style kitchen along with a washing area out back. There's a pedestal in place for a large water tank.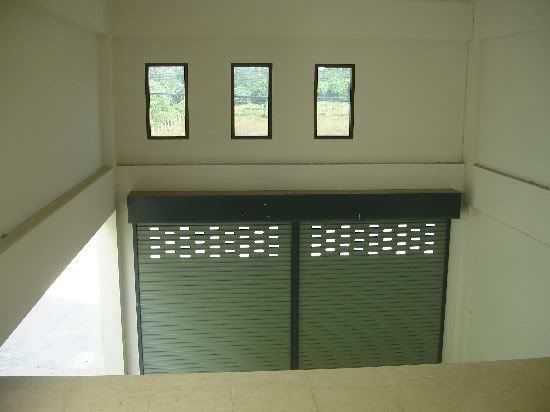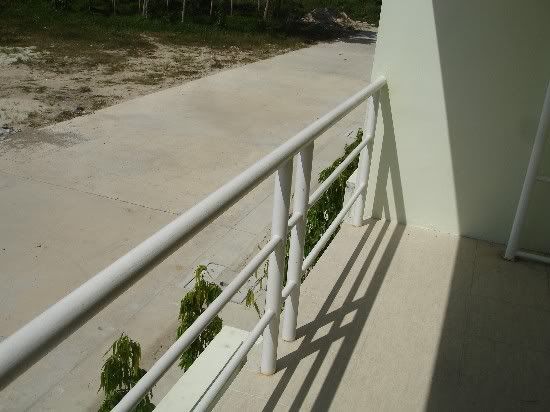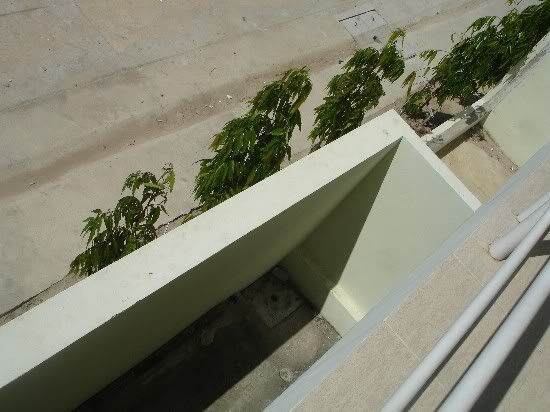 First photo shows the view from the edge of the second-storey overlook; obviously, a railing needs to be added. I'm not sure why the three windows aren't centered or why they didn't include a fourth... There's a balcony along the rear of the second, third, and fourth floors, overlooking the small washing area on the ground floor.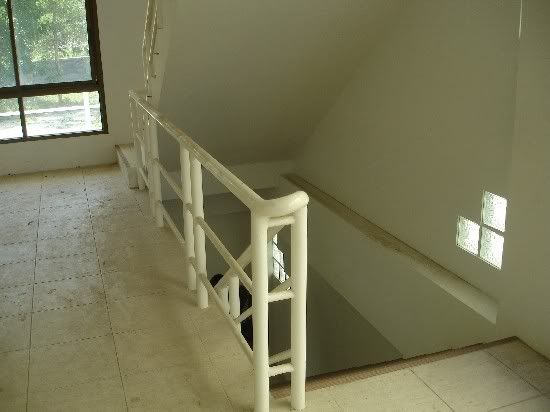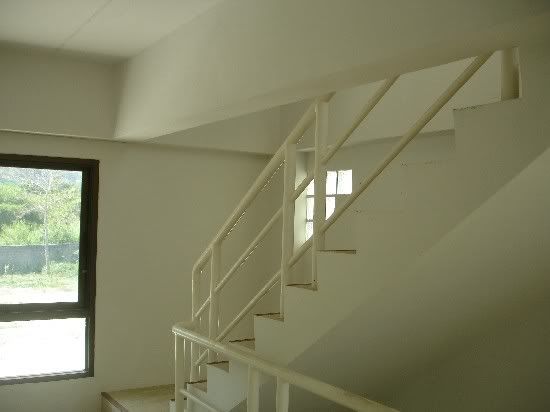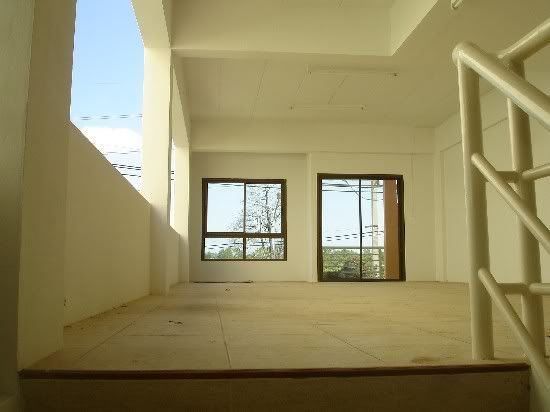 The stairways seem to be wide enough to carry furniture up (i.e., mattresses, bed frames, large bookcase, etc.) but it's hard to tell. That's the one real disadvantage I can think of for moving into a shophouse — the sheer difficulty of getting our stuff up to the living spaces...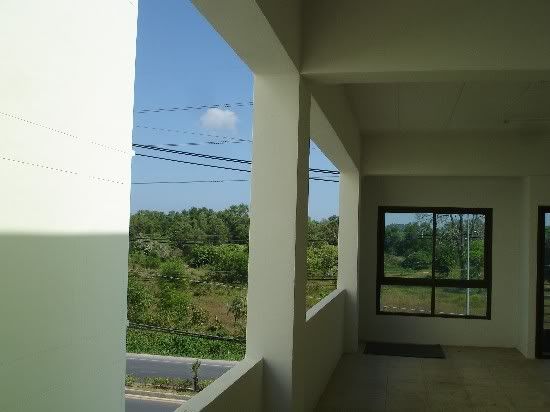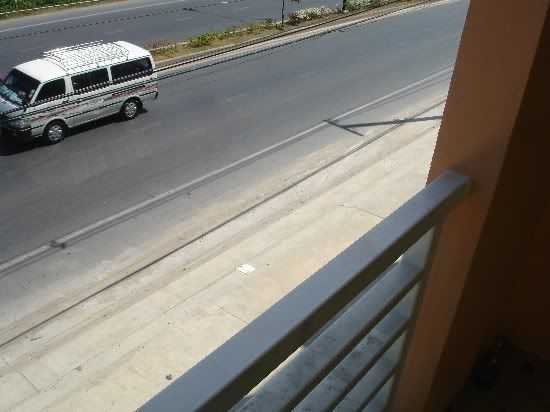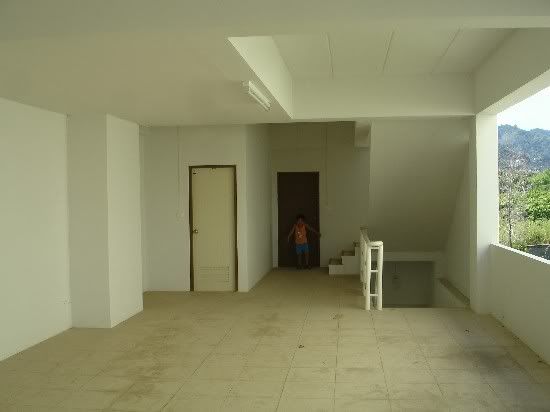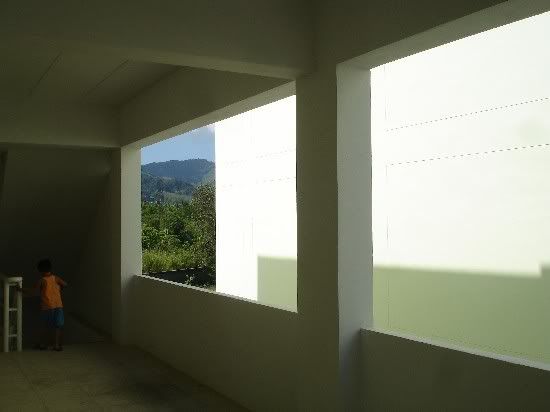 The third storey includes a nice balcony at the front (as well as one at the rear) overlooking the street. I can visualize sitting up here just watching the traffic go by. There's a bathroom towards the rear. The large open holes can be filled either with cinder blocks or large plate glass windows (if it wasn't for the windy conditions during the rainy season I'd actually prefer to leave them open!).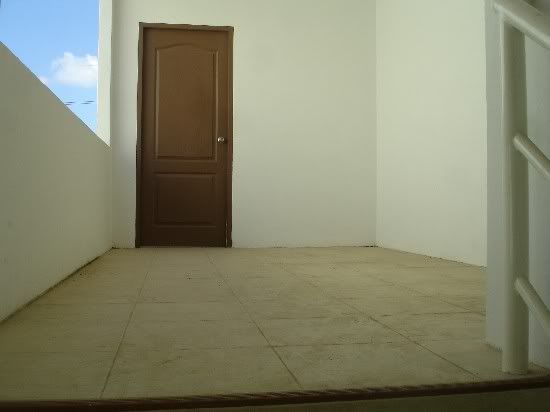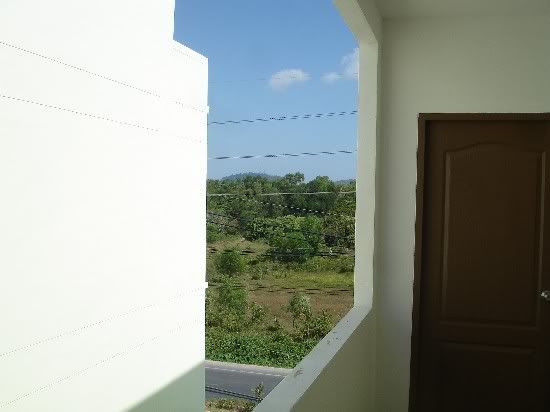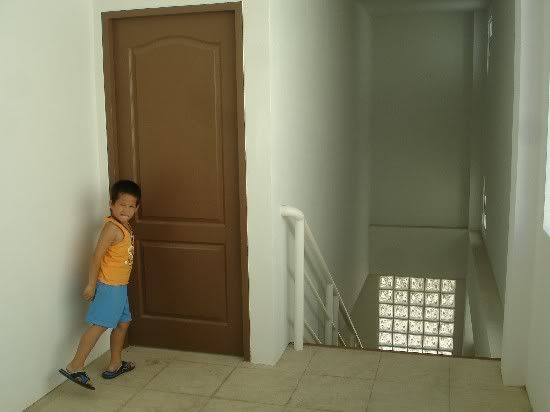 There are two bedrooms on the fourth floor separated by an empty space. We could see that the one at the front included a balcony. However, the doors to both rooms were locked and a key wasn't available on our visit. I think they both wrap around since the space in between is half as wide as the other floors.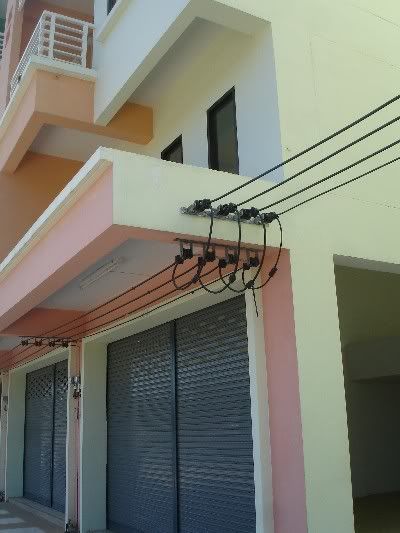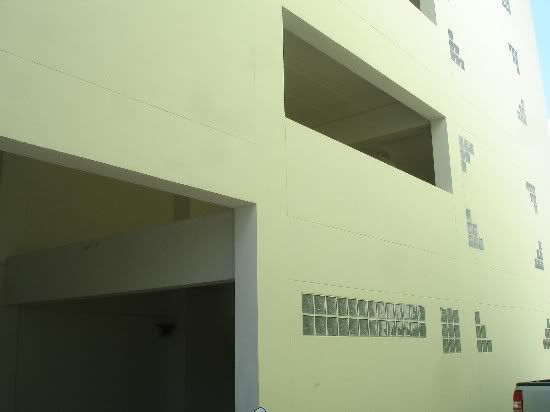 The one thing I really dislike about this particular shophouse is the pink color of the facade (many, many shophouses on Phuket are also pink; I don't know why...). I think they're going to put in a large plate-glass side door on the ground floor; I'd rather have it as a solid wall with a steel door for security.
Anyway, this Kathu shophouse is the current front-runner in our house search. I think we'll be doing good to find something similar at a lower price. We'll be looking over in Phuket City this afternoon (I quite like the areas near Sam Kong School and between Bangkok-Phuket and Vachira Hospitals.