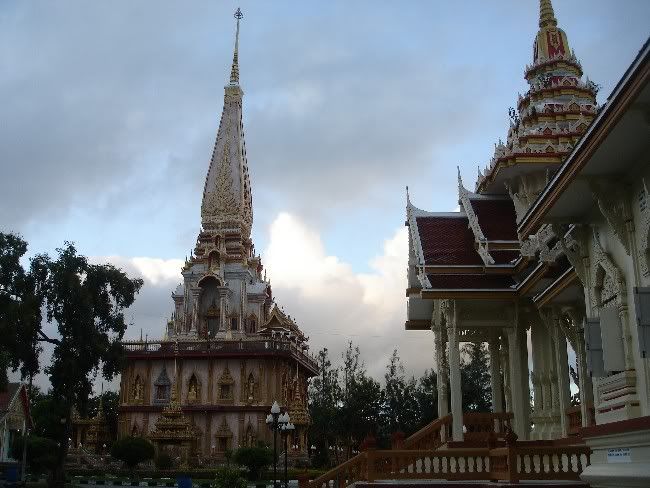 This weekend, my wife, son and I are planning to check out the temple fair at Wat Chalong. Here's the info from Phuket Gazette:
CHALONG: The annual Wat Chalong Fair this year will be held February 16 to 22. Each day of the fair, which was first held in 1954, will feature a sermon by monks, live entertainment and hundreds of stalls selling food and wares.

The fair is free to enter and will start at 4.30 pm each day.

Thai country music (look thung) stars, including Roong Suriya, Arpaporn Nakornsawan, Bew Kalayanee and Jingreedkhao Wongtewan, will perform live at the fair from 10 pm to midnight as follows:

Feb 16 Mangpor Chonthicha

Feb 17 Bew Kalayanee

Feb 18 Ying Thitikarn

Feb 19 Jingreedkhao Wongtewan

Feb 20 Rung Suriya

Feb 21 Lew Arjareeya

Feb 22 Arpaporn Nakornsawan

Before the stars take to the stage local students will perform live on stage.

Each night of the fair Asian and European movies will be shown at an outdoor cinema from 8 pm, and there will be live performances of traditional Thai shadow plays (nang talung) from 9 pm to 2 am as well as traditional Thai music.

The Wat Chalong Fair attracts thousands of visitors each year. Motorists are warned of tailbacks in the surrounding areas.

Vendors looking to join the fair may bid for their preferred pitch at an auction of stall sites at the fair at Wat Chalong on February 4, starting at 9 am.
But tonight we'll be at Jungceylon Shopping Center in Patong for their "Pinky Piggy Celebration" for
Chinese New Year
. What sold me was the listing of the
Hip Hop Dragon Show with the Rhythmic Exotic Backpackers
. With a name like that, I just
have
to film and blog about it (although I will be missing the
Phuket International Blues Festival
with the
Soi Dog Blues Band
).