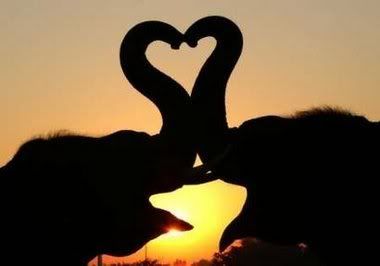 From an article in the Bangkok Post:
Love Is In the Air, At Least for Some, On Day of Romance
POST REPORTERS
There was love, ambition and anger in the air on Valentine's Day yesterday. A couple in their eighties formally tied the knot, a student tried to rob a dentist to raise the money to take his sweetheart out, and a high-profile pathologist received a pestle in protest against her work.

With the aid of a cane, Grandpa Mak Charoensuk, 88, walked hand in hand with Grandma Ui, 86, to register their marriage at the Muang district office in Nakhon Ratchasima yesterday.

Grandpa kissed his bride, whose wide toothless smile lit up her face. They were among 34 couples joining a mass wedding.

In Suphan Buri's U Thong district, Sorn Poh-ngam, 68, and Nuan Unpee, 66, kicked a kerosene can to show that they are physically fit. In the Thai saying, people able to kick the kerosene can ''hard and loud'' are fit enough to have sex.

All 60 couples who converged there received free health check-ups.

In Trang, 40 couples were married 12m under the sea.

In Prachin Buri, seven pairs glided 60m down the Weluwan waterfall cliff to register their marriages.

But Bang Rak, Bangkok's ''district of love'', remained the favourite place with 665 couples choosing to formally tie the knot there.

In Nonthaburi's Muang district, an engineering student tried to rob a dentist in the morning in order to take his sweetheart out last night. But police chased and arrested Supatchai Sudglao, 26, after spotting him hitting Kamol Tangkij-ngamwong, 37, on the back of his head with a wooden stick. Supatchai was charged with attempted robbery.

To patch up differences after the dismissal of Pol Gen Kowit Wattana as national police chief on Feb 5, Supreme Commander Gen Boonsang Niampradit hosted a reunion of Class 6 of the Armed Forces Academies Preparatory School.

All Council for National Security members and their spouses went to the party at the residence of CNS leader and army chief Gen Sonthi Boonyaratkalin last night.

But for pathologist Khunying Porntip Rojanasunan, a pestle wrapped in a red ribbon and a lawsuit against her did not signify love from Noppadol Thammawattana. The head of the Central Institute of Forensic Science said after the second autopsy of his elder brother, Hangthong, that murder was the cause of death eight years ago. Mr Noppadol was charged with conspiring in the murder, before a third autopsy confirmed suicide was the cause.