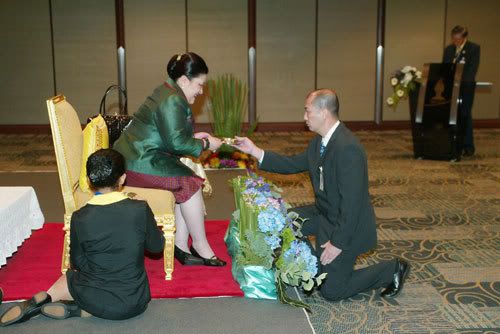 Last evening my wife, son, and I attended a special tribute to HRH King Bhumibol Adulyadej honoring His Majesty's 80th birthday (which occurs on December 5). The event was presided over by HRH Princess Soamsavali Phravararajatinuddamatu (พระเจ้าวรวงศ์เธอ พระองค์เจ้าโสมสวลี พระวรราชาทินัดดามาตุ และ พระเจ้าหลานเธอ พระองค์เจ้าพัชรกิติยาภา, which translates to "the mother of the king's first grandchild"). She was the first wife of HRH Crown Prince Maha Vajiralongkorn; they divorced in the 1980s.

Arriving fairly early (just before five o'clock for an event that wasn't to begin until after seven), we secured a prime viewing spot at the very front to the left of the VIP seating. We started out sitting on the edge of a concrete planter encircling one of the many trees in the Port section of Jungceylon and had to briefly move when the bomb-sniffing dog came around. Security was very tight with, I'm assuming, representatives from every one of Thailand's various branches of police and military. Sometime between 5:30 and 6:00 members of the Royal Guard came around to have all of us kneel/sit cross-legged on the ground. We were also given Thai tricolor and yellow King flags to wave. As the only farang sitting up front it seemed like everytime I looked up there was an official-looking still- or video-camera pointed my way. Alex also had his share of images shot of him.

Although I'm still without a digital still camera (I'm holding out for the 17,000-baht Sony CyberShot T-100) I did go armed with my trusty camcorder. I did get some rather nice footage of the HRH's arrival and start of a presentation until a Secret Service-type (black suit, menacing appearance) indicated that unauthorized images weren't allowed at that point. Following a number of local dignitaries paying tribute to the Princess, the regular Jungceylon water & light show was presented followed by an even more spectacular tribute to HRH the King (including images of his artwork and of His Majesty playing in various jazz combos, all accompanied by some of his excellent compositions). At one point, there were ballroom dancers onstage and then a popular Thai singer sang a couple of rather rockified traditional songs. It all ended with a huge fireworks display and Her Royal Highness disappearing inside the mall to view an art exhibition and the That's Siam! section of shops. We were quickly ushered out by Thai military and so couldn't get to our planned meal at Burger King.

I felt really privileged to have been able to attend this event and to have been so close to Royalty as well. It was far more interesting than last year when we watched the various events for His Royal Highnesses' 60th anniversary of rule on TV. Despite seeing numerous Royal motorcades traveling to and from Wat Chalong over the course of the year (and once while standing outside of Maio's home in Bang Pa-In), this is the closest Tim or I have gotten to Royalty. The thing that struck me most was the feeling of reverence the citizens have towards the Royal Family. You hear and read a lot about that love here but that cannot prepare one for experiencing it firsthand.