It seems a little early still, but preparations are underway already for Albuquerque's 300th birthday party next year. The following is from the official site:
The city of Albuquerque will celebrate its 300th Birthday in 2006. From April of 2005 through 2006, a giant celebration will take place. During this time several public events will occur at various locations as well as grand openings of many new venues around the city. Area museums will house special exhibits and foreign and national dignitaries will visit the Duke City. The Tricentennial will be a time for all to reflect upon Albuquerque's history and revel and dream about the future.

Sitting at his desk in the Palace of the Governors in Santa Fe, Governor Francisco Cuervo y Valdes wrote his Viceroy in Mexico City that on April 23, 1706, he had established a villa along the Río Grande some 60 miles south of Santa Fe. Indeed, he had named the new town in honor of the Duke of Alburquerque, Viceroy of New Spain.
Opening ceremonies will actually be held on April 16, 2005, at Balloon Fiesta Park. They will include a mass ascension of hot air balloons, Tricentennial torch relay, half-marathon from Bernalillo to the park, a salute by Stealth fighters, and more. The festivities are supposed to begin at 6a.m. and end at 2p.m. There will also be a huge concert (performers to be announced) and fireworks display that evening at Civic Plaza.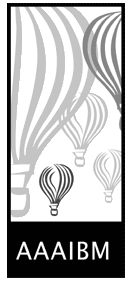 There are many more events scheduled throughout the year. The one I'm most looking forward to right now is the dedication of the
Anderson-Abruzzo Albuquerque International Balloon Museum
this Fall during the annual Balloon Fiesta. I purchased a brick for Mom & Dad when they first announced this state-of-the-art facility about six or seven years ago. It will be nice to try and find it in the museum's courtyard at long last.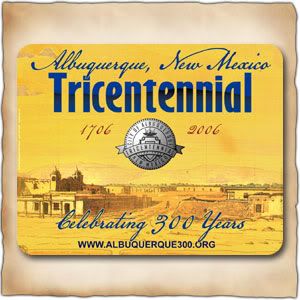 And, it's not too early to begin buying your Tricentennial
merchandise
. I like the designs and will probably order a t-shirt or a license plate for now.
So, the next year-and-a-half would be an ideal time to visit Albuquerque. I'll be touting the city's praises (and faults) throughout.