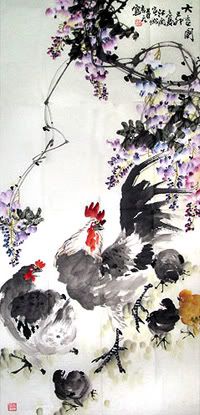 February 9 — The Year of the Rooster
1921, 1933, 1945, 1957, 1969, 1981, 1993, 2005
People born in the Year of the Rooster are said to be confident, aggressive and capable.

As perfectionists, they tend to be honest and loyal; they make good administrators.

Outspoken and ostentatious, they can be blunt and argumentative -- and they're often right.

Said to enjoy the limelight, Rooster people are interesting, enjoy crowds and will brag about their achievements to any attentive audience.
The most popular legend surrounding the origin of Chinese New Year, also known as the
Spring Festival
, revolves around a great beast called
Nian
. In Mandarin Chinese,
nian
means
year
.
On the eve of Lunar New Year, Nian -- whose mouth was so huge it could swallow people en masse -- would prey on human beings. Everyone was terrified, until one day an elderly man appeared and offered to subdue the monster.
The old man then challenged Nian: "I've heard you are very capable, but instead of people, can you swallow other beasts of prey that are more worthy opponents?" Rising to the occasion, Nian swallowed man's other predators, simultaneously ridding people of dangers to themselves and their livestock.
The old man was then revealed to be a god. Before disappearing, he advised the people to put up red paper decorations on their windows and doors, light torches and set off firecrackers at the end of each year. This would frighten Nian away should he try to return, for he was afraid of the colour red, fire-light and loud noises. With Nian gone and other predators frightened off, the people resumed their lives of peace.
The Chinese hold red to be a color of happiness and good fortune, while firecrackers are lit to ward off evil spirits.
May fortune smile on you in the Year of the Rooster!