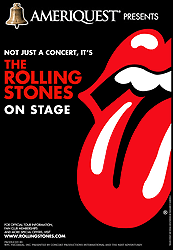 I consider myself a fairly big fan of The Rolling Stones (particularly their mid-60's output with Brian Jones and especially the Mick Taylor era). Judging from their great 2003 Four Flicks DVD box set, they are arguably a better band now than at any time in their previous 40-plus-year career (although there's A LOT to be said for the sloppiness and general mayhem of the 1969 through 1972 shows — my favorites to collect and listen to).

Although I have seen them perform live once each tour since 1989 (which, is to say, exactly four times), I have no desire to attend any of the upcoming 2005-2006 tour shows.

It just seems too much like they are doing it for the money rather than the joy of performing. It's very appropriate that the tour is being sponsored by Ameriquest as you do need to mortgage your house to be able to afford a concert ticket.

I'd already heard rumors of the high ticket prices but I checked on Ticketmaster last week to see exactly how much they were charging. I simply searched for "best available" tickets for two shows: for one ticket at Denver's Pepsi Arena in the lower level to the right of the stage, the price was a whopping $400! At Glendale Arena in Phoenix, a seat even further away from the stage had a face value of $350. And these are the official ticket prices, not some scalper or "broker" fees. No wonder there are still tickets available at those prices but still many shows are already sold out.

Those aren't even the highest prices in the venues. This tour is called "The Rolling Stones On Stage" — apparently, they are actually selling seating that's on the stage. I couldn't find any of those amounts, but on the band's official site there were several front-row seating packages (including 2 nights in a hotel, welcome reception, and a "special gift item") in the $1,500 and up range.

To get "preferred" crack at the best tickets (along with an exclusive DVD and poster), you can sign up to become a member of The Rolling Stones Fan Club for $100 (to be fair, if you purchase a ticket for one of their concerts you are automatically a member and just have to activate your membership on their website — maybe that's why the ticket prices are so high so they can pay for all those exclusive DVD's and posters).

True, a band of The Stones' stature can get away with charging these high prices. But how much is too much? When does it all end, and does it end before ticket prices become completely out-of-control?

I remember thinking that the $33 to see Paul McCartney in 1990 seemed extremely high (although prices had been lurking just below the $30 barrier for a while by then with stadium shows being somewhat higher than arena concerts — The Who and The Rolling Stones, both at Arrowhead Stadium in late 1989 cost $22.50 and $28.50 respectively. Some other ticket prices for this period include Eric Clapton at $19.75 in Iowa and $21.50 in Kansas, Tom Petty & The Heartbreakers for $18.50 (with Lenny Kravitz opening), The Allman Brothers Band with George Thorogood & The Destroyers for $21.00, and ZZ Top (this was either the tour with Australia's great Jimmy Barnes opening or the one with the even greater Jeff Healy Band, the memory does fade occasionally) for an even $20.00.

Yet, the average price I paid to see Bruce Springsteen & The E Street Band during the 2002-03 tour (the most I'd ever seen any one performer on a single tour) was in the $75-80 range. In fact, the most I'd ever paid for a single concert ticket was $100 to Springsteen's 2003 holiday show in Asbury Park (however, most of that went to help various local charities).

Nope, I'm not going to pay $400 to see anybody — not even if Bruce Springsteen himself were to play in my living room. For me, $50 seems very high and I will absolutely refuse to pay over $100 (it will have to be a very special charitable event to get me to part with that much).

In fact, I've all but eliminated my concert-going experiences in recent years. I know that virtually any show that I'd want to attend will be audio recorded (and probably video recorded as well) and available for download often within hours of the last notes being played onstage. And it's virtually guaranteed that bands like The Rolling Stones will eventually be releasing a quality DVD and CD souvenir of the tour in time for the next holiday buying season. Pushing 40, I'd much rather experience a concert while sitting in my living room with the surround sound system and hi-def TV set than to be crammed into a tiny space in a crowded venue with some girl screaming in my ear on one side of me and some guy spilling beer on my shoe on the other side of me. If I do go to a live show, it will probably be someone in a smaller theatre or club seeing an up-and-comer or perhaps a band of Marillion's stature wanting a more intimate setting (and where you're guaranteed at least some chance of chatting with the band afterwards).

Now that I know my limits, it will be interesting to see how much the music industry thinks is too much. I think if ticket prices continue to climb upward there will be eventually a huge bust. With CD purchases slumping because of the easy availability of online downloads, the industry can't bear this looming disaster. If the bands and managers and promoters were smart, they would lower all ticket prices or come up with more "gimmics" such as the Instant Live releases where you can purchase a CD of the concert you just attended right after the show ends. If I remember correctly, Prince's last album was initially given away to those who attended his concerts on his Musicology tour.

If ticket prices remain high and get any more expensive, more and more fans of live music will become more choosy about which —if any — concerts they want to spend the cash to attend. Rather than going to 10 or 12 per year, many will begin to limit those numbers to 3 or 4, or less. And knowing the music industry, I can see many promoters raising the prices even more to recoup their investments on the lower number of tickets sold rather than doing the smart thing of selling more tickets by making them more affordable.

There are so many bands out there doing it "grassroots" style with low prices and who circumvent the big labels in order to provide significent benefits to their fans. The big guns like the Stones and The Who can really learn from the "smaller" favorites like Wilco and Marillion, and so many others.

There is still tremendous generosity within the music industry (like Live 8 and other benefits), but that needs to carry over into other areas such as revenues from CD and ticket sales. I was very impressed by Pink Floyd's recent decision to donate 100% of their royalties from the 2-CD Echoes: The Best Of Pink Floyd set towards poverty relief (an already great seller who's sales increased tremendously by the band's recent reunion — their first public performance with Roger Waters since 1981 — at Live 8).

So, Rolling Stones, where is your money going from this tour — one that is set to break all existing records for top grossing tours? It's not like you need any more retirement money (and how much longer can Keith Richards live anyway?). Let's see you donate some money to AIDS research, or send grain to famine-striken areas in Africa. Even the revenues from a single night's performance would go a long way towards eliviating some pain and hunger among many people less "fortunate" than your average 2005 Stones concert-goer.

If you do something like that, I may just have to rethink my ban on attending one of your shows on this tour. Afterall, I wouldn't mind investing in a ticket if I knew it was doing someone some good rather than just paying for Mick's hotel room at The Ritz!