I've been recently scanning in some of my receipts, ticket stubs, etc. from my 2003 "SARS Tour" of Asia with an eye towards completing the travel diary on my personal site. Blogging about those early days in Beijing have served to refresh my memory on certain events and I'll flesh those out on the main site as well — eventually.

To bring us "up-to-date," that Saturday morning I got a very early start and began walking south towards Tiantan (Temple of Heaven), an enormous park and altar to heaven built by the Ming Emperor Yongle in 1406-20. Each winter solstice, the emperor would lead a procession out of the Imperial Palace to Tiantin where he would perform rites and make sacrifices to the cosmos on behalf of China. The main building there, Qinian Dian (the Hall of Prayer for Good Harvests) is featured on China's coat of arms and coinage to this day.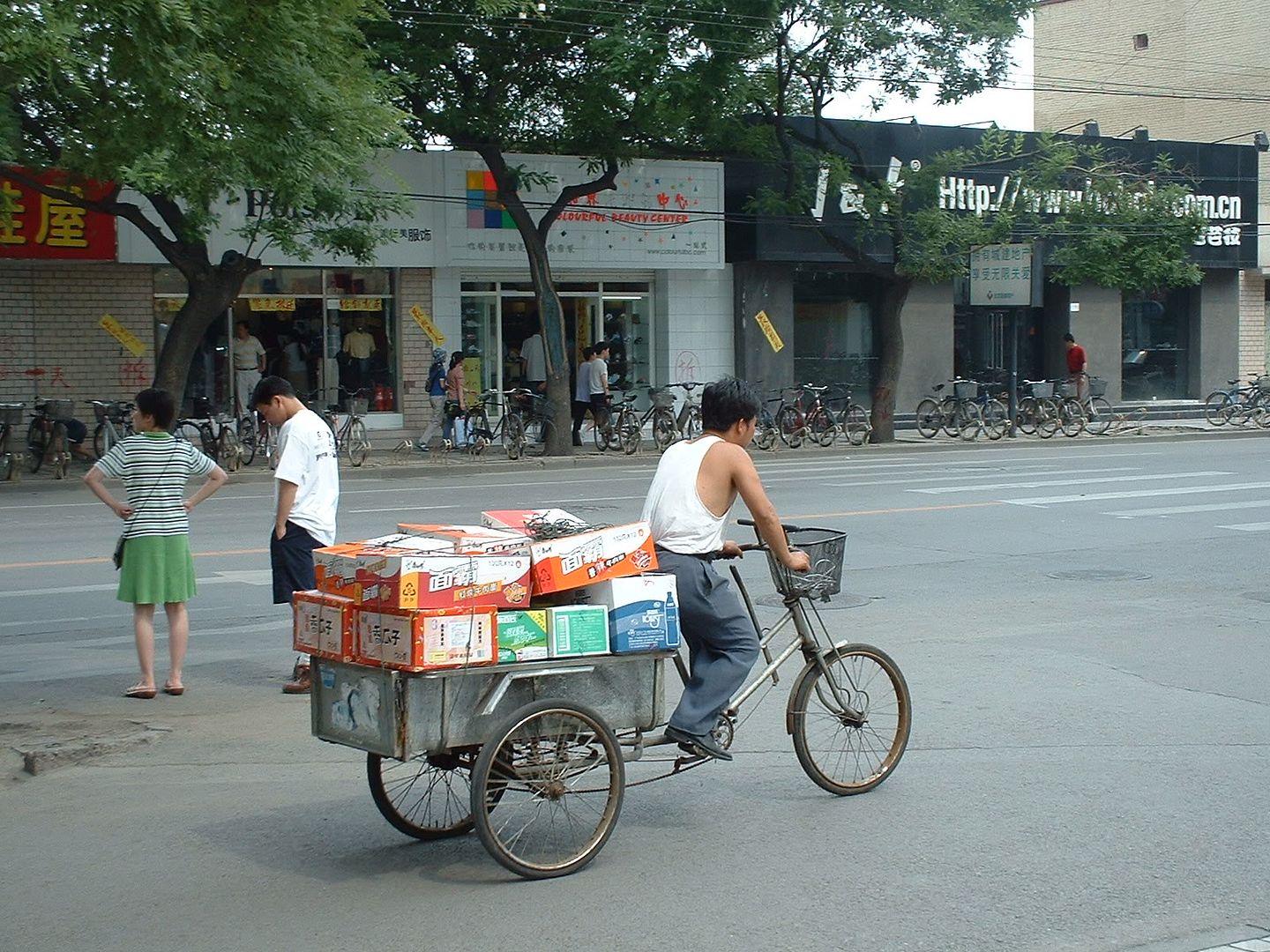 It didn't look like such a long walk on the maps! It was actually about three miles — which doesn't sound like a whole lot until you consider the heat and humidity of that early June day, the terrible disrepair of the sidewalks (when they existed at all), the chaos of the Saturday bicycle and automobile traffic, or the thick air pollution. I wasn't exactly walking along the main tourist route, either!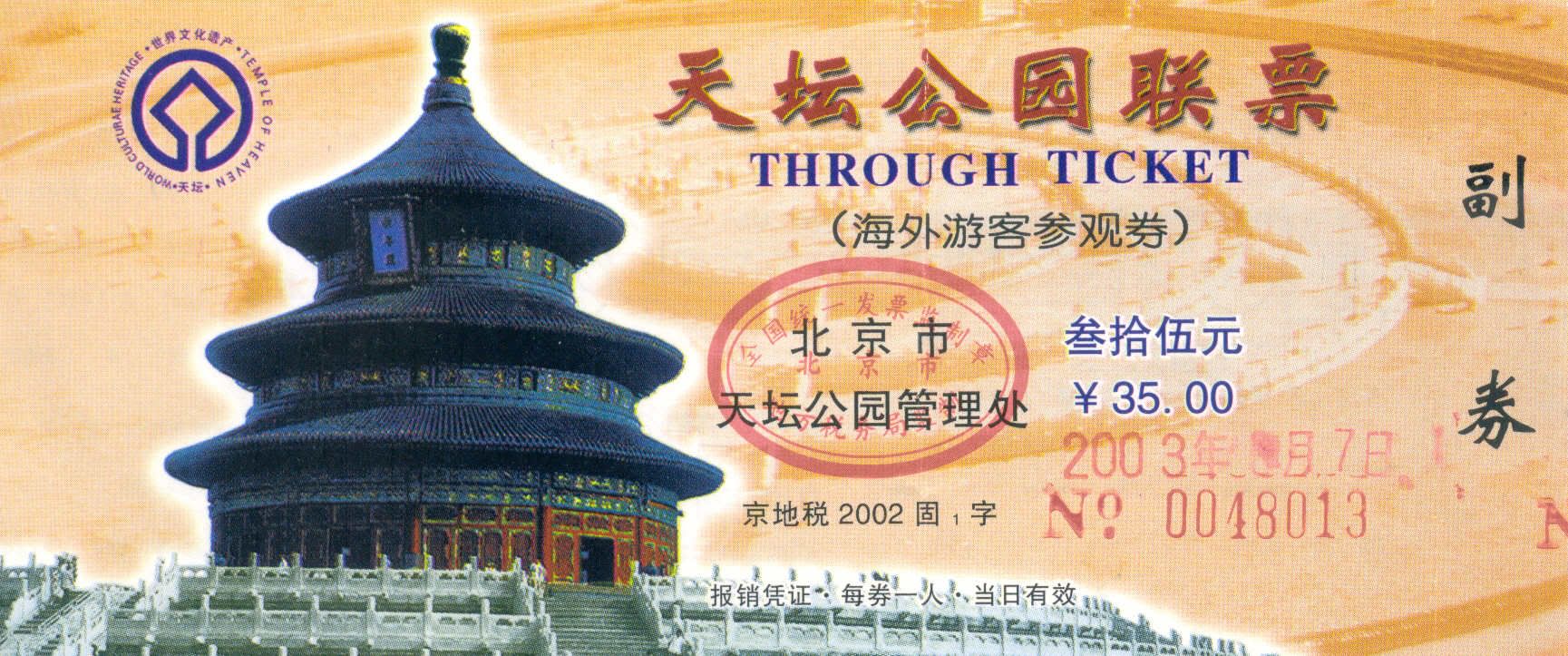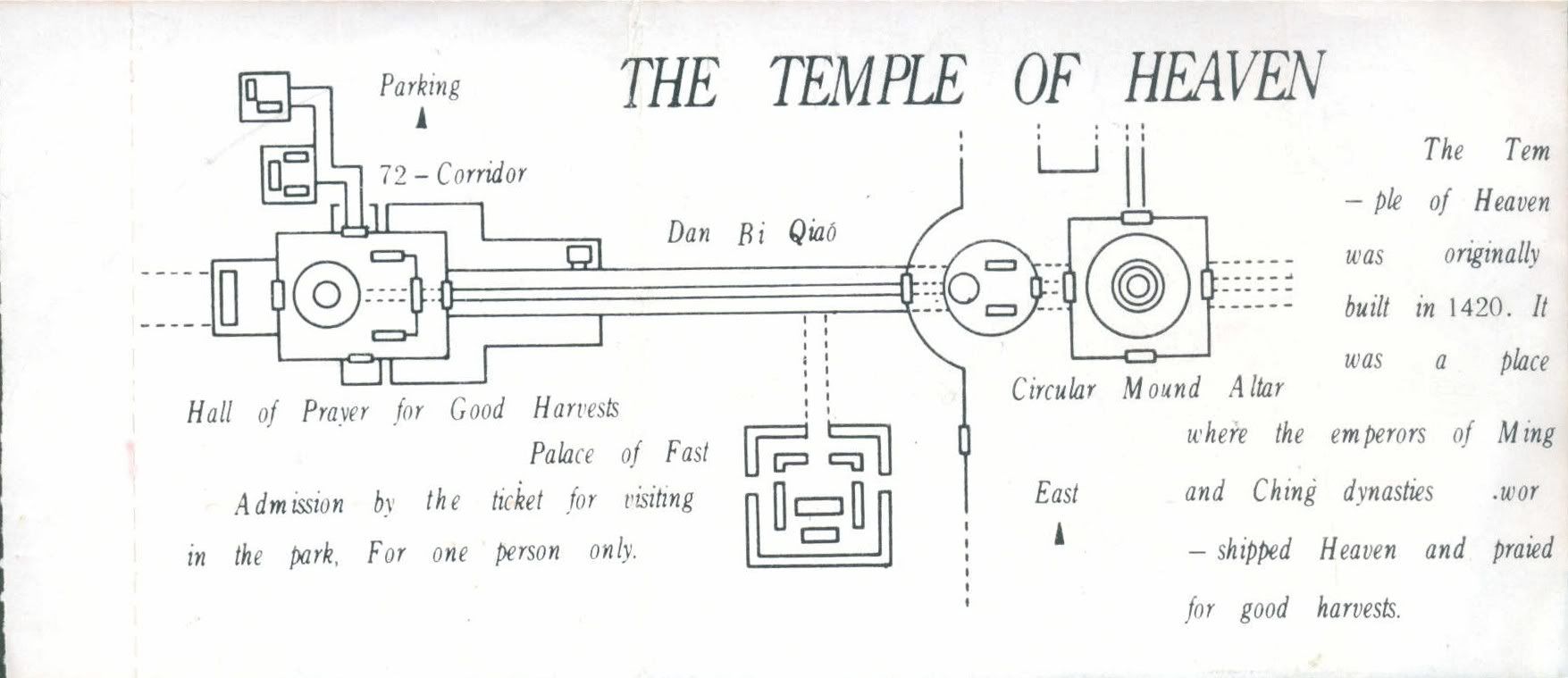 By the time I arrived at the park, I was in for a great shock: crowds of people everywhere! It turns out this was the first day that the residents of Beijing had been allowed to gather in public spaces since the beginning of the SARS scare. Many restaurants reopened, the theatres were showing films, and the parks were available for full-scale recreation. The local residents were definitely out in force!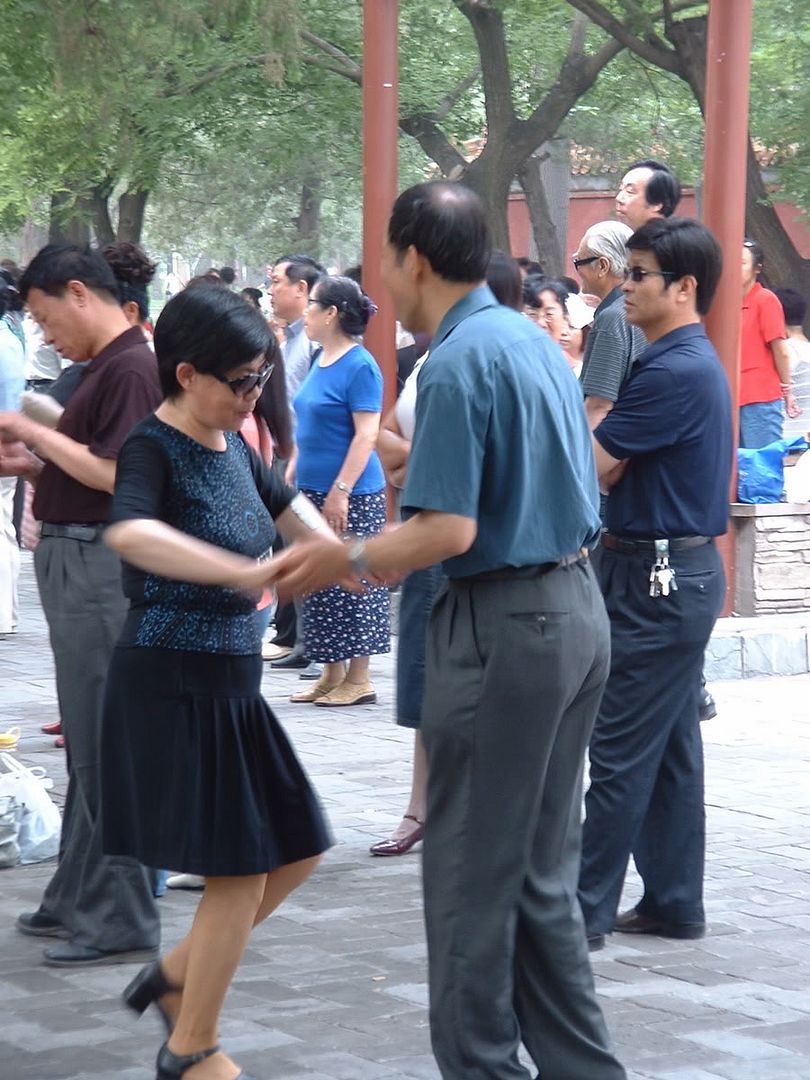 It turned out to be the most interesting day. Once again, I was the only Westerner in sight (for most of the time — I ran into an American student at the echo wall who was singing Blue Oyster Cult's "Don't Fear The Reaper" at the top of his lungs to the great amusement of those nearby). But all around me were Chinese enjoying the outdoors for the first time in many months. Many were doing their morning exercises which incorporate a healthy dose of tai chi in all it's forms. There were crowds practicing ballroom dancing, very popular throughout much of China. Others were flying kites and playing hacky-sack! (The last time I'd seen anybody kicking these little bean bags around was back in my K-State days while waiting on the runway at the Wamego Airport to skydive...)

That Saturday was a real people-watching experience. As I walked along the Long Corridor towards Qinian Dian, there were crowds of people dancing, singing, playing traditional instruments, and just watching. Often, they would put on a little "show" for me to film. Needless to say, that film footage seems to be the most popular for my friends and family to watch (I still get requests to show it during visits).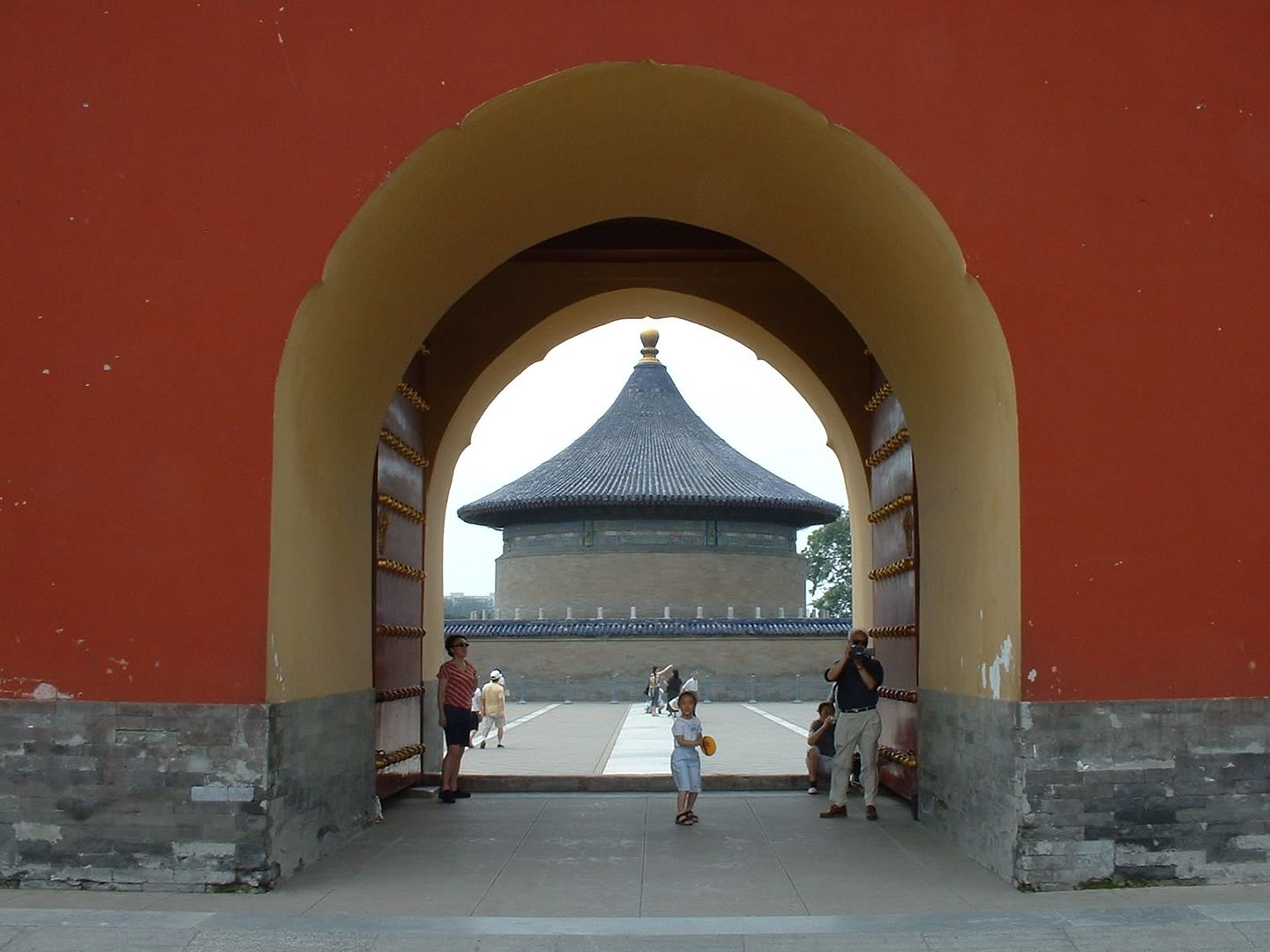 The altars and temples throughout the large park became secondary to the human experience; it truly was my favorite day in Beijing since I wasn't doing the things that most tourists end up doing. However, I did pay 1 yuan (12 cents) to ring the bell in the tower at Zhai Gong (Hall of Abstinence) which once signaled an emperor in residence. I also called my name at the Echo Wall so that anyone standing on the opposite side could hear it clearly — the only other place in the world with acoustics as perfect as this site is at the top of St. Peter's Dome in London (which Bryan and I had climbed to a mere two weeks prior).

I'll write more on the history and meaning behind the various altars in my travel diary at a later time. (I purchased a DVD and a guidebook that day — I have yet to peruse either).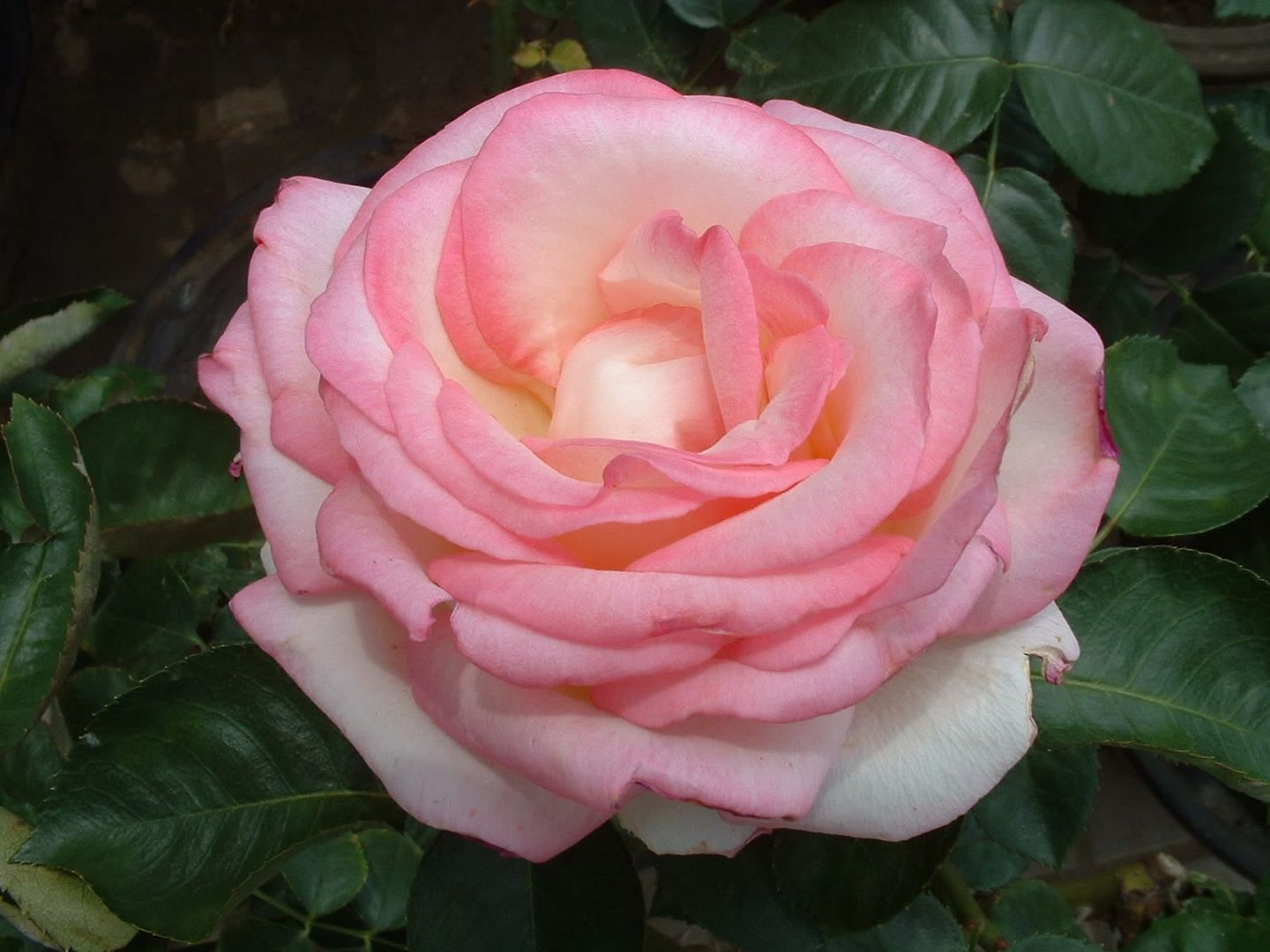 My original plan had been to take a taxi to the Emperor's Summer Palace, on the western edge of Beijing, but the sky clouded up and a stiff breeze swept through with the smell of rain. It really cooled things off so I decided I would just take the taxi back to Wangfujing. On the way to the park's exit, I came across the Chinese National Rose Garden which was just being planted for the summer. I took a few snapshots but many of the flowers looked damaged already by the pollution. (Most of China still relies on the burning of coal for it's electricity and the air is thick of it in Beijing.)

By the time I got back to my "neighborhood," the sun had returned and any thought of rain had vanished. Again, it would be an early day back at my guesthouse which was just as well as I was due to depart the following day for Shanghai. I spent much of that afternoon packing and repacking — I'd accumulated a lot of stuff (insert George Carlin routine here) and had to make sure certain items didn't get buried in my pack (such as my traveling clothes, cameras, and documents).

That Sunday morning — June 8 — saw me once again grab an early breakfast at the little dining room across my courtyard, another Western plate. Checkout time was 12 noon and I wanted to (finally) get to Jingshan Park to the north of the Forbidden City. Again, I walked (I only took the taxi four times during this entire Beijing stay — from the airport to the guesthouse, from Tianmen to Juyongguan, from Temple of Heaven to Wangfujing, and from the guesthouse to the train station).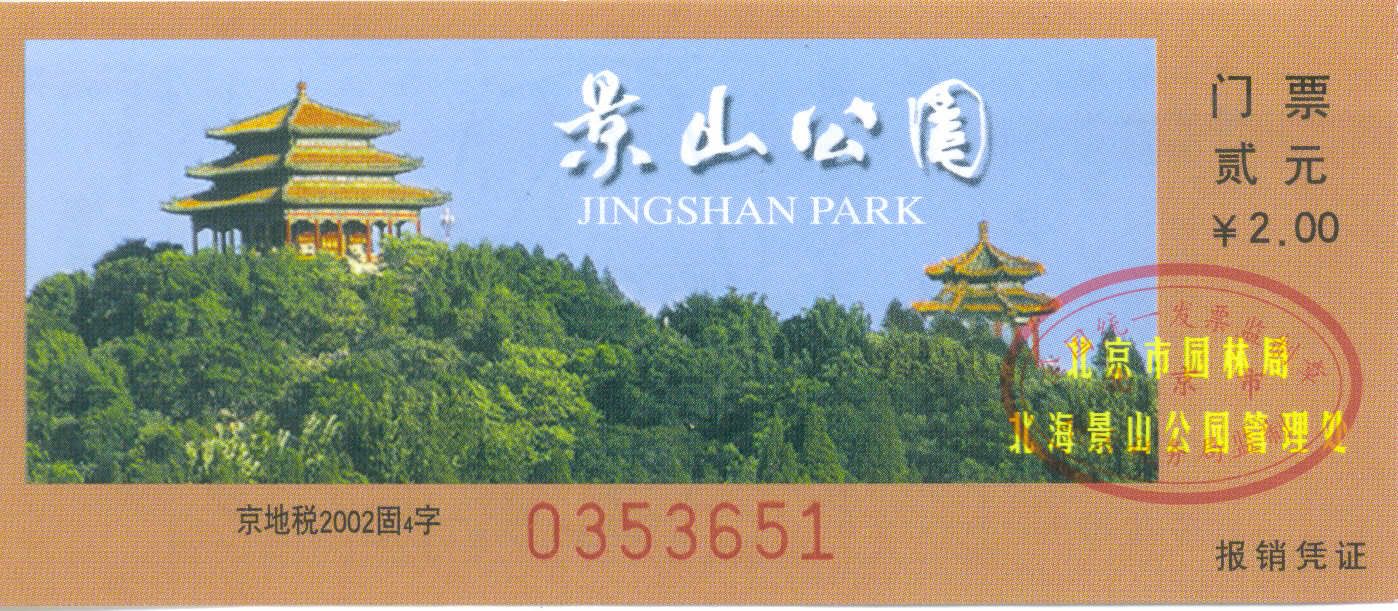 The huge hill that dominates Jingshan Gongyuan is called Meishan, or Coal Hill. It was created from all the dirt and rocks excavated when they dug the moat for the Imperial Palace in 1420. According to feng shui, the hill would protect the palace from evil spirits coming in from the north (the direction of Mongolia). However, it was here that the last Ming emperor, Chongzhen, hanged himself from a tree just before the Manchu conquerors could arrive (from the north, of course).

It's a very pretty park with lots of trees. There were also great crowds of locals once again practicing tai chi, ballroom dancing, and making the steep climb from Qiwang Lou (Beautiful View Tower) to Wan Chun Ting (Pavilion of Everlasting Spring) at the hill's summit. Another hard climb, but one I seemed in better shape for (in sharp contrast to the Great Wall a few days before).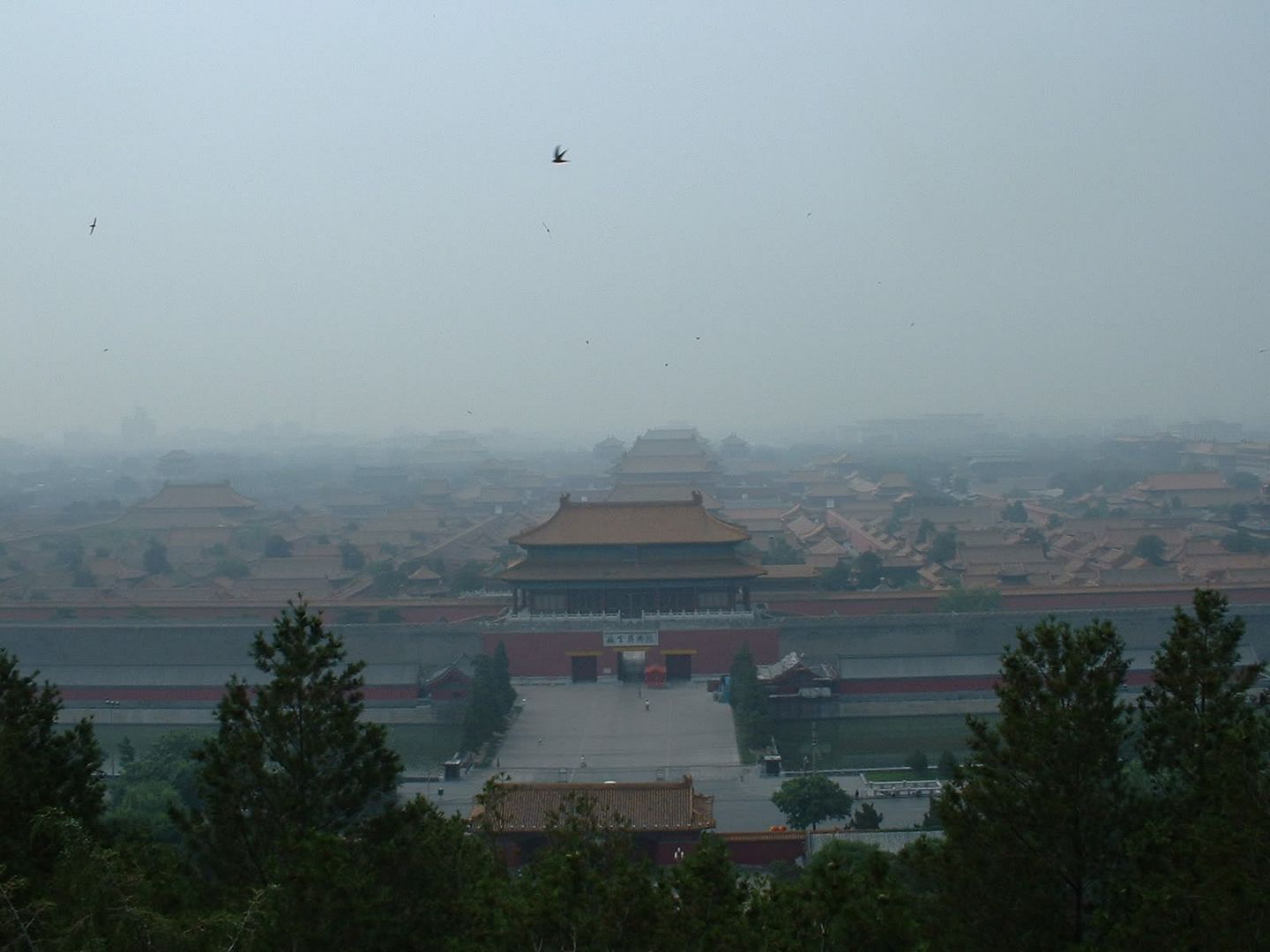 The view from the top was definitely worth the effort — the Forbidden City stretched out to the south, somewhat hidden by the thick haze, and the huge White Pagoda surrounded by a large lake in 800-year-old Beihai Park to the northwest (I was to later find out that this was the single best park in all of Beijing to visit). To the north was mostly trees with a couple of the old city gates visible among them. Somewhere far below was a monastery; the chanting of the monks was clearly heard from so far above. It was enjoyable watching the locals also checking out the view; one small child practiced a bit of English with me, coached by his father.

Before returning to Haoyuan to check-out, I made a brief detour back to the sidewalk stalls along Wangfujing in order to buy some really inexpensive DVD's (most around $2 U.S.). Once again, a few Chinese art students approached wanting me to check out their master's workshop (and buy some paintings). I'd already purchased enough art to cover my walls back home so I politely declined. One girl was extremely persistant, however, stating she was from Mongolia and I probably hadn't seen their art before. I was interested, but time was running short.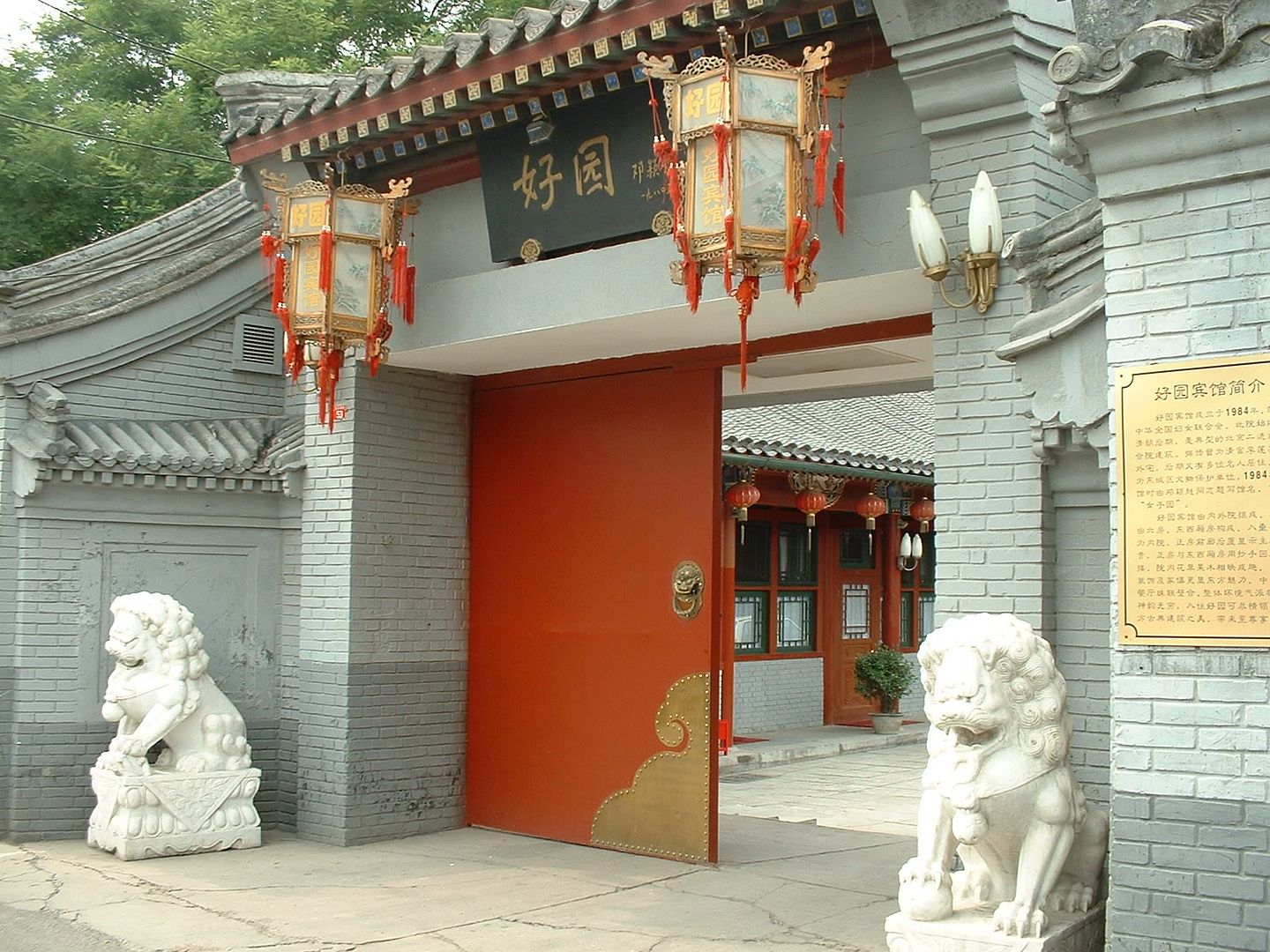 I hurried back to the guesthouse (have I mentioned that Tony Blair stays there when he's visiting Beijing?) to check-out on time. I'd prepaid the room and board and they issued me a receipt at that time; the total for four days in the rather extravagent/traditional room with private sitting room and courtyard, including meals (I only ate breakfast there), came to 1872 yuan — just over $225.00 U.S. A bargain!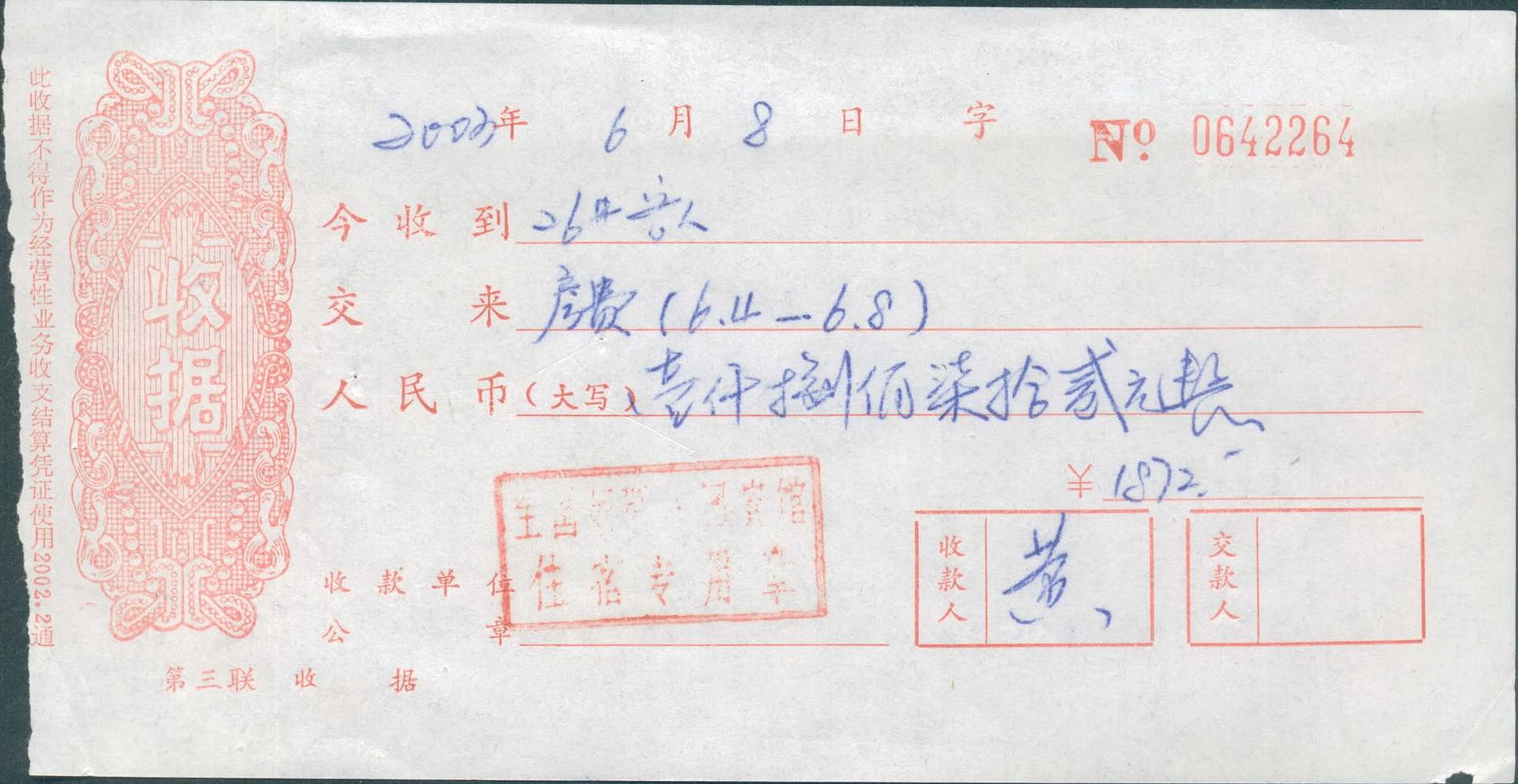 They then called me a taxi to take me over to the main Beijing Railway Station (the ride cost just over $1.10 U.S.). The taxi actually let me off across the street and I struggled with my bags until a couple of men came to my aid and helped me carry my luggage into the station's entrance (for a hefty tip, of course).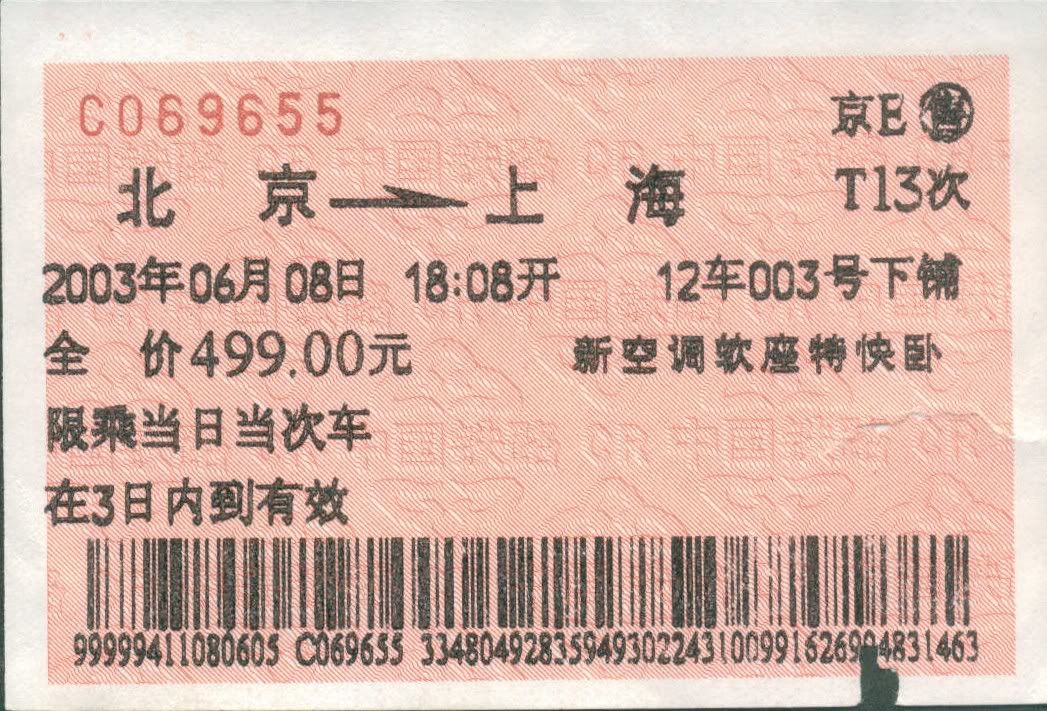 I had purchased a "soft ticket" on the overnight train to Shanghai for 499 yuan ($60), meaning I had my own sleeper compartment. Normally, you aren't supposed to be able to purchase such railway tickets from outside of the country but I'd had an agent purchase it for me (who then delivered it to my room on my first day in Beijing).

At the station's entrance, I showed my passport and then had to fill out the first of many forms over the next few days stating my full travel itinerary of the previous two weeks. Two different nurses took my temperature and I was frisked by a PLA soldier. My luggage was then sent through an ancient metal detector that looked more like something out of one of those 1960's nuclear disaster movies such as "Dr. Strangelove".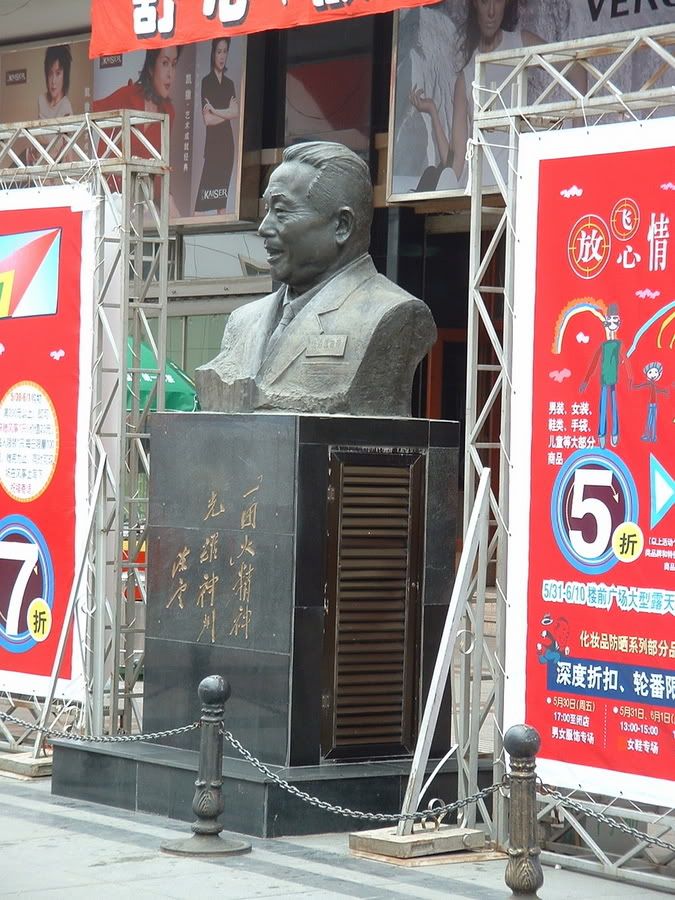 I was then escorted to a special lounge just for Western travelers where I was to stay (watched-over) for the next five hours until my train finally departed. It was dusty, the benches were hard, and the soda and candy machines were empty. I wasn't allowed to wander into the other sections of the massive station (indeed, I was the only person sitting in the huge lounge except for the various soldiers looking after me). I desperately wanted to take some photos of the trains I could see just outside but knew doing so would break a few laws.

Finally, the time came for me to go upstairs and down several long corridors before descending once again to my designated track. A female attendant in a PLA uniform took my ticket and directed me to the sleeper car — the last person I would see for the entire trip who wasn't wearing a face mask. While Beijing had been very lax with SARS prevention, Shanghai took the pandemic EXTREMELY seriously which is why they only had three cases in that city during this entire period and why I was constantly having my temperature taken there and having to account for everyplace I visited each day.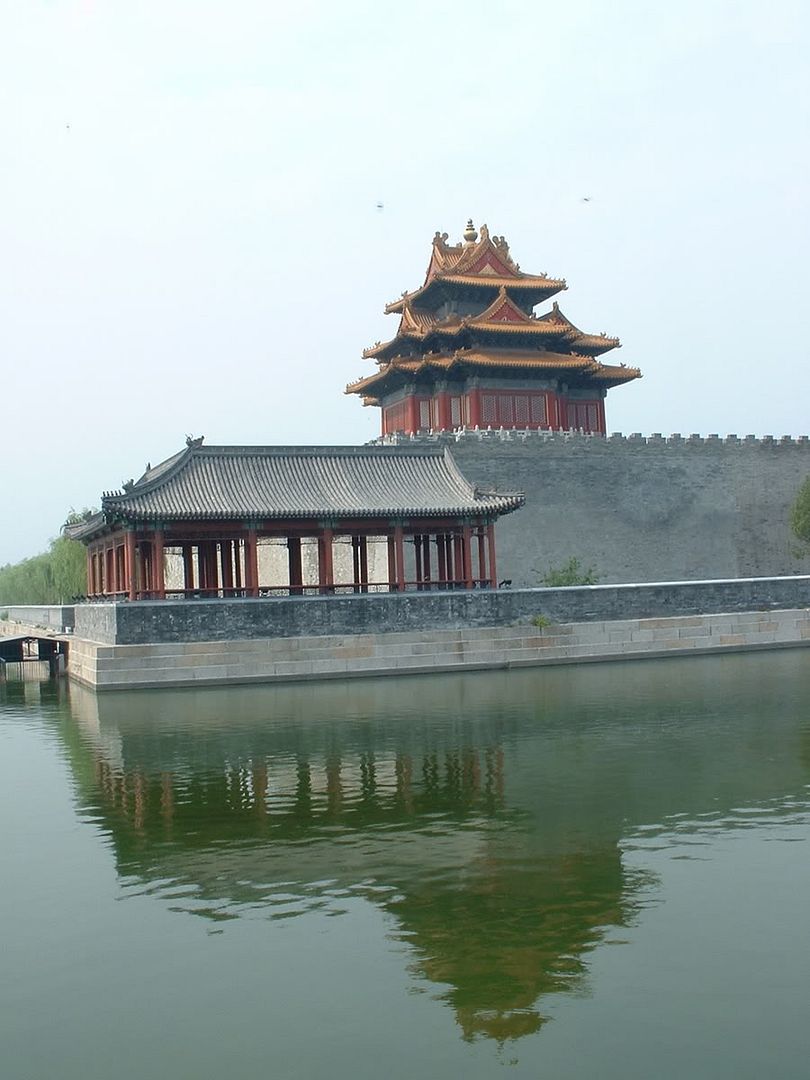 Another female attendant took my ticket inside the sleeper car and clipped it inside a notebook, saying it would be returned upon arrival in Shanghai. I was then taken to my compartment which normally would sleep four people. While I began to make myself comfortable, another attendant came in and removed the sheets from three of the beds, thus answering my question as to whether I'd be sharing the compartment with anyone. Another bargain — $60 for a 14-hour train ride in your own private room with a comfortable bed, free dinner and breakfast (which I didn't partake of), and all the green tea you can drink (which I did take advantage of). Two more attendants would enter within the next couple of hours, one to take my temperature and the other to have me fill out yet another travel itinerary form.

Finally left to relax, I opened the curtains, turned on the radio (a choice between three or four stations of Hong Kong Canto-pop or "Benny Hill" without the video), and stretched out to watch the countryside pass by the window. I've always had a certain fondness for trains and can watch unfamiliar scenery sweep by for hours on end while listening to the clack of the wheels upon the track. Since much of China's rolling stock is rather old, there were endless opportunities to see ancient trains as we went through the many stations along the route. But since this was an "express", the only stop we made was around 3:00AM at some unknown outpost where I observed A LOT of soldiers walking along the tracks. We also seemed to keep at a fairly slow pace, only speeding up significantly as we passed a huge nuclear power plant and on the final few miles between Suzhou and Shanghai.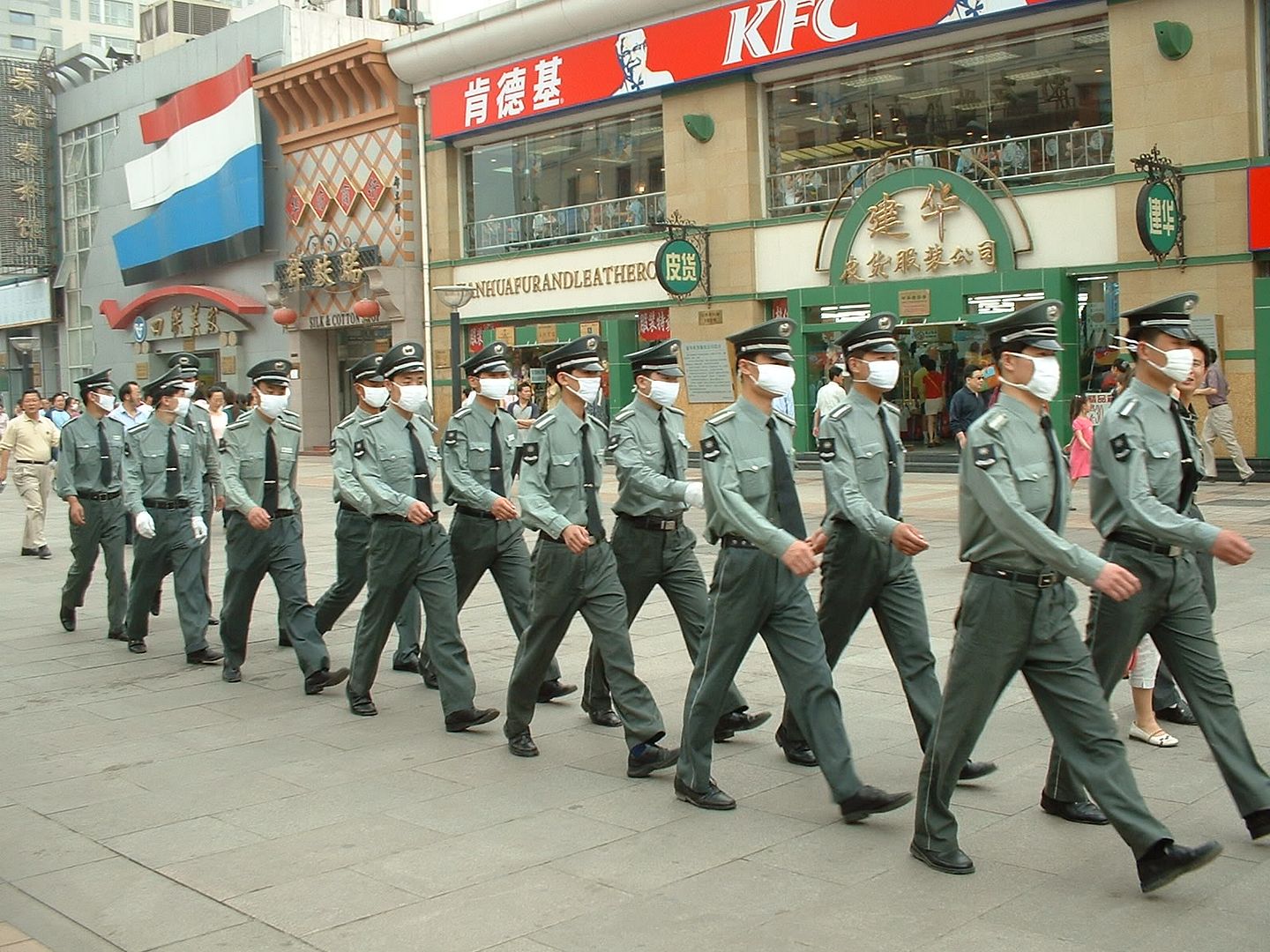 By 8:30 Monday morning, I had arrived in China's most modern and economically-vibrant mainland city. More on that on another day...