I sort of promised myself to leave most family details out of my blogs, as well as most of the emotions associated. However, some things do happen which are important enough that I need to at least mention them here and deal with them off-line. Thus, this post may seem rather cold and unemotional (which aren't my true feelings at all) but I think my family will appreciate that since I'm really trying to project positivity rather than negativity.

My father's older brother, Edward, passed away early this morning after a lengthy bout with cancer. Dad had visited him in California just two weeks ago and said that he seemed to be in very good spirits. I'm happy that I sent him a card shortly before Father's Day as well.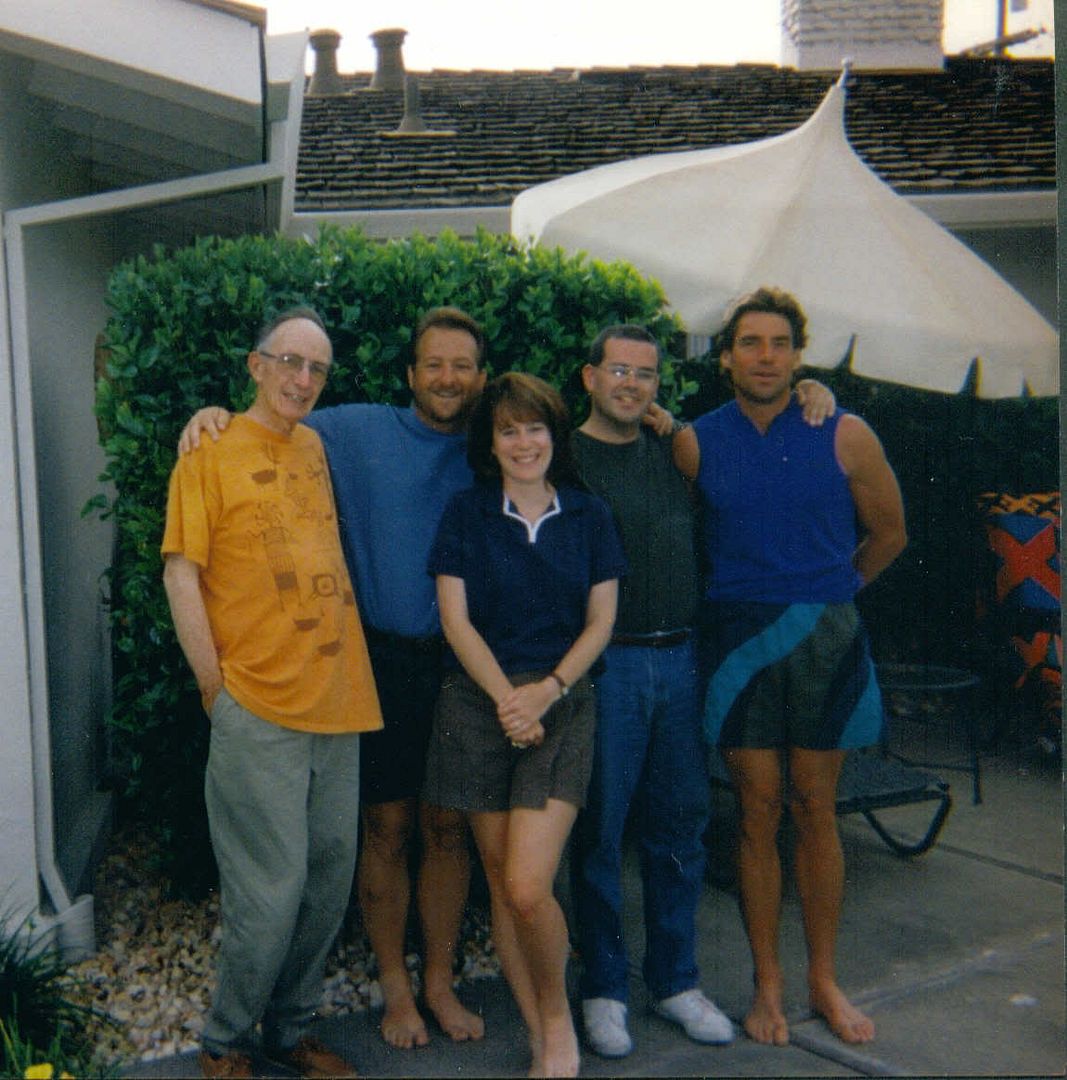 The last time I saw Eddie was at my mom's funeral. About five years before that, I stayed at his and my aunt Shirley's home for about 10 days when I attended a convention in San Francisco. That was a wonderful visit and those memories remain with me as being a very happy time. Each morning (after a fabulous breakfast — most items came from their awesome backyard garden), Eddie would drive me to the nearby BART station from where I would take the subway across the Bay into the city. About midway into my visit, my sister and brother-in-law arrived on a separate vacation adding to the fun. On one of our "nights on the town," Eddie and Shirley treated us to a performance of that stalwart of Frisco theatre, "Beach Blanket Bingo."

For as long as I can remember, Eddie had the same house with the same fabulous backyard including a large swimming pool and a garden that could rival Kew in London. Visiting his home was always a definite highlight of family summer vacations to the West Coast while I was growing up. I can remember my little sister always being "required" to wear a big styrofoam bubble on her back whenever she used the pool; it was revealed on my last visit there that that had been the grownup's idea of a joke.

Eddie owned a dental laboratory; one of the things they did was put chrome plating on dental instruments. As a child, I was fascinated by this and as a gift one year he sent me a large chrome-plated nail (more of a spike, really, it's about 10 inches long). I still have this nail sitting atop my desk.

Eddie and Shirley also loved to travel. They always sent me a postcard from whichever far-flung destination they were enjoying. (My favorite is the one from Lima, Peru, with the Incan sculpture of a vulture feasting on the eyesocket of a poor individual tied up to a tree. Eddie's written comment was, "It doesn't get any worse than this," something that tends to cheer me up when I get down knowing I'm not tied to a tree with a vulture feasting on me!) Receiving those postcards helped ignite my interest for travel and when I was finally able to journey to my own far-flung destinations I made certain to send them postcards from the road.

Eddie also had a love for sailing. I believe his sailboat was the first I ever became seasick on, during a rather choppy trip across San Francisco Bay in the late 1970's. I'm sure his sailing activities ignited that interest in my father, who later had a succession of sailboats of his own. Eddie's wish that his ashes be scattered from a boat in Monterey Bay echo his lifelong love of the sea.

I've often said that Eddie was my favorite uncle. That's certainly true. But I come from a family where everyone is so kind, supportive, and interesting that they have ALL been my favorite at one time or another (and often all simultaneously). It hurts me deeply whenever anything bad befalls anyone in my family, and Eddie's passing — while not unexpected — saddens me a great deal.

But I can find solace in having such fond memories of Eddie in life and in knowing that his suffering is over, that he's gone to a much better place.

I'll miss you Eddie, rest in Peace.