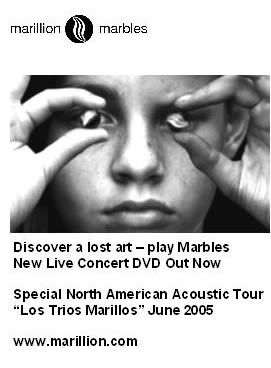 After having been a HUGE Marillion fan for twenty years, I finally got to see them perform live last September in Boulder. It was their first American tour since 1997. Now, just a mere seven-and-a-half months later, they are back on this side of the Atlantic — albeit in a very stripped-down form — to perfom a week-and-a-half of shows.

Billed as Los Trios Marillos, the two Steves and Pete, arrived Friday (June 10) and did an in-store signing and acoustic session at New York's Greenwich Village Tower Records. The first actual concert of the tour was Monday night at the Bowery Ballroom (where the live photos in this blog entry were taken).

Tuesday night saw a superb show at Boston's historic Paradise Club (another fan's review is below), followed Wednesday by another in-store appearance at the Harvard Square Tower Records. Obviously, these are very intimate gigs (the Bowery holds 575, the Paradise just 405) — a far cry from the days they headlined festivals in Europe, but I rather like them this way.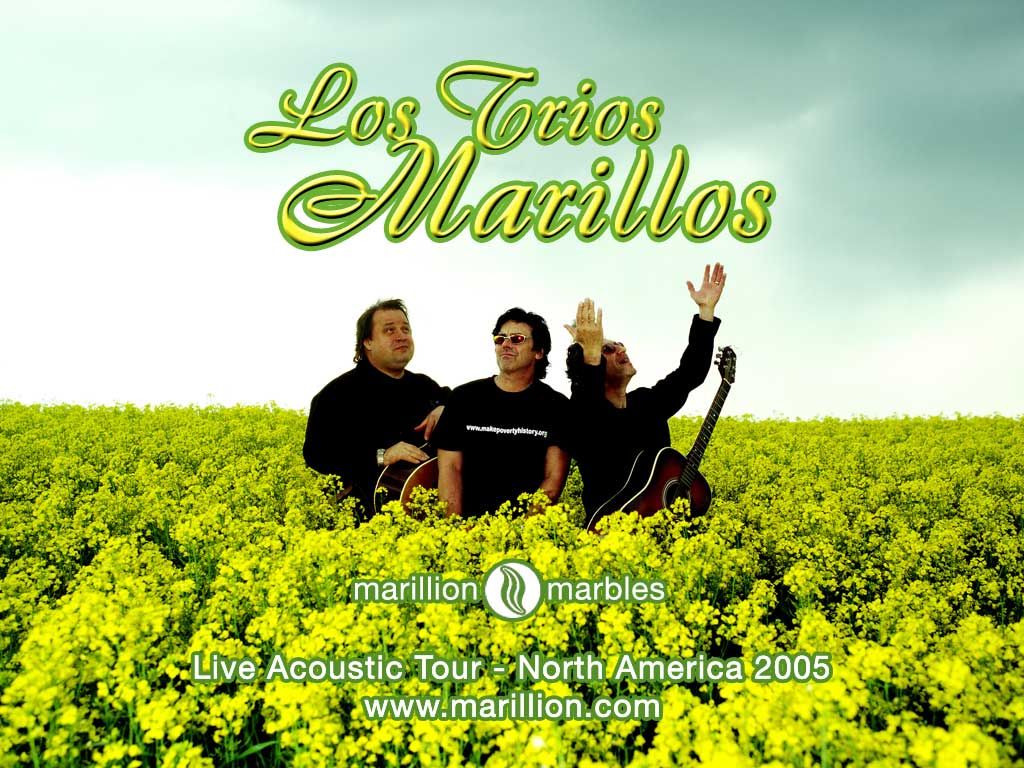 Tonight's only the third show of the tour — at Toronto's 554-capacity Mod Club. The remaining North American appearances and shows are:
June 17 — Montréal, Québec: HMV Megastore (signing session - 18:00)
June 17 — Montréal, Québec: La Tulipe (700 standing)
June 19 — Chicago, IL: Clark Street Tower Records (in-store acoustic set - 14:00)
June 19 — Chicago, IL: Double Door (600 standing)
June 21 — Philadelphia, PA: Broad Street Tower Records (in-store acoustic set - 13:00)
June 21 — Philadelphia, PA: World Cafe (600 standing)
June 22 — Washington, DC: Pennsylvania Avenue Tower Records (in-store acoustic set - 15:00)
June 22 — Alexandria, VA: Birchmere Music Hall (500 seated)
After that, it's back to a sold-out Aylesbury
Civic Centre
(full-band) show on June 30 as a warm-up for a couple of festival dates (July 2 at the
Bospop Festival
in Weert, Holland, and July 17 at the
Guilfest
in Guilford, England. And talk about planning ahead: they are already selling tickets for the first seven shows of their Christmas tour — the one at London's
Forum
two days after my 40th birthday looks pretty good to me!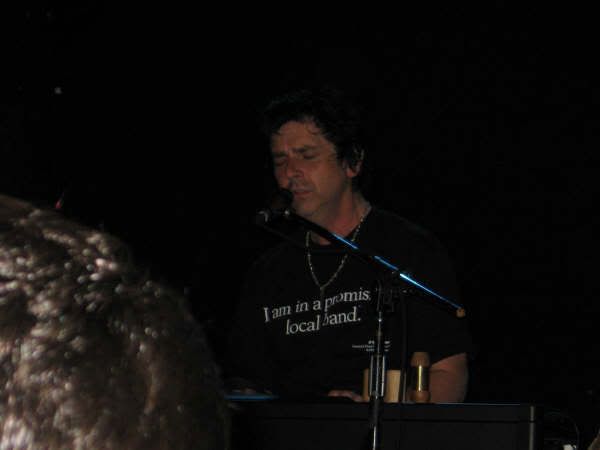 Well, enough of my rambling on about Los Marillos, let's hear from Frank Sullivan about Tuesday's show in Boston (because I really suck at writing concert reviews):
I'm just starting to recover from Monday evening's show at the Paradise in Boston. A truly amazing performance! By the end of the first song, "Hollow Man" sung by h, alone at the piano, I had already been rewarded for my $25 ticket price and the three hour wait out on the sidewalk on one of the hottest June days that Boston has ever seen. The club put chairs out on the main floor, which made for a much more relaxed and comfortable atmosphere than the jam packed sardine can that the Paradise was last Nov. during Marillion's show. (Not to mention that we were free to get a drink or two and use the bathroom without losing our spot close to the stage. All three players sat on stools during the entire show - h at the piano (with various percussion instruments and a laptop for the occasional drum sample loop and help with lyrics!), Pete switching between 6 string acoustic and an acoustic bass guitar and Rothery playing 12 string acoustic, a Strat with one amp and minimum effects and Pete's acoustic bass guitar.Highlights were a chilling version of "Runaway" (brought me to tears) featuring a blistering IMPROVISED solo by Rothers (always a treat!); a stunning rendition of
"Dry Land" (tears on that one as well!) featuring another killer solo by Rothers; "Sugar Mice" (should have brought tissues); an amazing treatment of "Easter" featuring the first verse and chorus done by h alone with piano accompaniment (nice jazzy chords) and no guitar solo; a beatiful version of "Don't Hurt Yourself" with Rothers on bass, Pete on acoustic guitar and "percussion" provided by the audience hand claps under h's direction; and the first part of "Ocean Cloud" with a nice extended solo guitar intro by Rothery (very nice!) seguing into "Enlightened". Also: "3 Minute Boy" "1000 Faces" "Cover My Eyes" (solo h on piano - georgeous!) "Answering Machine" "You're Gone" and more.

The feel of the night was very intimate, almost like having Marillion playing in your living room for you and some friends. I couldn't help but feel that this tour and these shows were more a gift to the fans than anything else. The stripped down arrangements and relaxed atmosphere made the power of both the compositions and the performers all the more apparent. It was like looking at a drawing by Rembrandt, where through a few loose, quickly drawn marks you can still feel the presence of the hand of the greatest artist who ever lived. Seeing Steve Hogarth sing while sitting on a stool and hearing Rothers play blistering solos without his usual wall of signal processors, in some ways made the spirit of the music even more apparent than at a full band show. A very special evening indeed.

I also caught the appearance at Tower Records the next day. A nice set up, featuring a big sign (old Mark Wilkinson logo!) and big in-store display featuring Marbles on the Road DVD and quite few CDs. The band played 5 songs to a surprisingly small, yet very enthusiastic, crowd and then signed autographs. I brought my four year old daughter, who enjoyed it immensely (I wasn't the only one who brought kids.), especially since they played her favorite song, "Don't Hurt Yourself".

All in all, a great opportunity to see the greatest band on earth in an
uncharacteristically informal setting, without losing one bit of the magic that is Marillion. Nice job!
We'll see you farther on down the road...