One of the most shameful episodes in American history was the forced relocation in 1863 of Navajos and Mescalero Apaches from their homes near Canyon de Chelly in Arizona to Bosque Redondo, near Fort Sumner in New Mexico.

Hundreds died on the march and hundreds more died of starvation and disease at the desolate encampment — the Federal government's solution to the problems of raiding Indians who were inconvenient to westward expansion. In 1868 the Navajo Reservation was created and the Bosque Redondo survivors made The Long Walk home; Mescaleros had escaped to their home in the nearby Sacramento Mountains by then.

Most Americans have long since forgotten this dark spot on our history. But Navajos never forgot, calling the reservation hweeldi, "place of suffering," and considering it a slaughterhouse and a graveyard too painful to visit.

However, today hundreds of Navajos and Mescaleros — many of them walking — joined non-Indian history buffs and a number of politicians (including New Mexico Governor Bill Richardson and Senator Peter Domenici) in order to officially open the $2.5 million Bosque Redondo Memorial, which includes a 6300-square-foot visitor center.

The memorial was actually conceived back in 1967 but didn't get off the ground until some action in the State Legislature in 1992/93. In 2002, the New Mexico Department of Cultural Affairs signed an agreement with the Navajo and Mescalero tribes to authorize construction of the Bosque Redondo Memorial. It was designed by Navajo artist David N. Sloan and is located on the south bank of the Pecos River, within Fort Sumner State Monument. In order to get there, drive three miles east of the Village of Fort Sumner on Highway 60/84, then south three-and-a-half miles on Billy The Kid Road.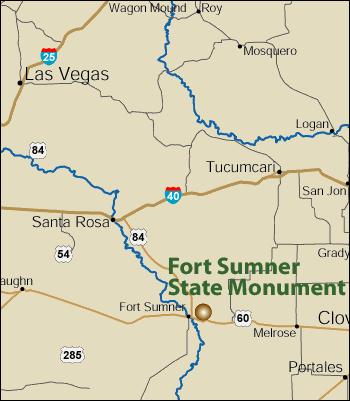 I think Navajo Nation President Joe Shirley Jr. had the most interesting comments. He said the memorial was a fitting tribute to what he called genocide and holocaust, adding that — despite the ribbon cutting and barbeque lunch — the memorial was no cause for celebration: "This place can never be celebrated. Hatred was born here."

I believe one way to counteract hatred is to promote understanding. Such memorials should stand as reminders to our past mistakes, reminding us of painful episodes that can be too convenient to forget.

There's plenty of information about the Long Walk if you do a bit of digging. Smithsonian Magazine had a very good article about it in their December 1997 issue, which is excerpted online here. Also highly recommended is Dr. Neal W. Ackerley's excellent dissertation, A Navajo Diaspora: The Long Walk To Hweeldi.