It seems much longer ago than two years, but on June 5, 2003, I was huffing and puffing my way up the Great Wall at Juyongguan Pass, about 50 kilometers north of Beijing. It was extremely hot and humid and I was exhausted, having arrived in China the night before after a long couple of days of flights -- from London to New York to Kansas City to Albuquerque to Phoenix to San Francisco to Beijing. Just a few days before, I had come close to being stranded in Calais because I didn't have an entry visa for France and the last ferry of the day across the English Channel was departing while I was trying to "reason" with the French immigration officer.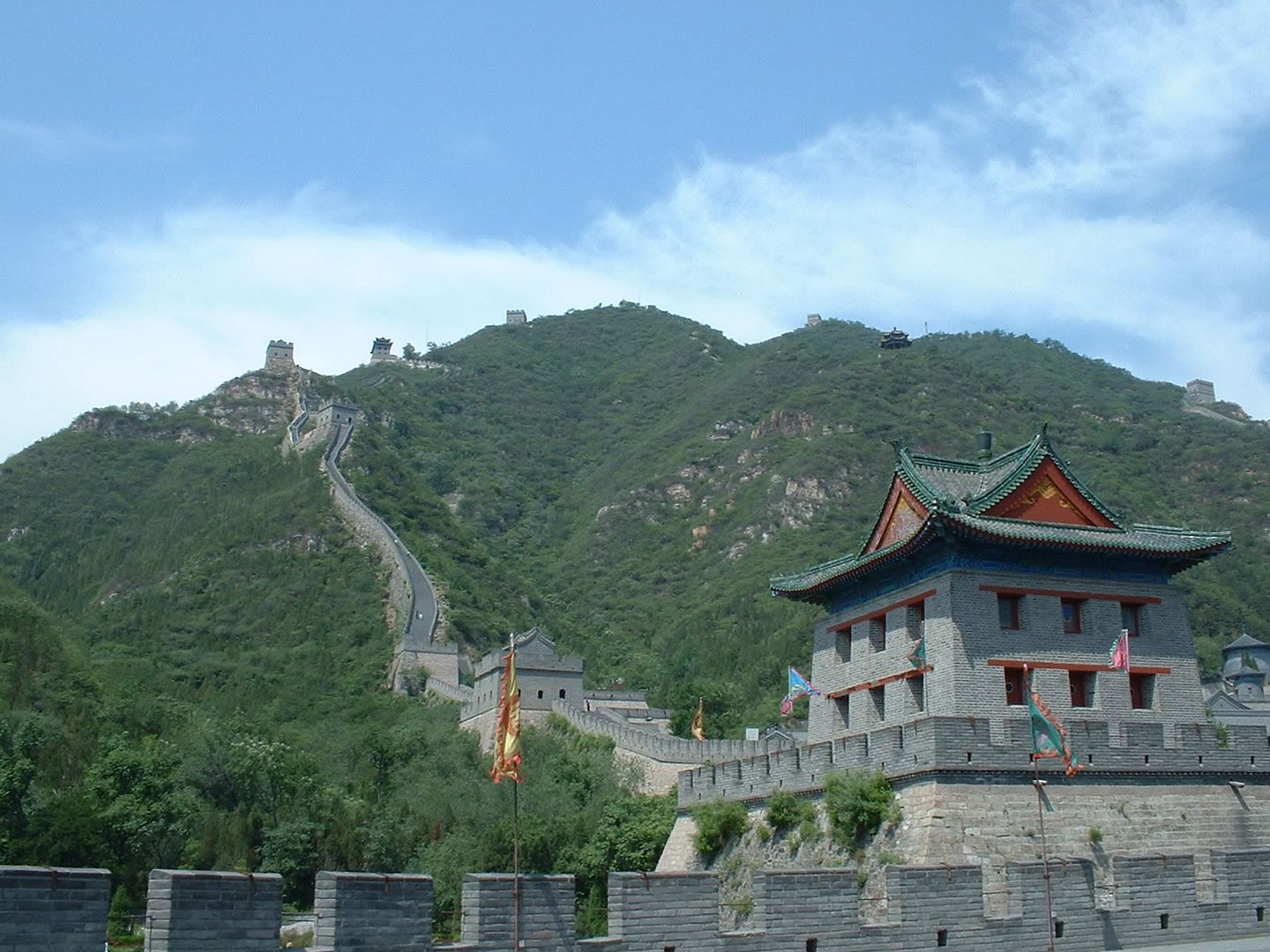 In fact, even my visit to Juyongguan was a happy "accident" of sorts. My destination had actually been to Badaling. Having missed the local bus which left from the south end of Tiananmen Square, I was forced to take a taxi. When my driver noticed me filming as we approached this strategic (and scenic) pass, he thought this was where I wanted to stop. My Chinese wasn't good enough to convince him otherwise so stop we did.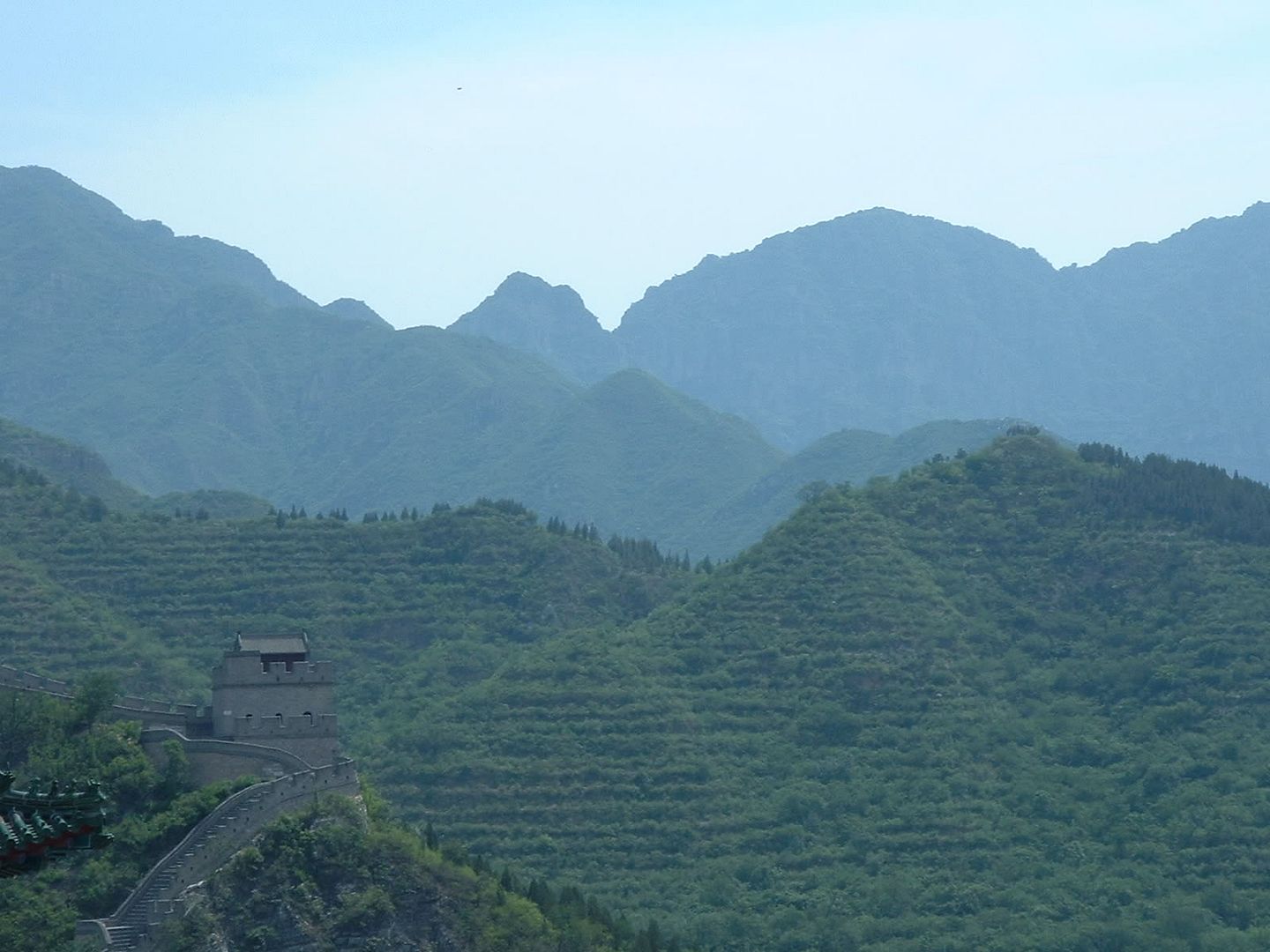 This section of the Great Wall was originally built during the 5th century and rebuilt during the Ming Dynasty; it was considered one of the most strategically important because of it's proximity to Beijing. It's also famous for it's outstanding scenery, located in a 15km-long valley. Juyongguan was named one of the Eight Best Scenic Spots during the Jin Dynasty (1115-1234AD). The gate in the center of the pass is built of finely-carved marble and called Cloud Terrace or Guojie (crossing street) in Chinese. It was originally the base of three towers and was built as early as 1345 and is nearly 10 mtres high. An earthquake in the early Ming Dynasty destroyed the three towers on the top.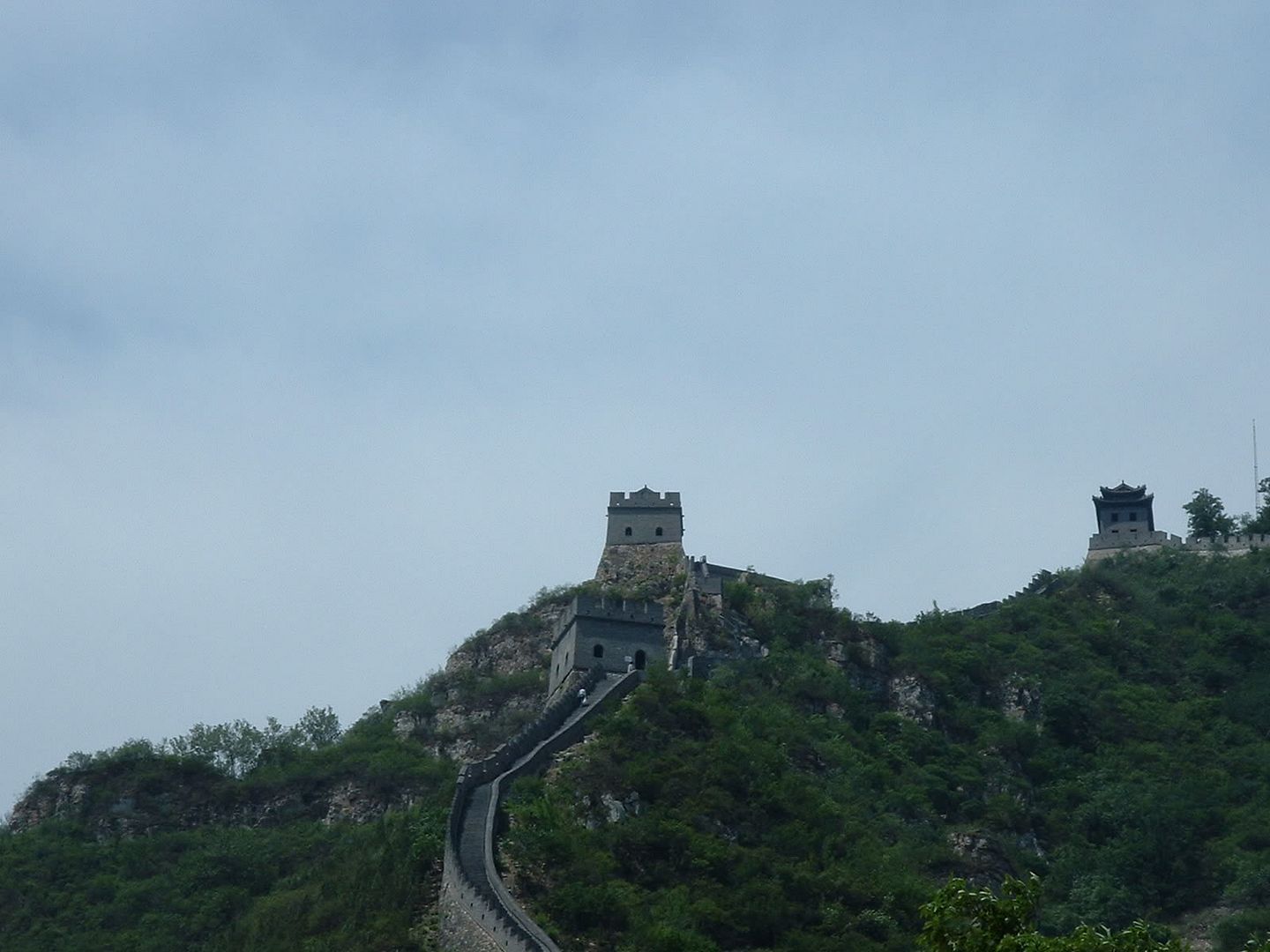 In 1644, the troops of Peasant Uprising led by Li Zicheng took over Beijing and entered the city from here; later that year, this same peasant general overthrew the Ming Dynasty. At that time, this was a very crowded area. Later on, buses as well as railways went by here but nobody would stay here for the night and the area gradually became deserted. It's only been relatively recently that this section of the Great Wall has undergone restoration and is beginning to attract more tourists.

As it turned out, I was the only "tourist" to be seen on this stretch of the Wall that day. Of course, much of that was because the SARS pandemic (and resulting restrictions/quarantines) was still very much in effect. The place was virtually deserted except for a couple of elderly women sweeping a courtyard and the young woman who sold me some juice, a t-shirt for Dad, and my "I climbed the Great Wall" certificate scroll (she didn't have exact change for my 50 yuan note so I also received a nice soapstone carving of the Cloud Terrace). I only made it to the third watch tower and that was plenty for me — I was thankful that there weren't any other climbers to see my dismal failure; I did run into a few Australian students on the way down who seemed to be as tired as I was.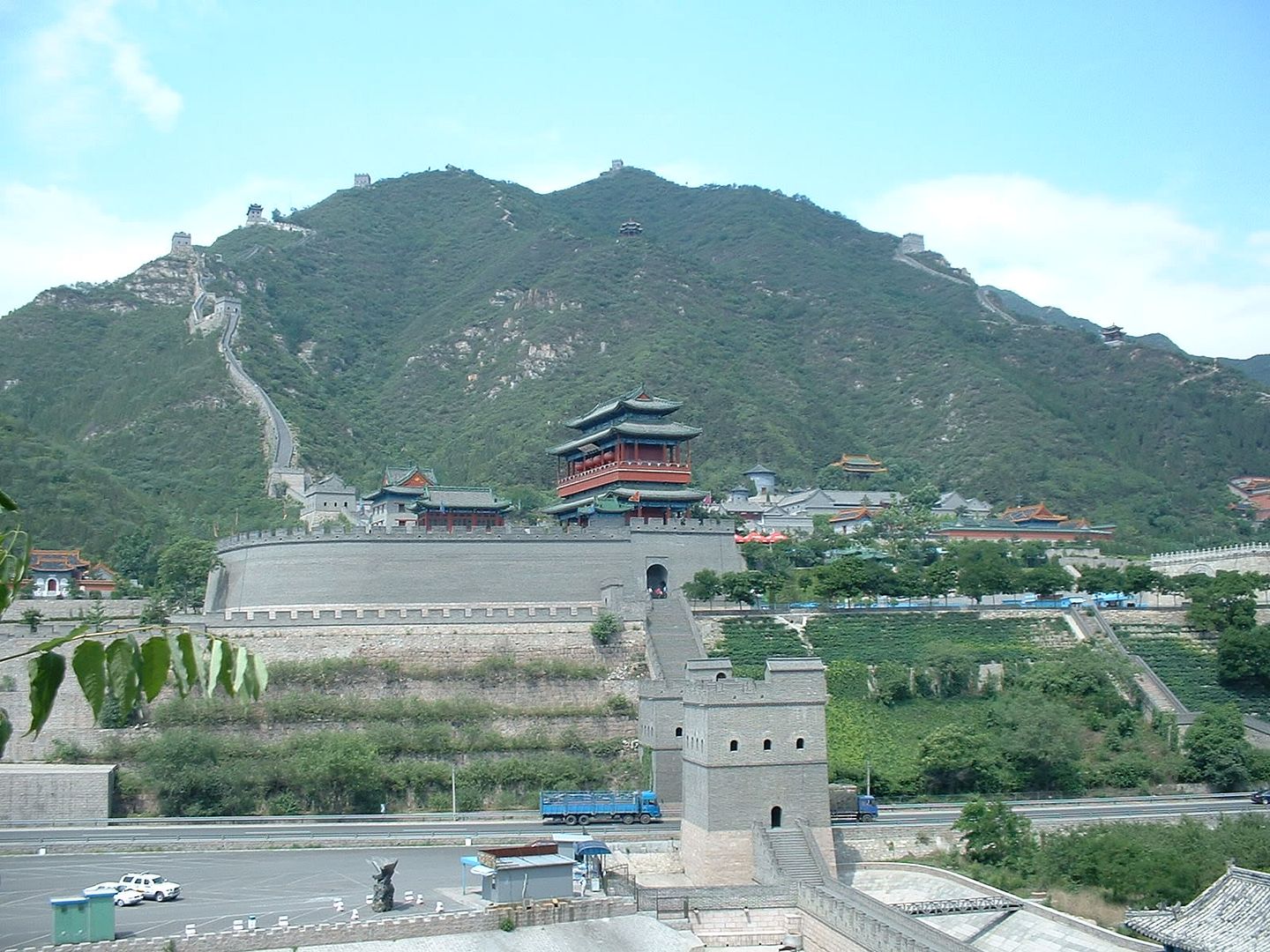 I didn't spend much more than a couple of hours at Juyongguan. Having purchased an entrance ticket for 40 yuan (a rather attractive affair — in fact, my various ticket stubs are some of my favorite souvenirs from China) at the booth just off the busy highway traveling through the pass, I first began an ascent up the eastern portion of the Wall. It was extremely steep, the stone steps were very narrow and in great disrepair. I attained a height far enough to get good views of an attractive lake and the Cloud Terrace gate. Realizing that there probably wasn't much else to see on that section (or, more importantly, anyplace to buy some liquid refreshment), I descended back to street level, climbed the stairs to the top of the gate's arch, and began exploring the western section of the Wall.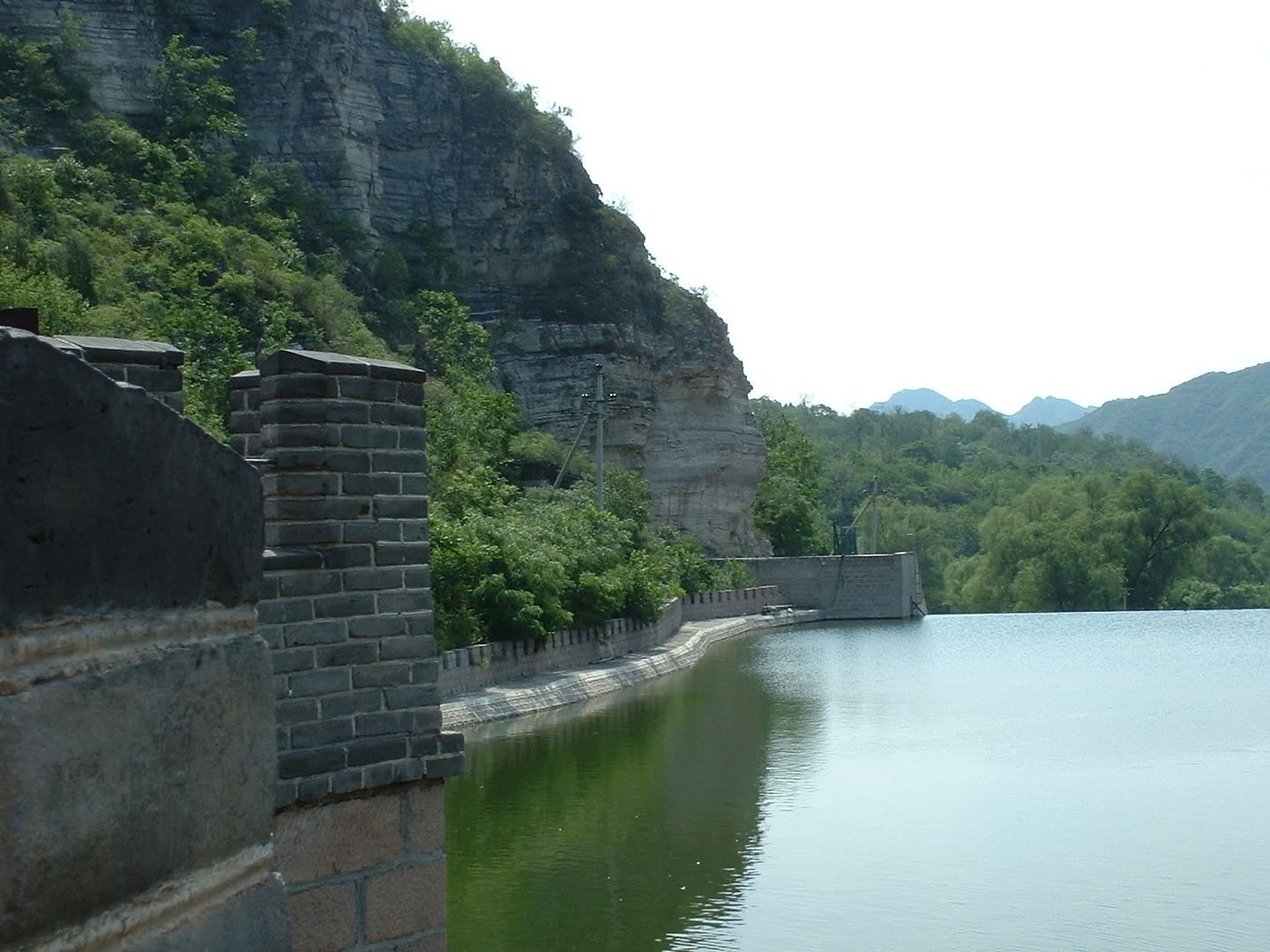 Although the steps were still very steep and narrow (I suppose for the smaller Asian feet), they were in a much better state making for an easier climb. But the heat and my own exhausion (I hadn't slept much in the previous 20 hours or so) soon caused me to make my way back down the mountain.

I didn't take very many photos — I still thought this was a brief stop en route to Badaling — but one of my longtime goals was to get a picture of myself taken on the Great Wall of China. Since I was alone, I took the first in what would become a theme of this SARS-timed journey: the infamous self- portraits. I would pick a spot with a nice background and extend my arm to take a photo of myself. Often, it would take several attempts to get the framing just right but at least I had a digital camera so I could just erase the "rejects". The main purpose was to include these photos in my planned e-mail dispatches from the road to my family (they were always complaining I never had photos taken of myself on my trips). As this trip continued, I was to perfect the self-portrait method to the point where I could get a good photo in just one or two tries. In fact, only twice on the entire trip would I trust someone else with my camera (the first was the following day while entering the south gate of the Forbidden City/Imperial Palace — that shot made me look disgustingly fat — and the other was during my night of singing Elvis Presley and Bruce Springsteen songs at a Shanghai karaoke club).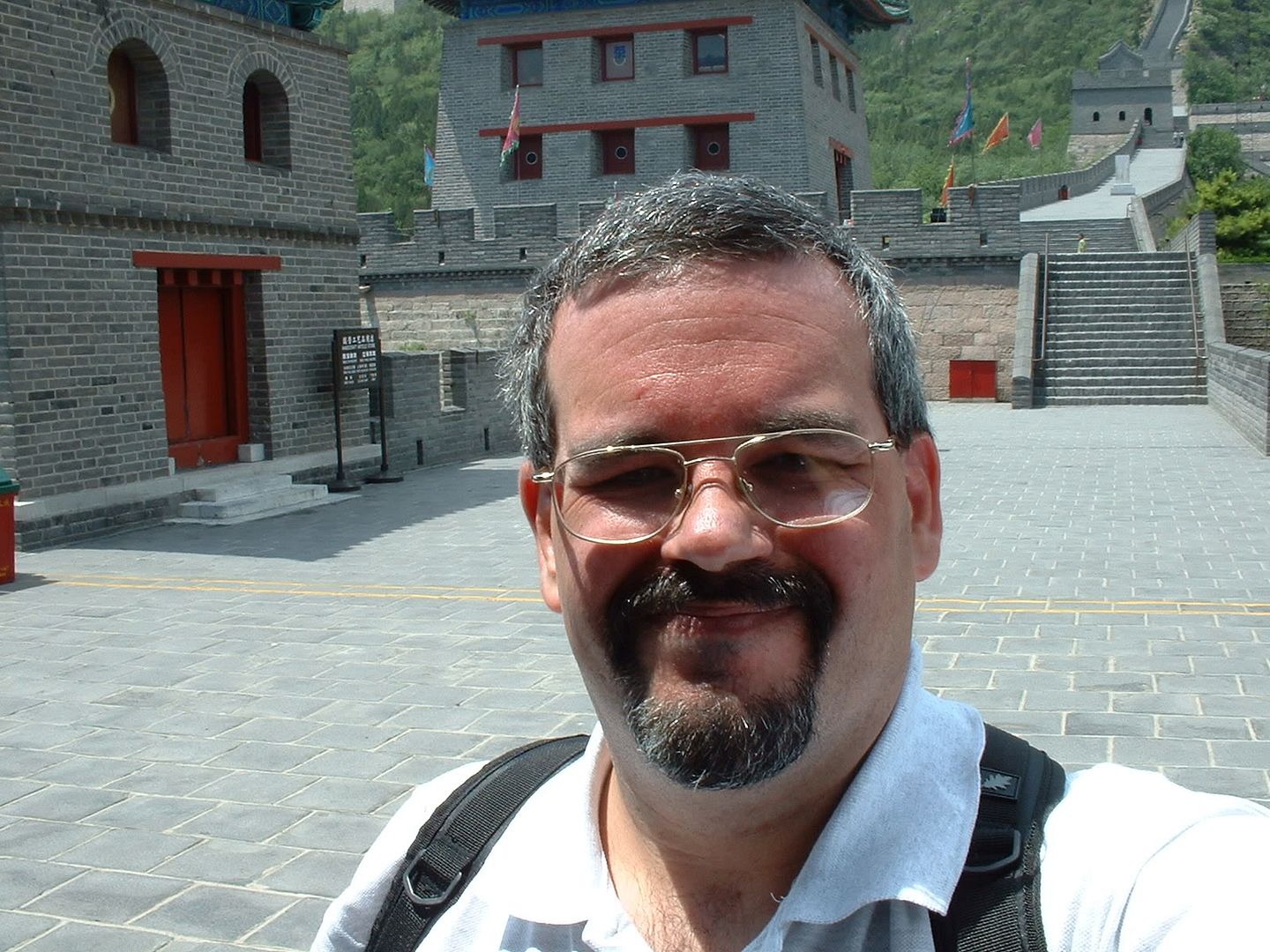 Upon my return to my taxi, the driver turned back towards Beijing — misunderstanding that I still wanted to go to Badaling. Oh, well. It had already been a rather expensive day (the taxi was considerably more expensive than my budgeted non-tourist bus would have been, plus I had to pay the highway tolls). At least I was able to cross off the Great Wall photo from my grand to-do list and find out how out-of-shape I really was. I looked forward to getting back to Beijing and perhaps taking a nice nap in my guest house.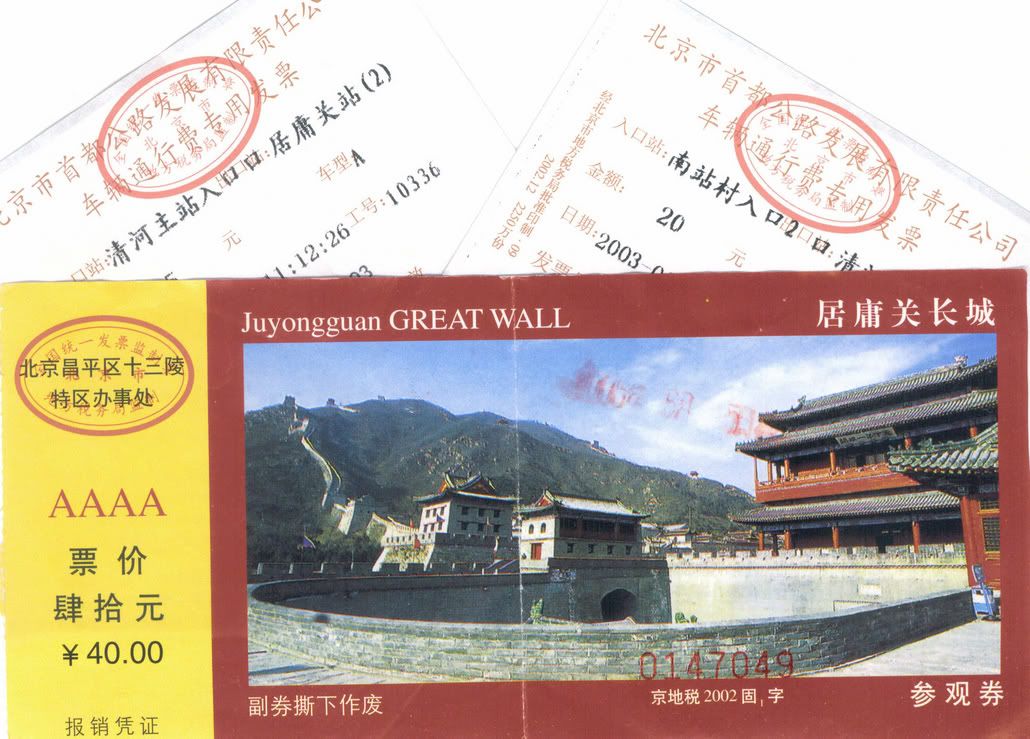 (Leaving my taxi, I walked across Tiananmen Square — taking a few photos along the way — and deciding to leave the Imperial Palace for the next day. I discovered a nice park just east of the palace gates where I purchased a bottle of frozen water from a kid on a bicycle and eventually made my way to Wangfujing Dajie. I spent an hour or so among the modern shops of the pedestrian mall, met my first two art students of the trip, and just enjoyed walking along the streets back to Hao Yuan Guest House. I even stopped at a McDonald's along the way for a much-welcomed hamburger and fries — the first time in many years I'd eaten at this chain.)

Thinking about all of this today has made me realize that I am very far behind on chronicling this particular trip. One of my chief purposes in establishing my website was to have a place where I could detail my SARS tour of Asia, including some of the many photos and memorabilia I brought back. It really was a historic time to be in that part of the world — particularly China as the Communist government was actually trying to communicate with its citizens about what was happening with the pandemic. The trip was the most unique I have yet undertaken and I'm glad the disease didn't keep me away. I think I'll be doing some more work on my June 2003 travel diary in the next few weeks, before those memories fade completely away.