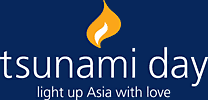 Today marks the second anniversary of the tsunami which claimed over 240,000 lives. There are many events which will serve to help us remember those victims and survivors of this tragic disaster. We plan to participate in the Buddhist merit-making ceremony (conducted by 80 monks) at Patong Beach (from 10 until 11) and also the the "Ceremony of Light" (lighting a candle in a wreath or releasing a floating lantern into the night sky from 7 until 11pm).

I want to mention that we support the Tsunami Day Appeal which collects donations to help children, many of whom lost parents and siblings in the tsunami, so that they may better their lives through education. Every baht goes to the children and the charity operated last year without any administration costs. All the proceeds are given as grants to charitable organizations working to help those children left behind; this includes helping the kids stay in school by buying uniforms, books, and other school necessities. This year's goal for the Appeal (which runs from December 10th through the 30th) is to raise three million baht to help 500 Phuket children for a full year. Check out their website for more information (they will also post photos and video footage of this year's ceremonies).

Finally, I want to mention another success story: just last week, the tireless work of the Thai Tsunami Victim Identification Center (just up the road from us a short distance) led to the identification of one more victim. As a result, the family of a 21 year old Turkish tourist regained their daughter's body — and at least some measure of closure. Relief efforts big and small continue to this day, some publicized but many go unrecognized except to very few, but all of those who have helped — and are still helping — deserve a hearty thank you.