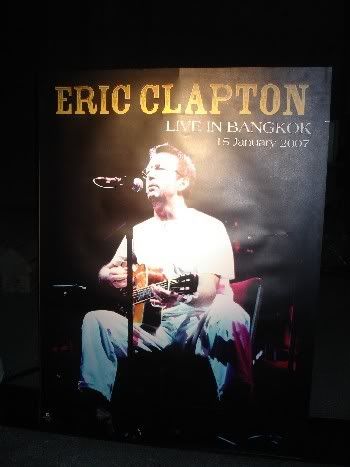 I've never been very good at writing album or concert review so I'll reprint a couple here from other sources. I will say that Monday night's Eric Clapton at Impact Arena in Muang Thong Thani, Bangkok, was the best of half-dozen or so times I've seen him perform going back almost 22 years; the setlist was superb, featuring a number of songs from the seminal Layla album (released in December 1970), with some of the best guitar solos I've ever heard.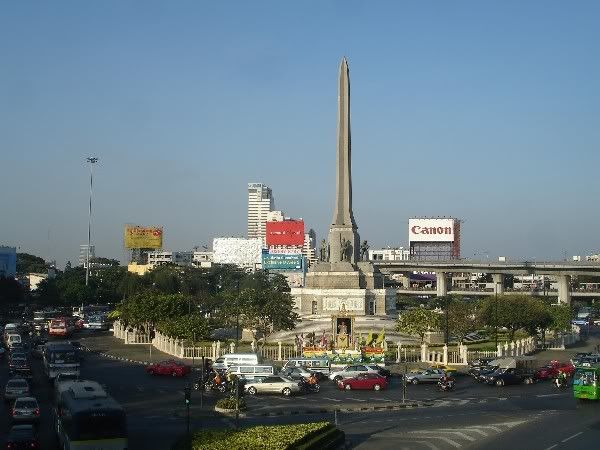 My wife and I left our hotel on Sukhumvit Soi 25 around a little before five and walked up the street to the Asok BTS station. We took the SkyTrain to Victory Monument where we met my good friend, Mark from England. After a simple meal of soup and rice at a Victory Point noodle stand (washed down with Leo Beer), we hailed a taxi for the journey up to Muang Thong Thani (a bit west of the old Don Muang Airport).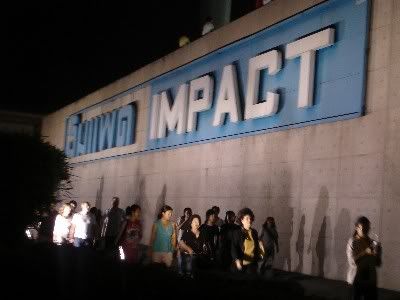 Impact itself is a HUGE complex and includes the 12,000-seat arena, an outdoor amphitheatre, a large convention center, and several massive exhibition halls. Outside the arena there's a number of open-air food stands with plenty of seating. Upon our arrival, we could easily hear the end of the soundcheck inside (an excellent version of "Let It Grow", from Clapton's eponymous-titled debut solo album released in August 1970; sadly, it wasn't performed in the show itself).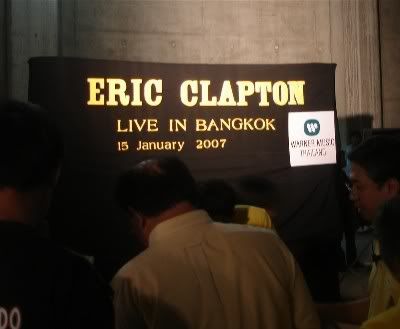 I was surprised at the number of souvenir booths ringing the arena; Warner Bros. Thailand had a stand selling Clapton's ENTIRE back catalogue (including his former groups with the 1997 Cream boxed set, Those Were The Days, and their reunion DVD, Royal Albert Hall London May 2-3-5-6 2005, seeming to be the most popular items as these were sold-out by show's end; I bought the special Asian tour edition of Clapton Chronicles containing a bonus disc full of live tracks and other rarities). The tour merchandise booth contained a number of well-designed shirts (tees and polos), ballcaps, an excellent program, a set of guitar pics, keychains, etc. Prices were a bit less expensive than concert items in the West; I purchased a t-shirt for 800 baht and a program for 500.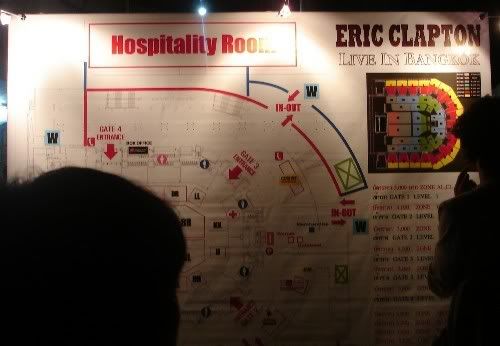 Entering the arena shortly before showtime, we found our seats on the main floor — right on the center aisle about 20 rows back from the stage (I'd thought perhaps row AD was fourth row as the seating charts showed AA as front row, but they added some in front). There were huge banners stating that smoking and all types of cameras were prohibited but we saw many people lighting up (a No Smoking law just went into effect in Thailand which is largely ignored) and snapping flash photos). Once the lights went out, the audience was required to stand for the Thai Royal Anthem (เพลงสรรเสริญพระบารมี), which begins all public events in this country (it even precedes movies at the theatres).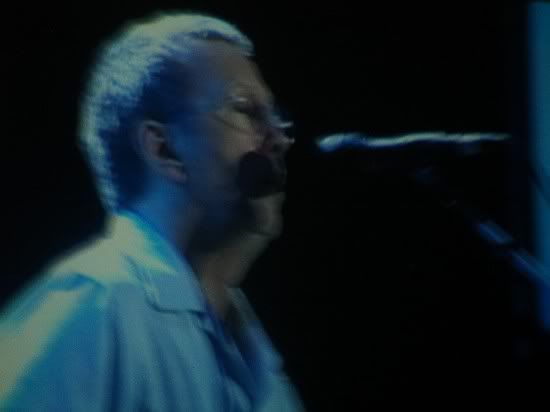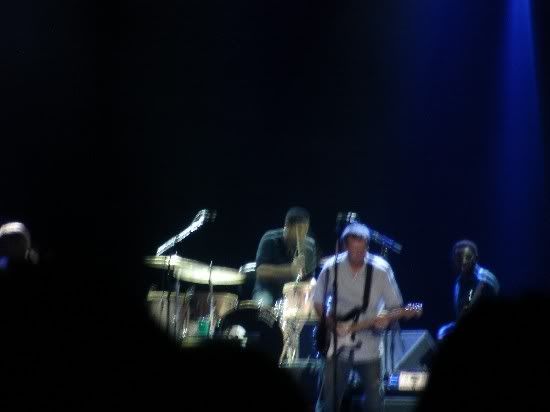 I was initially a bit apprehensive about the two security guards just to the left of Tim (she took the aisle seat and I was immediately to her right) but soon openly took photos and filmed many video clips throughout the show (starting out with at least a 30-second clip of each song, soon I was filming full songs training the camera on one of the large video screens which flanked the stage — came out fairly good and I'm now putting together a souvenir DVD...). Security didn't seem to care and mostly sat watching the show instead of the crowd.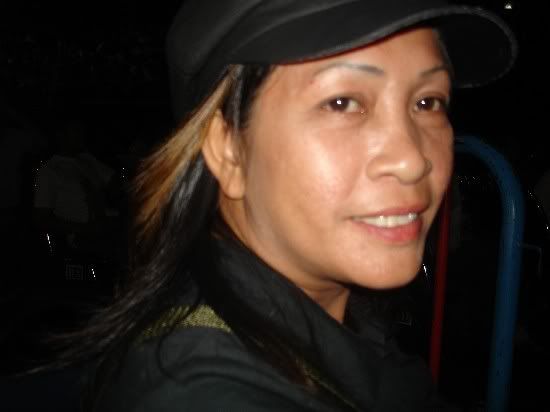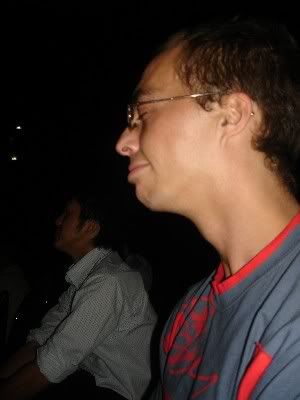 We all thoroughly enjoyed the show; Tim got particularly excited upon hearing songs she knew ("Wonderful Tonight," "Layla," and "Cocaine") and Mark bopped along to the blusier numbers such as "Got To Get Better In A Little While" and "Little Queen Of Spades." Our only real disappointment was that more people on the floor weren't standing up and dancing along! After the show, my wife asked me why Clapton doesn't talk very much (he never says much more than polite "Thank You's" and sometimes will make a brief dedication or band intro) and I tried to explain he prefers to let his guitar and the other music do the talking; I think she was a bit disappointed in that it wasn't like a Thai music concert where they usually spend more time talking and making jokes than singing!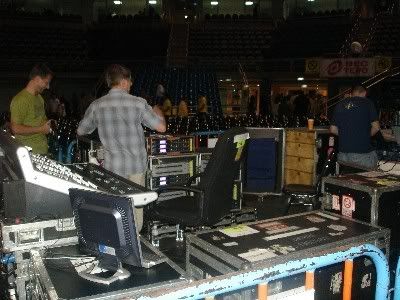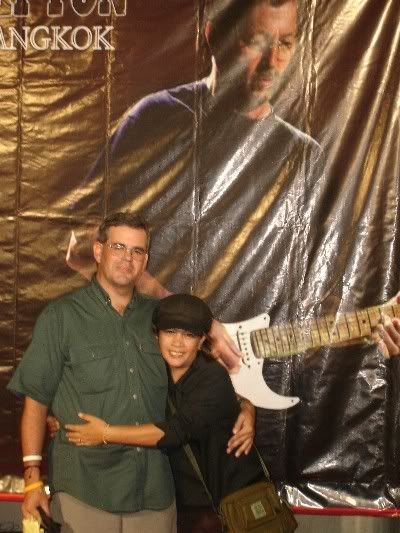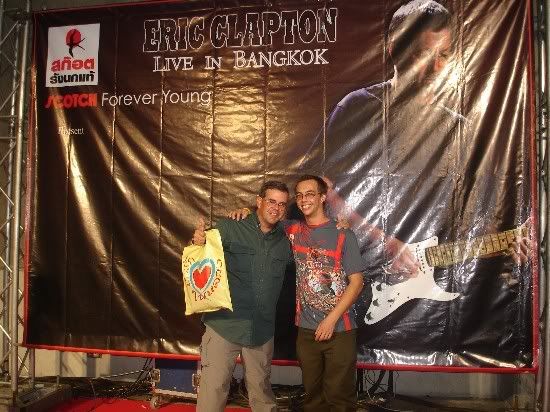 After the show, I talked with one of the engineers at the soundboard who told me they were recording all of the shows on this leg of the tour for a possible live album release (I'm sure Clapton records all of his shows all the time, judging on the amount of soundboard recordings I've found recently on various download sites). We then had our photos taken at one of the hospitality areas for the "Gold Section" ticket holders before trying to hail a taxi outside. We walked north of the Impact grounds a bit to get beyond the hoards of other fans trying to do the same thing. Arriving back at Victory Monument, we had a late night snack at another noodle stand before leaving Mark and returning to our hotel; I had to get up early in the morning to visit the U.S. Embassy...

For the record, the band on this leg of the tour consists of:
Eric Clapton — guitar, vocals, harmonica
Doyle Bramhall II — guitar, vocals
Derek Trucks — slide guitar
Chris Stainton — keyboards
Tim Carmon — organ
Willie Weeks — bass
Steve Jordan — drums
Michelle John — backing vocals
Sharon White — backing vocals
The setlist:

ENCORES:

And, finally, let's reprint a couple of reviews. The first appeared in the "Outlook" section of the
Bangkok Post
on January 17 (and can also be found online
here
):
Eric Clapton's Legend Goes On
Colin Hastings

After an absence of almost 30 years, Eric Clapton made a triumphant return to Bangkok on Monday night and showed us just why he is considered by some to be the world's greatest blues guitarist.

In front of 10,000 adoring fans at Impact Arena, the 61-year-old British musical legend played non-stop for almost two hours and proved that there is no substitute for genuine talent.

His seven piece band, which included the hugely respected Derek Trucks on slide guitar and Doyle Bramhall on guitar, were equal to the task and provided the perfect foil to Clapton's awesome lead.

They had the audience in thrall from the moment they ambled on the enormous stage, an excusable 15 minutes late, performing a mixture of classics from Clapton's long and dazzling career, especially from the '70s, during his time with Derek and the Dominoes, and milestone songs from Blind Faith and Jimi Hendrix.

This was to be a night of pure musical heaven and the tone was immediately set with a lively version of Tell the Truth and then confirmed with Hendrix's Little Wing.

With Clapton you get nothing but superlative music. Not for him is a dialogue with the crowd. Apart from a perfunctory "Thank you" between numbers, he let his guitar do all the talking. And thanks to two giant screens either side of the stage, we had the privilege of watching, up close, the maestro's hands at work.

After sharing the spotlight with his fellow guitarists on the wonderfully evocative Why Does Love, Clapton changed the tempo by going solo. Strapping on his acoustic guitar, he once again had the audience holding their breath as he played the blues and soul classic Drifting.

Drummer Willie Weeks joined in for the next song, Outside Woman, and by the time Clapton was on his fourth "unplugged" number, Running on Faith, the entire band was back in action.

Reverting to his electric guitar, the man known as "Slowhand" stepped up the pace with Motherless Children before launching into one of the highlights of the night, a brilliant rendition of Queen of Spades, which gave the three guitarists and keyboard player, Chris Stainton, an opportunity to display their remarkable talents.

As the song free-wheeled along, it had all the joy and expression of a jam session and none of the formality of an act rehearsed many times. This was a moment to savour.

Although I am not a fan of Clapton's voice, which I consider rather flat and monotonic, it is nonetheless distinctive and no one else could perform the wistful Wonderful Tonight with as much feeling. His turbulent life of love lost and found is surely reflected in this particular song.

Of course, the night would not have been complete with Layla, made famous in Clapton's days with the band Derek and the Dominoes, and probably one of the most recognisable songs around. Predictably, this had the crowd on their feet and dancing in the aisles.

How do you follow Layla? There is only one way, of course with Cocaine, arguably Clapton's most famous song of all (written by J.J. Cale). Everybody knew it was coming as the encore and when it exploded on-stage, the entire place was rocking. This and the band's final number, Crossroads, made it a very special night.

Clapton is without question a giant of the UK music scene, an iconic figure whose reputation just seems to grow. Despite his many personal crises, no other UK musician has been held in such high esteem more consistently or for longer. He may have lost those dashing good looks that mesmerised so many beautiful women in the past, but his musical skills remain as sharp as ever.

On a personal level, Clapton has touched my life for more than 40 years. I can still recall the early '60s billboards outside my local pub, the Toby Jug on the A3 outside London, promoting newly formed bands that would go on to become true heavyweights of the UK pop scene: John Mayall, Fleetwood Mac, Jethro Tull and perhaps most significant of all, the Yardbirds, whose lead guitarist included a local schoolboy whose serious demeanour and seriously special guitar skills were already being talked about way beyond the confines of that seedy and recently demolished pub.

This was, of course, the young Clapton. We followed his progress in all kinds of super bands thereafter, gone to his concerts and even watched him perform in Bangkok at the National Theatre back in the late '70s. So, it was a real privilege to see him again at Impact Arena, so many musical memories later.
The following reviews appear on the
Bangkok concert
page of the excellent
Where's Eric
fansite:
15 January 2007
Eric Clapton & His Band: Impact Arena, Bangkok, Thailand

Review by Naphon Chockchaipermpoonphol - Bangkok, Thailand
Well, what a great night !!! Clapton Live in Bangkok for the second time in 30 years. Everyone in the band done a very good job, especially Mr. Derek Trucks who played slide guitar very well.

Setlist is closed to last night in Singapore. Clapton open the show with 5 Derek & The Dominos tunes. Tell The Truth is great. Doyle played Guitar Solo with Wah-Wah Pedal in Got to Get Better in A Little While. After a few chords started in Little Wing, the crowd went crazy !!! And the last song from first electric set, Why Does Love Got To Be So Sad?. Derek Trucks done a beautiful slide solo again.

The band moved to the sit down set. Clapton played a Martin acoustic guitar alone in Driftin' Blues. And the full band came back in Outside Woman Blues. Derek Trucks played a Dobro guitar in acoustic set. Clapton closed the sit down set with semi-acoustic version of Running On Faith. Derek & Doyle moved to electric guitar while Clapton played acoustic guitar.

The second electric was the climax of the show. Clapton played the intro riff of Motherless Children and then moved to the slide part. Clapton, Derek & Doyle played slide guitar all together in this song. Little Queen of Spades was great too, it's blues tune which let almost everyone in the band done a solo. And every done a really great job especially Chris Stainton and Derek Trucks (again!). Further On Up The Road was drop tonight. But the band played Anyday instead. After a few notes from Wonderful Tonight, the crowd went crazy again. Clapton closed the second electric set with Layla, a really great rockin' tune. Clapton & Derek played duel guitar solo in the piano section, very beautiful solo.

The band came back in encores. Yeah !!! Cocaine is back after it was drop in Singapore. This song gave a chance to Tim Carmon did an organ solo. Finally Clapton closed the show with Crossroads. Great solo from Clapton, Derek & Doyle again.

Thanks so much for a very special night with your great music and inspiration. Thank You, Eric.

Review by Harsh Adhyapak
I was at the Bangkok concert last night and it was nothing short of powerful and hard hitting ! Eric Clapton's no nonsense high quality virtuoso approach to his guitar playing and passion for the blues were evident from the moment he took stage. The acoustics at the arena could have been slightly better but that was more than offset by the dedication and 'no pretence' cohesion of all band members. Most noteworhty was Derek Trucks on slide guitar whose brilliance and 'feel' complemented Eric note for note and made the evening all the more rewarding.

Unlike the Singapore show, cocaine was included in the set and made up the encore along with crossroads. The sit down acoustic session was up to expectation with Eric throwing in lovely renditions of Drfitin' blues, Nobody knows you when you're down and out and Running on faith among others.

Eric's trademark fender stratocaster licks that made him a legend in the 70s were peppered in the songs in very good measure and his voice was strong while howling the blues with passion. He seemed ready to go and looked in great shape for his age exceeding audience expectations in every aspect of his performance. It was a wonderful and polished performance and we all got more than we thought we would. Eric hasn't lost any of his guitar playing expertise or song delivery skills and it looks like he's getting better with age.

Thank you, Eric Clapton for stopping by in Bangkok. We'll wait until you're here next ...

Review by Helmut Krug
Finally, I got to see Eric Clapton live in concert. For the first time ever. Sometimes it is hard to know what to expect, but that was different here, thanks to the Where's Eric web site. Hence, the program didn't yield any surprises. But wait… Does the set list tell everything? Certainly not, but if you see it in conjunction with the band lineup - yes, you get an idea of what it would be like.

Nevertheless, it was surprising how youthful Eric still came across. Thanks to his class he doesn't only tolerate, but demand the best sidemen you can find - not to forget the back-up singers. Great to see also that Eric is so generous in granting everybody - and particularly the other two guitarists - ample solo time. It is quite obvious that Eric had the good old Derek & the Dominoes and Blind Faith times in mind when he added the fantastic Derek Trucks to complete the lineup for this tour. And the result was stunning! Maybe some of the audience expected the more mainstream Clapton, but bad luck this time. For a blues fan, however, that was just great!

Now, if Eric was just a little bit nice to his fans when he meets them in person...

Review by Eroica of Baltimore
This is my third time seeing EC live. I was lucky to see Mr. Slowhand and his excellent band on this tour a few months ago at Verizon Center in DC. At first, I feel something missing here in Bangkok that is the opening by Robert Cray, but he clearly proved that he don't need no one. He is a true professional musician concentrating on every bit of his music without saying anything; just the signature "thank you" is enough! He and his band emerged from back stage probably about 15 min late, just enough to start the crowd to go wild. Interestingly, I was told that many concerts in Bangkok are always delayed with many "mysterious" reasons. In my opinion, the sound quality here seemed to be a little better than in the Verizon Center, probably due to smaller size of the venue or much less activity from the audience, or both. It seems like it may take a while for the Blues to invade this part of the world.

In the beginning, it was obvious that Doyle had to go back to his amp to adjust the sound all the time but everything went fine because of his excellent ability to play. He always turned his face to the side and smiled as usual. It was great to hear him sing more this time. Derek Trucks rocked the arena as he always did in every place he went with his excellent slide on his Gibson, many times, switching back and forth among three of them seamlessly. Driftin' Blues in the sit down set was excellent just like uncle Eric was trying to tell the story via his voice and guitar. I am a big fan of the Cream's electric version of Outside Woman Blues and he has done an excellent job in the acoustic version as well. It is never enough to see him do this. Little Queen of Spades confirmed his top place in the Blues. Coming back with 2 songs in the Encore made me thrilled as I was afraid that Cocaine might be dropped out like it was in Singapore. I am not quite sure that Bangkok was the first place where he had 2 songs in the Encore for this tour? Toward the end, for the security concern and to my surprise, I don't think it is acceptable to let someone throw a big towel at him! In conclusion, I think this is one of the great concerts and it's worth every penny. I hope he enjoyed a little bit of Thailand and probably think about come back here again.
And, wrapping things up, the review from
The Nation
, Bangkok's
other
English-language daily:
WONDERFUL
Curtis Winston

The Impact was all Eric's - and Derek's - on Monday as Clapton lined up Dominos favourites from the '70s and blissfully gunned them down
In 1970, when Eric Clapton first took the stage with his new band - players plucked from Delaney & Bonnie - they were mistakenly introduced as Derek and the Dominos, though there was no one in the group named Derek.

Now there is. Derek Trucks, one of the hottest American rock and blues guitarists on the scene today, brought Clapton's show on Monday night back home. The bulk of the playlist on Clapton's tour over the past year have come from the Derek and the Dominos album "Layla and Other Assorted Love Songs".

On that seminal release, "Slowhand" Clapton traded guitar solos and soulful vocals with the late, great Duane Allman.

It's a sound that Trucks, 27, grew up listening to as the nephew of Butch Trucks, drummer and founding member of the Allman Brothers Band. And though he was born eight years after Duane died, the younger Trucks has grown into one of the best - if not the best - slide guitarists since Duane Allman.

More sounds from the past come from another guitarist in Clapton's current band, left-handed Texan Doyle Bramhall II, who demonstrated an otherworldly style of soloing.

Bramhall, 38, who started out playing with the Fabulous Thunderbirds, is in the Texas blues guitar tradition of such players as Albert King and Stevie Ray Vaughn.

From the blistering opening of "Tell the Truth" from the "Layla" album, the band moved into the blues standard "Key to the Highway", featuring the man himself, Clapton, 61, taking the first solo.

The rapport among the band members was cheerful and loose. It was the second show on the Asia-Australia leg of a world tour that opened on Saturday in Singapore. Early on there was a mix-up between Clapton and Bramhall on who was singing what verse, but they laughed it off and kept playing.

Bassist Willie Weeks and powerful drummer Steve Jordan showed what they were made of on a funkified arrangement of the Dominos' "Got to Get Better in a Little While", a song eventually released on Clapton's 1988 "Crossroads" boxed set.

Weeks and Jordan locked into a groove, with Clapton chicken-scratching a rhythm pattern, and it built up from there into a barnburner.

The mood rose to ethereal with the Dominos' arrangement of Jimi Hendrix's mournful "Little Wing", which featured solos by all three guitarists.

And to answer the question "How can they top that?" they asked another question with the pleading "Why Does Love Got to Be So Sad?", which boosted the tempo once more, but then ended with a drawn-out, meditative solo by Clapton.

Then Slowhand sat down alone and gave his acoustic guitar a workout on "Driftin' Blues".

He was joined on "Outside Woman Blues" with Trucks on a steel-resonator guitar, Bramhall on acoustic 12-string, Weeks on semi-acoustic bass and Jordan astride a box, slapping it with some brushes.

The stomping, gut-bucket sound could have been coming from a front porch on a lazy afternoon in the Mississippi Delta.

But this was Impact Arena, and after a couple more "sit-down" numbers - "Nobody Knows You" and "Running on Faith" - the band plugged in again and got back into arena-rock mode, joined by pianist Chris Stainton, organist Tim Carmon and vocalists Michelle John and Sharon White.

With a drum solo opening, there then came the triple slide-guitar attack of "Motherless Children" from Clapton's solo album "461 Ocean Boulevard".

"Queen of Spades" showcased the piano work of Stainton, who Joe Cocker fans will remember as the "Foxy Prince of Roll" on the "Mad Dogs and Englishmen" album. There were solos from Trucks, who stuck with his trusty Gibson SG all evening, and Bramhall on a Gibson Les Paul. (Except for the acoustic numbers, he'd played a variety of Fender Stratocasters.)

"Anyday", also from "Layla", was offered before Clapton got into "Wonderful Tonight". This is where the capacity crowd came unhinged. If the majority of the show was for die-hard Clapton fans, this was a song for the radio listeners.

One fan planted himself in the centre aisle in front of the stage and swooned before Clapton. He was probably the same wag who spray-painted "Clapton is God" graffiti around London in the mid-1960s. As the song was ending, the man threw his shirt on the stage as an offering to the guitar god, before being escorted away.

Then came the closing number, the often-heard title cut from the Dominos' album, "Layla". Hardly a day goes by without it being cranked out at some beer bar somewhere in Thailand, but how many times can you hear it played live, by Clapton and two other hot lead guitarists, complete with the piano solo coda?

The camera-phone toting fans packed the centre aisle in front of the stage and swayed.

That closed out the show, and left the crowd restless for more. After enthusiastic cheering, the band came back and fired up "Cocaine". Meanwhile, a scent of something that was not cocaine wafted from the front row.

This was followed by the Robert Johnson standard "Crossroads", and there was, really, no better way to close out the two-hour show, except perhaps "Further on Up the Road". But for that, fans had to head out to their cars and pop in a CD, because Clapton and company had to take it to the highway for their next gig in Hong Kong.

Still, they left Bangkok a better place, and in light of the events on New Year's Eve, it's an affirmation that good things do happen here, and that the blues aren't necessarily so sad.