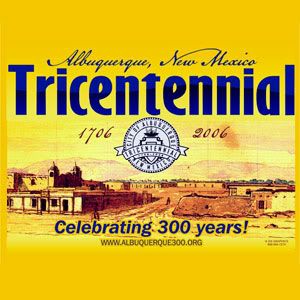 The opening ceremonies for Albuquerque's Tricentennial celebrations are to be held early this Saturday morning, April 16.

Festivities will begin at 6:30a.m. with a half-marathon starting at Coronado State Monument and will continue with a hot air balloon mass ascension at Balloon Fiesta Park at 7:30 and the Parade of Eras at 11. The parade will highlight the five distinct eras of Albuquerque: Native American, Spanish, Mexican, Territorial, and Statehood with musical performances, traditional dances, etc. There will also be a massive cake cutting with Mayor Martin Chavez cutting the largest birthday cake ever created.

Best of all, parking and admission to the events is absolutely free. Unfortunately, I'll miss it all since I'll still be in Phoenix following Friday night's U2 concert (but my plane should be landing just in time to see the flyover by the 150th Fighter Wing (known as the "Tacos").

It's all part of the city's year-long birthday party. The tiny outpost on the Rio Grande del Norte was born April 23, 1706, when the Spanish governor founded the Villa of Albuquerque (the community dropped the first "r" from it's name in the mid-1800's -- there are some here who would like to see it restored). There are many grand openings, celebrations, exhibits, etc. scheduled from now through October of 2006.

Next year's Founders' Day looks especially interesting: there will be an entrada (meaning "entrance of a group") with authentically-dressed people on a two-day trek recreating the original path of the founding families on their way from Bernalillo to establish Albuquerque. Participants representing Native Americans and the 1700s founding families will be met on the trail with those representing 1800s American cowboys (including a cattle drive with more than 200 head of Corriente cattle). After an overnight camp at Sandia Pueblo, the groups will be joined by representatives of the 1900s Route 66 era and continue south to join the Founders' Day parade, ending in Old Town. A Trail End luncheon, torch light procession, and a fandago will complete the day.

As 2006 will most likely be the year I move away from Albuquerque, I want to participate in as many of these types of things as I can.