Bruce Springsteen's new album Devils & Dust will be released next Tuesday, April 26, in North America (April 25 in Europe) in the new DualDisc format (CD on one side, DVD on the other). I received my copy earlier today and I'm in the middle of my first full listen (the CD is on track 9, "Leah").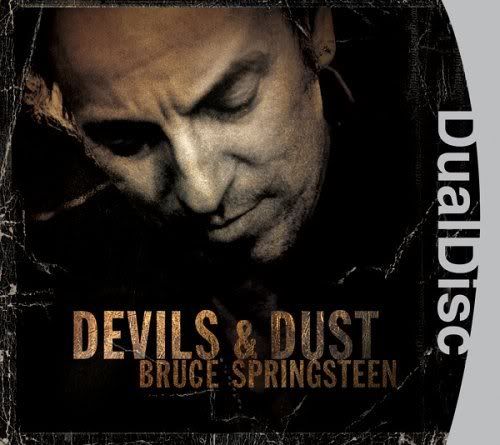 I immediately thought that a "first listen" review would be a good idea for a blog entry. I thought about writing a few comments about each track as they played. But then I realized I'm terrible about writing about the music I enjoy; I really admire those professional music reviewers who can analyze lyrics and music, placing them in a social context or drawing links to past musical history. I tend to write things like, "I really like this song -- it reminds me of..."

But I'll give it a go:

First of all, Devils & Dust is essentially an acoustic-based release. That announcement had a lot of fans of Springsteen's rock & roll material groaning, thinking it would be similar to 1982's Nebraska or 1995's The Ghost Of Tom Joad (I happen to really enjoy both albums, although many of the tracks on Tom Joad do share a certain sameness in melody which can get a bit boring through the course of the record). Overall, this new album is not boring -- only a couple of songs share any similarity with Bruce's previous acoustic work (one of which, "The Hitter," was written and performed a time or two during the Tom Joad tour).

Springsteen has said that many of the songs on the new album were inspired by the American Southwest (as were most on The Ghost Of Tom Joad). Perhaps I'm biased somewhat since I've lived in this part of the country since July 1994 and enjoy the fact that Bruce is interested with the area (his 1996 concert here in Albuquerque holds special meaning for me as I first got to meet and actually talk to him after the show; he also jumped on his Harley Davidson motorcycle and roared down the dark street, thrilling the few gathered fans).

A few tracks on the album are actually muted rockers; I say "muted" because they lack the instrumental powerhouse of the E Street Band but still chug along nicely ("All The Way Home" is a nice example of this; I can't wait to hear Bruce perform it with the full band). When the title track first became available several weeks ago, there was a lot of discussion about how the tune sounded like "Blood Brothers," an E Street Band track from January 1995's Greatest Hits sessions. I don't really see that similarity -- I think "Devils & Dust" is a much better song -- but the harmonica break does remind me of "This Hard Land" (first recorded in May 1982 and long-considered one of Bruce's finest unreleased tracks, it was re-recorded and released on Greatest Hits). Also, at this time, I think the song includes the best lyrics of the entire album.

It seems like every Springsteen album over the past 15 years or so includes at least one song that makes me cringe. That honor on Devils & Dust goes to "Reno" because I find the lyrics a little too sexually explicit (which is why I don't really care for "Red Headed Woman" or "Pilgrim In The Temple Of Love" aka "Santa Gets A Blowjob"); I'm no prude, I just don't care to hear Bruce singing about that stuff. But I do like the smooth style of singing on that track and the acoustic picking (particular the slide guitar) sounds very crisp (reminding me of The Allman Brothers Band's version of Robert Johnson's "Come On Into My Kitchen").

"Long Time Coming" also reminds me of an earlier Springsteen song, although I can't quite put my finger on which one -- perhaps something off of 1992's Lucky Town. The drums push this song along (but lacks Max Weinberg's touch) and I quite like the pedal steel guitar in the mix as well as the female backing vocals (Patti?).

As far as the rest of the album, I think that's going to require at least one more listen to get a few more impressions down.

For now, I plan to flip over the DualDisc and watch the DVD content (video versions of several of the songs from the album with Springsteen talking about his inspiration for each one, as well as a 5.1 mix of all 12 songs).

I have less than two weeks to become completely familiar with the songs -- I have tickets to see Bruce's concert in Phoenix on April 30th.
Listen to "All The Way Home"