Since Wat Chalong is only about 2km from our home, we tend to "forget" about it on our photo expeditions around Phuket. It is actually the largest, most ornate, and most visited of the island's 29 Buddhist temples. Passing it last evening (on our way back up to Tesco-Lotus), we made a quick stop. It was a bit after six when we arrived, ominous-looking clouds were developing overhead, and the available light was fading fast. Still, I came away with some rather decent pictures.

It's fairly easy to find information about Wat Chalong in English — something I can't say about many of Phuket's temples and shrines — so I'll give a bit of background:

Wat Chalong (วัดฉลอง, วัดไชยธาราราม) is associated with two revered monks, Luang Pho Chaem (หลวงพ่อแช่ม) and Luang Pho Chuang (หลวงพ่อช่วง), who were both famous for their work in herbal medicine. During the tin miners' rebellion of 1876 they mobilized aid for the injured on both sides. They also mediated in the rebellion, bringing the warring parties together to resolve their dispute. Statues honoring them stand in the temple's viharn (sermon hall); many Thais come here to be blessed by the monks and receive a good luck charm in the form of a string tied around the wrist which they believe protects them from injury and illness.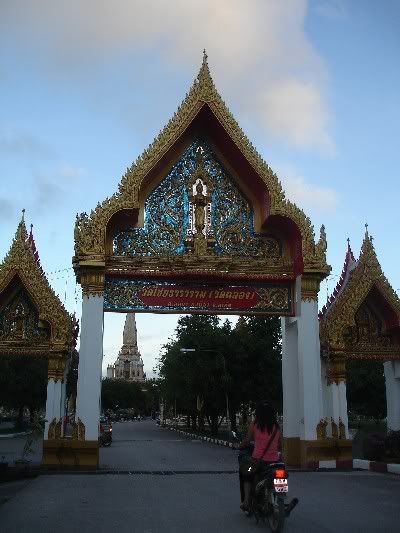 There are numerous buildings in the Wat Chalong grounds including a tall chedi containing numerous Buddha images (a fragment of bone from Buddha is reputed to be stored at the top of the tower), the viharn containing waxworks of the revered monks, a crematorium, an ubosoth where the monks are ordained, a mondhop (library), an ornate bell-tower, and several sala. Immediately inside the main entrance, on the right as you face the wat grounds, is a section of ancient wall; unfortunately, there is no indication of how ancient it is or what it contained.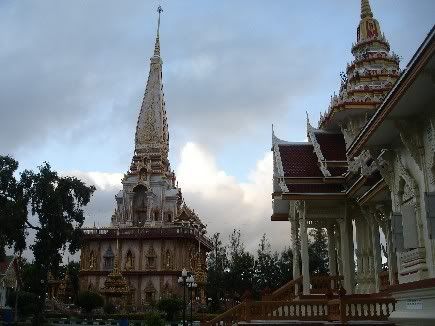 One thing that amuses me about Wat Chalong is the fact that there's an ATM machine (for Siam Commercial Bank) at the center of the complex. But that makes it more convenient for those who need extra cash to purchase alms for the monks. I just think they could have placed the cash machine in a slightly less conspicuous spot. During our visit, I finally started noticing the ornate doors on the various buildings (and took a few decent shots of them).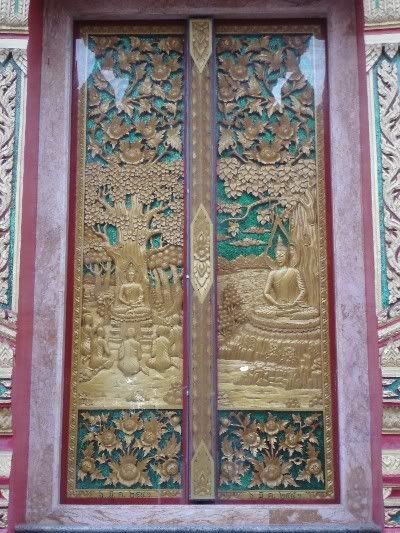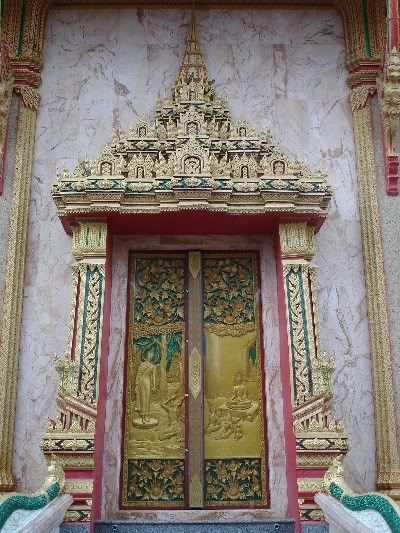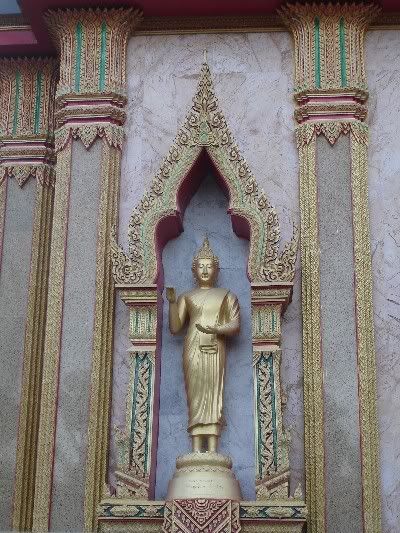 Tim is always a real trouper on these trips; she has a lot of patience and doesn't mind waiting as I wander around taking photos. I would have spent more time at Wat Chalong last night if it hadn't have gotten so dark so quickly. We'll have to return again during the daytime in order to climb to the top of the chedi (spectacular views up there) and enter some of the buildings (containing beautiful murals). With this temple being so close, there's no excuse not to visit more often.