Well, I can't seem to fall asleep tonight so I'll bash out a quick summary of our weekend:

Following Ben's birthday celebrations on Thursday, Tim and I spent all day Friday lounging around the house. I actually woke up around eight or so but Tim slept until noon. We did get a bit of house-cleaning done and, since it was the first non-rainy day in a week, a few loads of laundry as well (we can only do laundry when it's not raining). In fact, it was kind of ironic that the one day in a week where we could have gone somewhere without getting drenched was the one day we didn't go anywhere at all (it turns out very few of my fellow students did anything at all Friday either). About the biggest thing I accomplished was getting a few chapters into The Pirates of Tarutao by Paul Adriex, a novel set in southern Thailand during the Second World War.

Saturday was another matter: Tim and I spent most of the day (twelve hours in all) with several of our new friends from the TEFL course. We all met at the school in Patong at noon and proceeded over to the massage parlor that Ben and his wife own. We had a barbecue outside there (it's location in the OTOP shopping plaza made it more convenient than going to Ben's house in Rawai). Tim made som tam — a less-spicy version of her usual recipe which everyone enjoyed (it was actually the first bowl of papaya salad that I've ever been able to finish) — while Ben's wife grilled sausages and kabobs. We spent several hours just hanging out enjoying the good food and beer (and later, sampling some Lao-kao — a particularly potent firewater from northeast Thailand). As the afternoon progressed, Ben felt sufficiently trustworthy to let Nottingham Mark (who had earlier had his dreadlocks cut off) and Shan try riding his Honda 750 racing motorbike (much larger than the 100's and 125's both were used to).

Late in the afternoon, we all piled into Ben's pickup truck and headed south along the coast. He drove us through Karon, into Kata, past the turnoff to Kata Noi, and finally into Nai Harn Beach. Since several of the guys hadn't yet been outside of Patong, this was a real treat for them to see different (less in-your-face touristy) parts of the island. Tim and I enjoyed the camraderie (she told me that she considers everyone as brothers rather than mere friends) and we even got to see some parts of Phuket we hadn't previously ventured to (such as the far northern stretches of Nai Harn). We didn't actually stop anywhere until we arrived at Ben's home, about halfway between Nai Harn and Rawai Beaches. We spent a few minutes here playing with the dogs, checking out the hammock, etc. before climbing back into the pickup and driving up to Laem Promthep just in time to catch the last minutes of the sunset.

I'd been raving about Los Amigo's Cantina (see my previous entry) to Doug most of the week and he suggested we go there for a late dinner. The food was just as wonderful as on my first visit (I tried the beef fajitas this time while my wife had the nachos grande). Finally, we headed back up to Patong. When Ben dropped us off at OTOP, several of us decided we'd head over to Fuzy's for a "quick beer". While there, my wife and I played a game of pool (my first time since playing in Kamala last January; Tim won, but just barely). We finally called it a night just past midnight.

Today (Sunday) saw me being very lazy — I spent some time reading while Tim drove into Patong to visit Jum. Ben stopped by in the afternoon to ask me a few questions about our homework and upcoming test (I can't believe he actually found the place based on my over-the-phone directions). Tim and I spent a little time visiting with Franz and Pen in the evening (discussing stamps and a possible trip to Hat Yai next weekend).

Here are some photos from Saturday: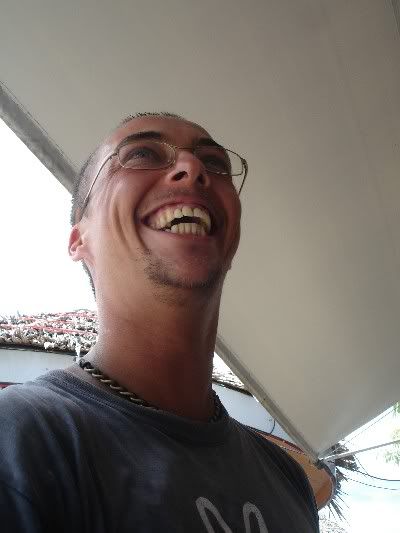 Mark shows off his new haircut (compare with Thursday's dreds). He now looks presentable enough to teach.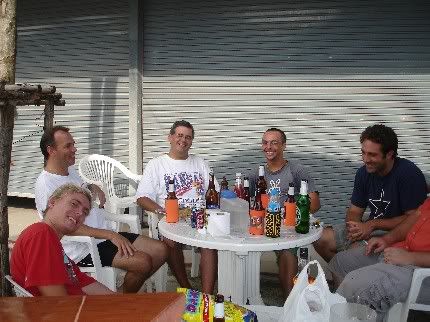 (Left to right:) Rowan, Shan, me, Mark, Doug, and Ben's legs; we're enjoying a few drinks in Patong's OTOP area.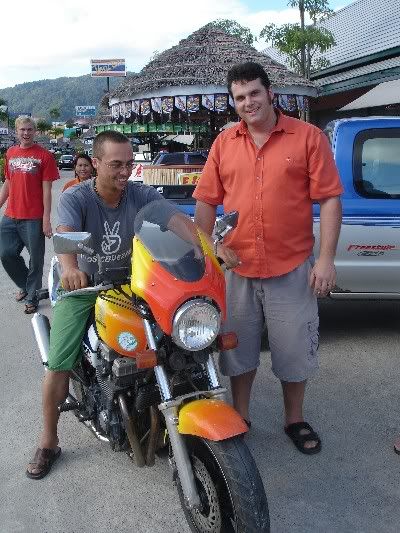 Ben gives Mark some pointers before he roars off on his "big bike".



Mark offers me a drink of 100 Pipers Scotch while we race down one of the hills of western Phuket. You certainly can't ride in the back of a pickup in the States, let alone drink in one!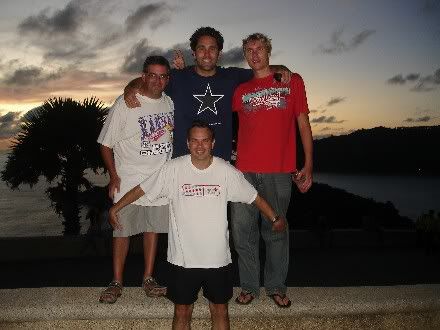 Myself, Doug, Rowan, and Shan enjoying the sunset at Promthep Cape.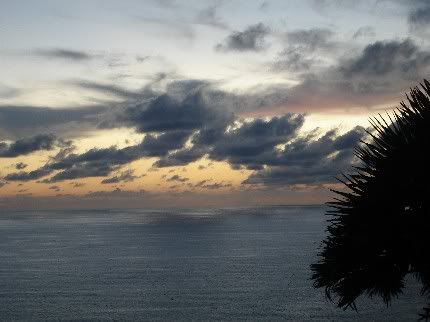 The view from the cape.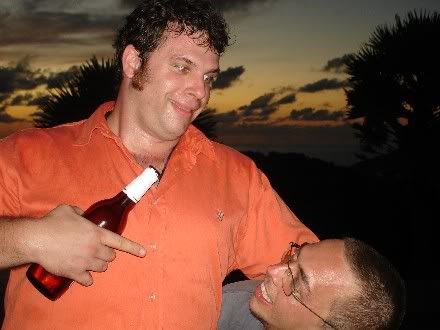 Ben and Mark in my favorite picture of the day. All sorts of captions are going through my head right now...

And there you have the rundown of our first weekend since I returned to school. Goodnight, Phuket...