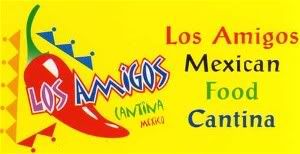 Whenever Tim and I take drives around Phuket, I am always on the lookout for what I consider "real" restaurants (i.e., not the open-air noodle shops and street-vendor carts so common here). Particularly those with farang food. We rarely actually eat at those that I spot, but still I look.

So I was fairly surprised a few days ago when Tim suggested we take our neighbors to one such sighting — Los Amigos Mexican Food Cantina lies close to the fork in the road where you can choose to drive up to Laem Promthep or down to Nai Harn Beach. It was a wonderful evening of great Tex-Mex food; the meal was even better than a similar menu we tried up north in May at the Chiang Mai Saloon.

I ordered the Combination Plate which includes an enchilada (choice of beef or chicken; I chose beef), a very large taco, Mexican fried rice, and refried beans. A steal at 150 baht (approx. USD $4.00); my only complaint would be that the taco and beans were made with mozerella rather than cheddar cheese but that did little to distract from the overall experience. I can honestly say that the taco was the largest and tastiest I've had this side of the Rio Grande (and possibly on the other side as well!).

Tim surprised me by ordering a beef burrito that came with chips and excellent salsa (it's also some of the best I've ever had — and I'm a self-proclaimed "salsa snob" — they should bottle this stuff to sell in local markets). We also shared a plate of cheese quesadilla.

Franz ordered a pork chop that came with a thick gravy and a bowl of vegetable salad. Pen was disappointed that there wasn't a larger selection of Thai food (only about five items including a Mexican-styled phat Thai and green curry) and ended up ordering a tostada. This was a very large tostada but I don't think Pen found it spicy enough for her liking so she swapped with Franz. Actually, we all shared our food in the Thai style and everyone (except Pen) thoroughly enjoyed the entire meal.

To drink, I had a Corona which came complete with slices of lime; Franz and Tim drank Singha while Pen opted for bottled water. Wine (imported from Chile) was also on the menu by the bottle or the glass.

Not only was the food very authentic and tasty (and I consider myself a bit of an "expert", having lived in New Mexico for almost 12 years) but the decor of the restaurant included sombreros and bullfighting posters. The setting is nice on a fairly quiet lane (the building is Thai-styled in that there is no wall facing the front) and it was packed despite our relatively late-evening dining time of 7:30. The prices are very reasonable with most meals in the 120-150 baht range.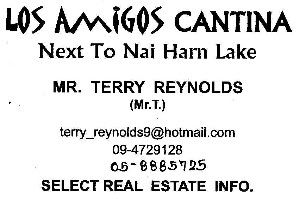 Since it's only a 10-minute or so drive from our house, I can see Tim and I becoming regulars at Los Amigos. If only simply to gorge ourselves on the chips and salsa and enjoy another bottle of Corona (very expensive if you can find it in the supermarkets).

They also do takeaway orders until midnight (tel. 05-8885725).