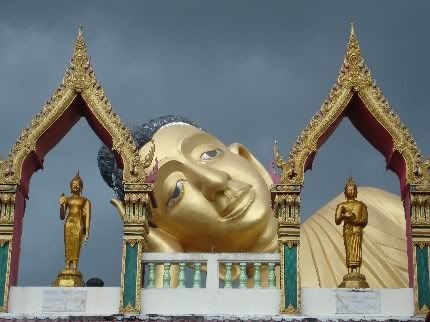 Yesterday afternoon, Tim and I set out with the goal of reaching Wat Phra Tong (near the turnoff for Ton Sai Waterfall) which is notable for it's large half-buried Buddha image. However, the clouds in that direction began to look very ominous so we decided to stop at Wat Sri Sunthon instead.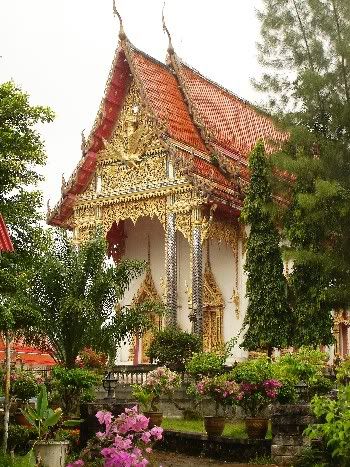 This particular temple is located just a short distance north of the Tha Rua Intersection (the circle which contains the Heroines Monument) on Thep Kasattri Road. It is named after one of the Heroines of Thalang, Chang and Mook, who led the Phuket islanders in defeating Burmese invaders in 1785. King Rama V later gave them the honorary names of Thao Thep Kasattri and Thao Sri Sunthorn.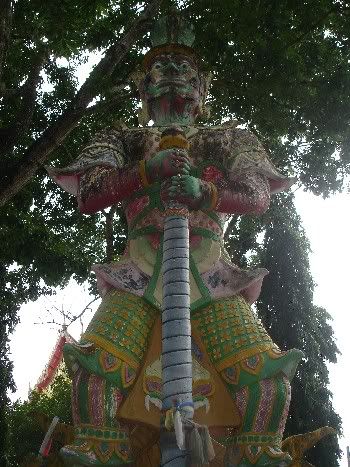 Wat Sri Sunthon is situated in a very lovely garden setting with many tall trees shielding it from the nearby highway. The most remarkable feature is the very large reclining Buddha on the roof of one of the buildings. Apparently, one can go up to the roof for a closer look but it began to rain so I decided against taking any photos up there. I did, however, take several pictures just walking around. I had wanted a closer look at the ornate doors on the viharn, but there was a gate blocking access to the steps. Near the large temple guardian statue, there were several creepy-looking concrete figures of animals and tortured souls. These are erected after the funeral ceremonies of particularly greedy or selfish people, representing all they did wrong in their lifetimes.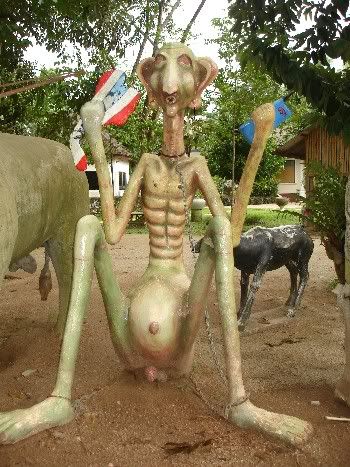 The skies really opened up after we'd spent only a few minutes at the temple. We hastily took shelter in the base of the bell tower and donned our plastic rainslickers. I took a few more photos under the umbrella before we retreated to Chalong — it was a long, wet, and cold ride home but strangely enjoyable as we were laughing all the way!