We recently removed the sidecar from Tim's old, junked, motorbike. After sanding and painting it, we had it installed onto the bike she bought earlier this year. It is actually a frame (and storage area) for a vendor stall (food prep area) which will eventually be installed on top of it. This type of sidecar is called a sa-ling in Thai. Tim previously sold fishballs on the western tourist beaches of Phuket and would like to begin doing that again sometime. She plans to sell drinks as well (my idea for a used book stand was shot down — I've actually seen a guy doing this in Patong).

Anyway, at my father's request for photos of our sidecar, yesterday I shot a few out on Ko Siray — an island just to the east of Phuket Town: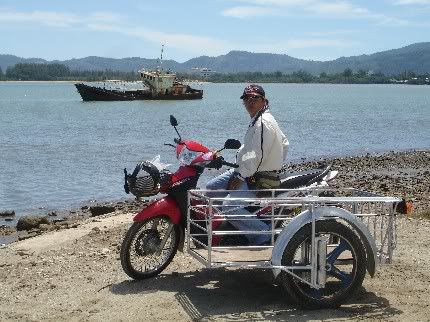 I can ride either sitting on the bottom with my back resting against the frame (really needs a seatback and -bottom), or sitting up on the frame (which I prefer — not as bumpy and dusty).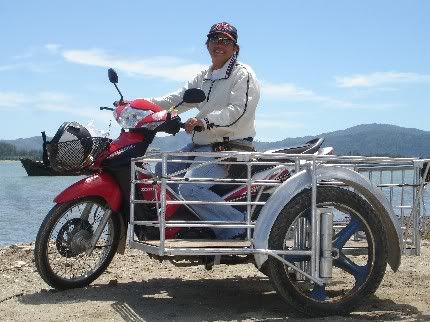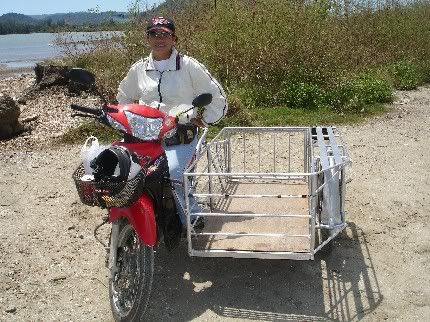 And here's a shot of my view when I'm sitting on the frame and we're racing down the road: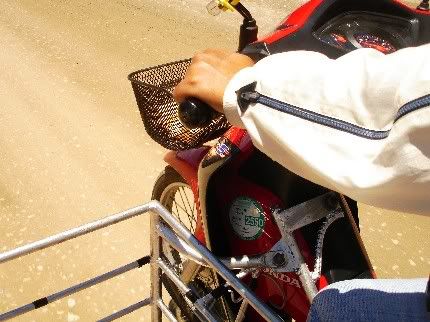 It's a bit of a different ride than just sitting on the back of the motorbike. Tim's learning that she can't go over the bumps as fast so she doesn't throw me off (I do hold on very tightly) and I'm learning how to lean on the particularly tight curves. Getting up some of the steeper hills is also a bit more difficult but certainly not impossible. It's a less stable platform for taking photos while we're moving than I had on the back of the seat but that may just be becaue I'm not yet used to it. And, of course, the gas consumption has gone up a bit (with gas prices increasing from around 20 baht per liter to almost 30 since I arrived that can add up; it costs about 70 baht to fill the tank).

It's a lot of fun to zip around Phuket in the sidecar (if only to catch the looks of amusement from Thai and farang alike as we zoom by!