One of the projects I've been wanting to do is to visit and photograph many of the local wats around Phuket. Wat Chalong (วัดฉลอง, วัดไชยธาราราม) gets a lot of attention due to it's size and history but there are many other temples just as (or more photogenic).

Yesterday, Tim and I made a quick stop at Wat Suwankirikhet in Karon. It's located on a bend in Patak Road where the route jogs south after passing through a grouping of dive shops, bars, and guesthouses. We had previously stopped here during an open-air market held in the school's courtyard but this time we happened to come around the corner just as the setting sun hit the spires of the viharn. It was a lovely setting and I quickly snapped off several photos: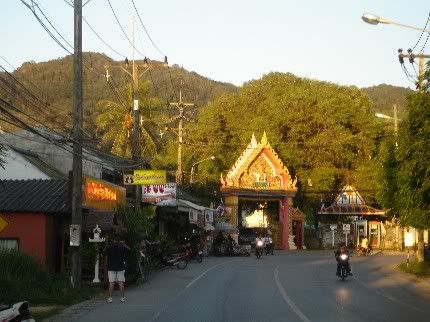 Approaching the main entrance to Wat Suwankirikhet and school from the west.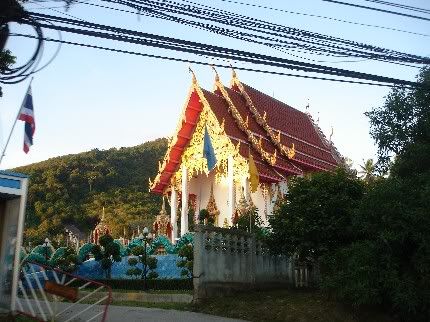 View from the side entrance, a bit further up the road. Notice the tangle of electrical and telephone cables so common in Thailand.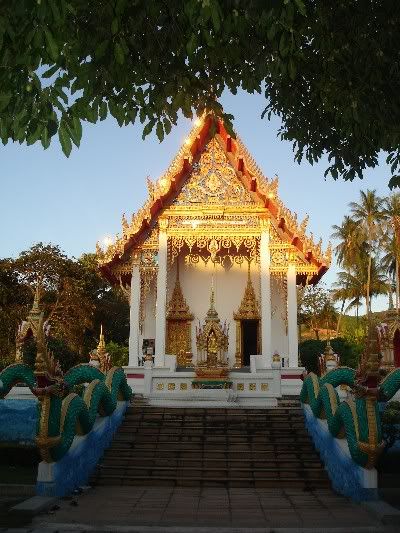 Straight-on view of the temple's viharn, a prayer room where the monks were chanting during our stop. The steps are flanked by naga, large cobra-like snake deities which — in Theravada Buddhism — are the enemies of the eagle-like garuda (one of which is depicted on Thailand's coat of arms).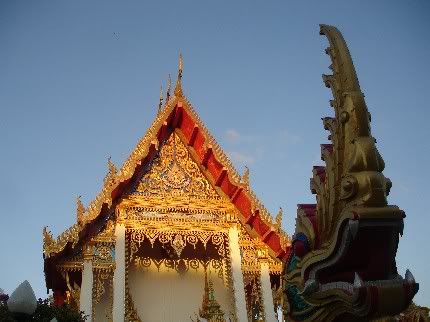 Head of naga with the viharn in the background.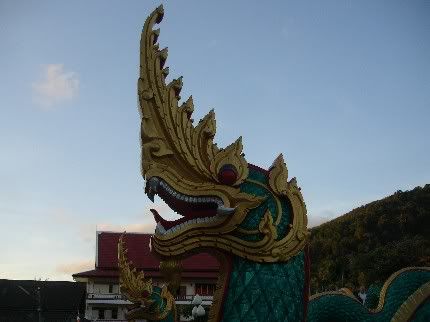 The naga with the monks' living guarters in the background. The temple backs up to a very scenic mountain.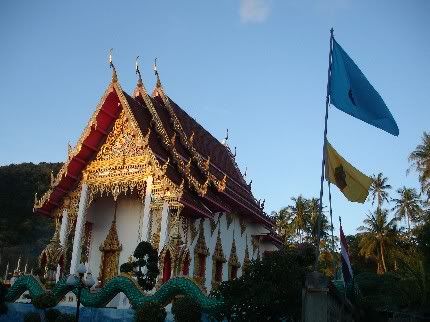 Another shot of Wat Suwankirikhet's viharn. The blue flag honors HM Queen Sirikit while the yellow flag honors HM King Bhumipol.

I hope you like these, the first in my "wat series" of photos (many more to come, I hope). Unfortunately, I couldn't find any information about the history of Wat Suwankirihet on the 'net.