I'm still not used to unexpected encounters with elephants as we drive around Phuket. Sometimes a week or two will go by without us seeing any at all. Yesterday, while on a "look around" trip with Jum, we came across no less than seven elephants in different parts of the island.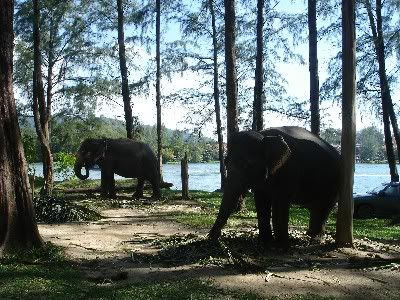 These two were doing some "gardening" in the Laguna resorts area near Choeng-Talay. Elephants are still used for logging in some northern Thai forests but you don't usually see them doing this in the southern provinces.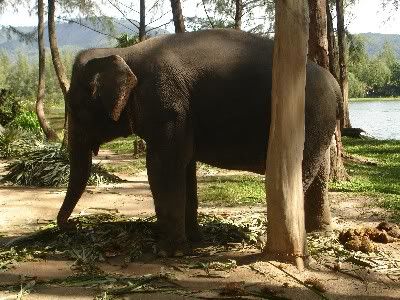 Although they were securely chained to large trees, Tim was still nervous and stayed a very far distance away while I snapped a couple of shots.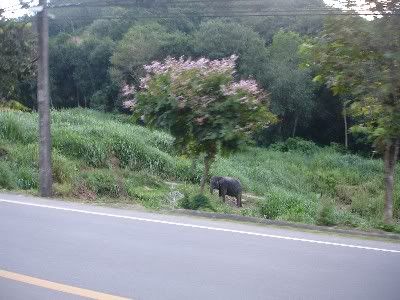 Most of our "close encounters" with chang (the Thai word for elephant) are of the blink-and-you-miss-it variety as we're driving along the highways and byways of Phuket. We came across a total of four along the mountain road between Patong and Karon — two on the west side of the road, just grazing in the brush, and two more on the east side among the trees. No mahoots (their handlers) were in sight.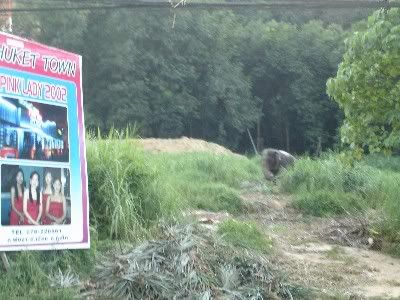 Another elephant on the Patong-Karon road; usually, I have to be quick to snap a photo as Tim is afraid of these beasts and will rarely slow down (let alone stop) so I can get a decent photo. This photo is a typical — blurry — result.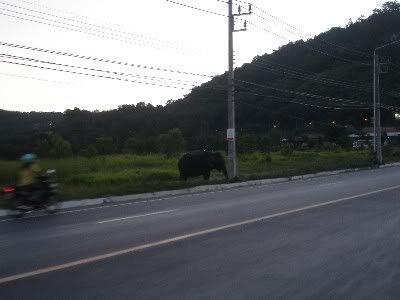 The sun was beginning to set and we were racing back home after a long afternoon which took us to the northern stretches of Phuket. This particular elephant was spotted less than a mile from our home, near the Green Man Pub and Phuket Shooting Range on Patak Road.

It's these types of chance encounters that make our rides around the island constantly interesting. You never know what you're going to see and I (almost) always have my camera at the ready so I don't miss something unusual. Even after almost five months of living here, the "novelty" and variety of such sights haven't lessened for me.