Tim's and my code for driving aimlessly around the island with no real goal in mind is to go "look around." Many times, we'll leave our home with no idea of our destination and often not even a direction in mind. We just follow where the road leads us. Yesterday, we took or first such drive since installing the sidecar. We left home around noontime and returned about three hours later; the sun was particularly brutal and we both ended up with sunburns (a raritiy for us these days!). The "motorbike muse" led us east, through Phuket Town and over a khlong (canal) onto the island of Ko Siray...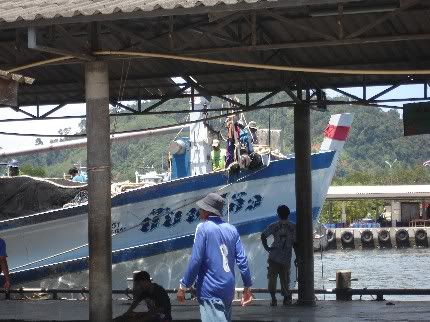 Soon after arriving on Ko Siray (which is connected to Phuket by a short causeway on Srisithat Road), we got lost in a tangle of narrow roads (lined by numerous karaoke bars and other sailors' haunts) and soon came across a bustling fishing port.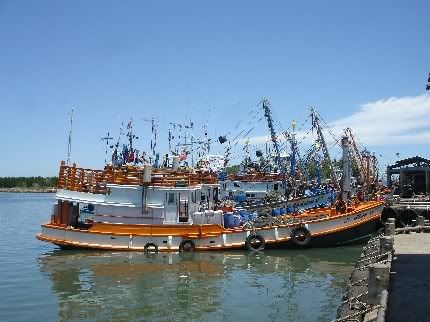 I just love the colorful Thai fishing boats (unfortunately, the resizing of these photos doesn't do them justice). Many of these boats haul in crab or prawn.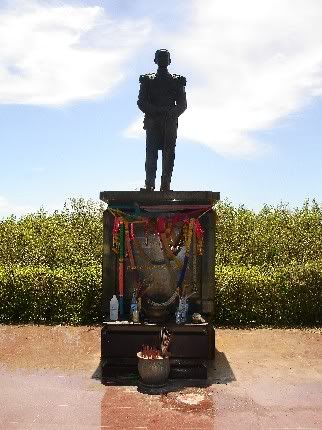 After enjoying some softdrinks at the fishing port, we headed south and discovered Rassada Harbour. This statue of King Chulalongkorn (Rama V) stands in a field just inside the main entrance. The tourist ferries and speed boats bound for the Phi-Phi Islands and Krabi (as well as some other destinations) depart from here.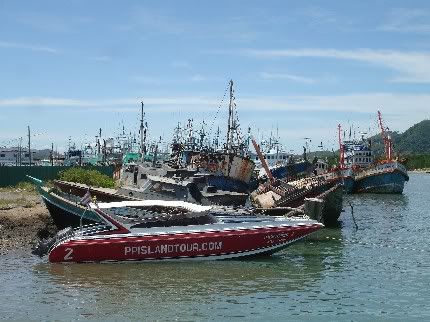 A jumble of boats at the Port of Rassada — several fishing boats (including a couple with large holes in their hulls), a speedboat, even a Marine Police or navy patrolboat lie beached at the edge of the channel.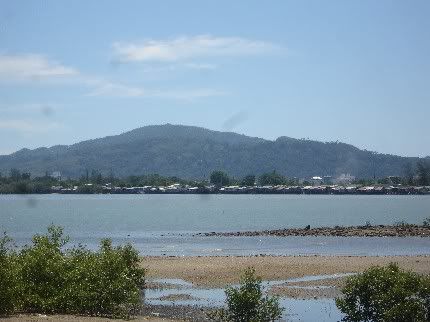 Looking west from Laem Thong back towards Phuket Town. The row of dilapidated tin shacks along the shoreline is a Sea Gypsy village (this one is close to Saphan Hin, a district full of parks, sports facilities, and open-air markets). Rising in the distance is Khao Nekkard, the small mountain (or large hill) that sits right behind our home in Chalong.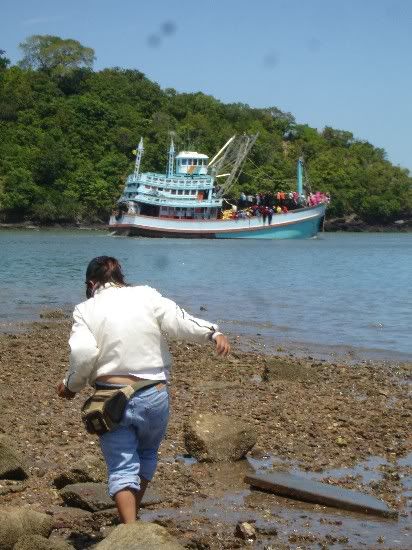 Our favorite activity on "look around" trips involving a beach is to search for seashells. The promontory just to the south of Rassada Harbour was covered with interesting shells. Unfortunately, many of the ones Tim brought home were still alive so I'm now freezing them to kill the critters inside!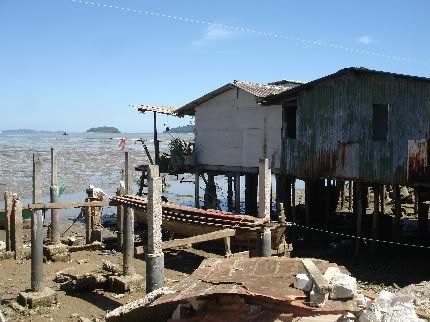 We drove through the Sea Gypsy Village in Tambon Taladyai; I wasn't very impressed (it's marked on many of the tourist maps). It was just a collection of tin shacks along very narrow lanes. The buildings along the coastline (plus along a nearby swamp and canal) were raised on stilts that looked as if they could collapse at any moment. I didn't feel the area was very photogenic and we failed to locate the supposedly wonderful seafood restaurants.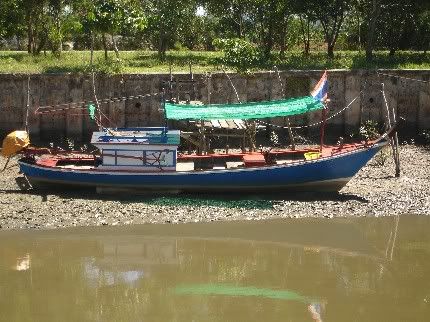 Much more interesting than the Sea Gypsy Village were the many fishing boats laying in the Bang Yai Canal. This khlong runs up through the center of Phuket Town (Kra Road runs along the eastern bank while Rattanagosin 200 Pee Road, later Takuapa Road, parallels the western shoreline). The most scenic section is in the south, close to the well-tended areas of Saphan Hin; a nice parkland with trees and benches lies to the east of the canal here, offering nice views of the boats.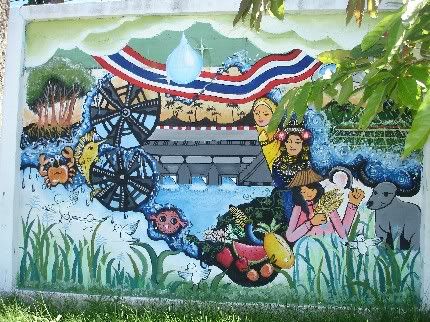 On a walls enclosing a school or government office west of Saphan Hin, we found a number of murals painted by children. This is one of my favorites.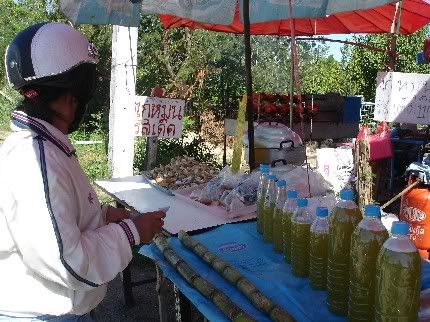 After a hot afternoon of "look around", one needs some cool refreshment. Here, Tim purchases a bottle of sugarcane juice from a roadside vendor. He also had seashells and rotisserie chickens for sale on his cart (which sits atop a sidecar of the same type as ours).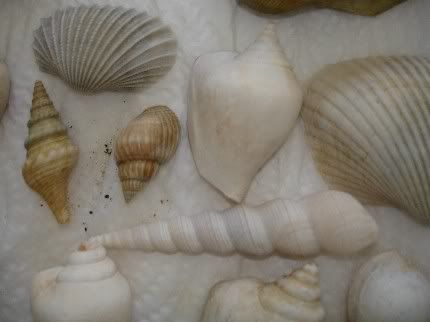 A sample of the shells we gathered on our journey this day (drying on towels after I cleaned them).

We're planning another "look around" journey today (but will plan for a time when the sun is less intense). Who knows where we'll go or what we'll see? Stay tuned...