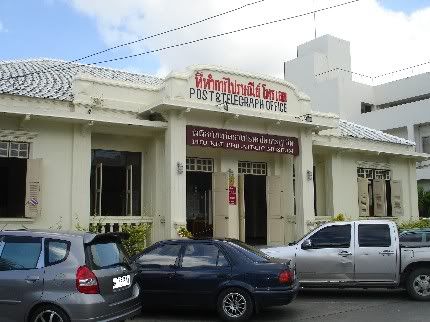 I began collecting stamps at a very young age when I "inherited" my mother's and uncle's World War II era collections. Throughout my youth, I concentrated on worldwide accumulations. In adulthood, I became more of a philatelist rather than "just" a stamp collector. I specialized in the American and British classics (aquiring nice examples of U.S. Scott Nos. 1 & 2 as well as a couple of Penny Blacks, including one on cover). I also had a very nice collection of New Mexico postal history (particularly of the early markings of "Old Albuquerque" and "New Albuquerque") and town postmarks. In the later years of my philatelic activities, I managed to put together a complete collection of mint stamps and first day covers from the tiny stamp-issuing Finnish island territory of Åland that was housed in a premium Davo album.

My interests in stamps culminated with my attendance at the huge Pacific 97 exhibition held over two weeks in San Francisco during late May/early June 1997. It was attended by hundred of dealers and exhibitors as well as the postal administrations of more than 140 nations. While there, I sold some of the rarities from my collection and actually financed the trip in this way.

My stamp collecting and philatelic activities have waned in recent years, replaced by other interests such as computers and seeking out rare recordings by my favorite musical artists. Indeed, I haven't done anything with stamps or covers for at least the last couple of years and my collection resides in numerous boxes back in New Mexico.

However, the spark has been reignited in recent weeks primarily due to the challenge of obtaining some of the stamps issued in Thailand honoring the 60th anniversary of HM King Bhumibol. Since I've arrived in Phuket in early April, there have been two separate releases of stamps and souvenir sheets (plus a nice commemorative banknote and some coins). ALL of these sold out minutes after being put on sale and so one has to resort to such avenues as eBay. Earlier this month, I managed to obtain a sheet of newly issued stamps honoring the birthday of HM Queen Sirikit.

The collecting bug was really pushed along by my recent discovery of the Phuket Philatelic Museum, housed in the old P&T building next to the main post office in Phuket Town. I've visited the museum twice now — once with Tim and once with Franz. The main hall contains panels housing most of Thailand's stamp issues from the past 30 years or so, nicely arranged on pages giving plenty of information (only in Thai, unfortunately for me). The stamps of this country do a wonderful job at portraying it's history and culture and I suddenly realized that I should start a proper collection.

The most interesting part of the small museum for me are a series of panels along the back wall which detail the early history of the Thai postal systems (in Thai and English); photographs of many early issues, covers, post offices, etc. illustrate these panels. I wish I could find the same information online or in book form. There is a library in a back room of the building with several locked cases containing some tempting books (i.e., 110 Years Of Thailand Postal History as well as a few catalogues and albums). Unfortunately, the clerk in the sales room said these were only for show although there were at leave five copies of each book (he didn't have a key so I couldn't even study the books there).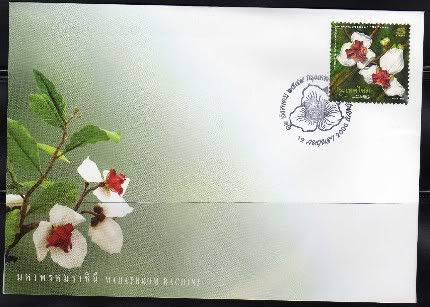 The philatelic sales counter is nice; you can purchase stamp issues going back several years at face value plus a number of first day covers, souvenir sheets, presentation packs, etc. are for sale. I bought a couple of sheets and FDC's of the last two issues (Queen Sirikit issue pictured above; the newly-discovered flower was named in her honor) as well as a folder containing Royal Barge stamps. The shop didn't have any suitable albums and an Internet search proved futile so we made a stop at Tesco-Lotus where they have some very nice stock albums with glassine sleeves for prices ranging between 70 and 150 baht.

I have found out that there are no stamp shops (aside from the Thai Post-run museum counter) on Phuket although there are plenty up in Bangkok. It's just as well as it would be too much of a temptation for me. Since stamp collecting is such a popular pastime in this country (many schools have stamp clubs), perhaps I could eventually open a small shop here (I have thought about a used bookshop as well but that's all further down the road...). At any rate, I have a "new" hobby to keep me entertained for now while Tim works on her knitting (more on this in a future blog entry) and if I can't find anything to read (free time is rapidly coming to an end, however, since I start my TEFL course in a little over a week).