Some days, I just don't feel like writing very much. Today is one of those days. However, I have a lot of news to catch up on so write I must. I fear this will be a long entry so you might want to get comfortable before reading! In an effort to make the post a bit more interesting, I'll add a few photos as well (resized to 400x300 pixels so they don't take too long to load on dial-up connections; the full-sized versions will eventually be uploaded to my Webshots albums).

Bus to Bangkok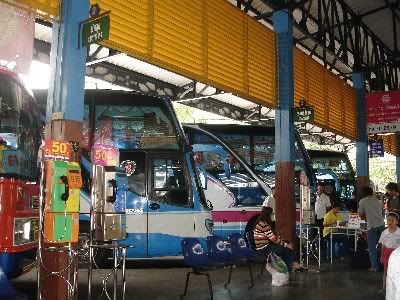 Last Tuesday afternoon, our neighbors Franz and Pen graciously drove us to the long-distance bus terminal in Phuket Town. We purchased two "VIP" tickets for Bangkok at a cost of 970 baht each (USD $25.67) which gave us seats on a 24-passenger air-conditioned coach bus plus food & beverage vouchers to use at our middle-of-the night pitstop. The bus left at 6:00pm and was scheduled to arrive at the Southern Bus Terminal in the capitol approx. 12 hours later. An interesting note: any trip in Thailand outside of Bangkok is referred to as going "up country", even if your destination is actually in the far southern provinces.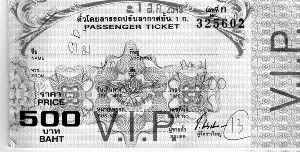 The bus was comfortable enough, although the air-conditioning was kept at Arctic levels throughout the trip (normal on Thai air-con busses; those "in the know" — like us — take along jackets to stay warm). We were provided with soy milk at the start of the journey along with a container including a roll with some sort of minced meat inside (my guess was tuna) and a banana muffin. Later, we were also given a bottle of water. At the pitstop (just after 10pm somewhere near Surat Thani), those not eating the set dinner provided were given a baggie containing soy milk and orange juice). The toilet on the bus was at the rear of the main compartment (some have seating and toilets on a lower level) and it really began to smell after around midnight — the aroma reached us towards the middle of the bus making me glad we weren't sitting right outside of it.

The only really unpleasant part of the trip, however, was the fact that two very drunk Russian tourists were sitting directly behind us. The man behind me kept pounding on the seatback whenever I tried to recline it and also spent much of the night loudly playing a boombox of American rap music much to the annoyance of everyone aboard. His buddy spent the entire trip loudly complaining about every little thing (complaints get you nowhere in Thailand) — both in English and Russian. These two gents also had loud conversations in Russian (never heard of the concept of lowering their voices, I suppose); I could recall enough Russian from my days of dating a lady from Koronezh to be able to understand mostly that they were saying how much they hated Thailand.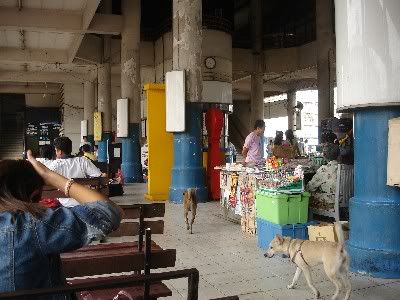 Needless to say, Tim and I (and I doubt most of the other passengers) didn't sleep much on the trip. We finally arrived at Bangkok's Southern Bus Terminal around 90 minutes late. This particular bus terminal is located on the Thonburi side of the city and highly inconvenient as far as easy-to-use mass transit is concerned (there is hope that someday the SkyTrain might link out this far). It's also very confusing, sprawled along a vast area with no clear center-of-operations, and fairly overrun with stray dogs and homeless unfortunates. The taxi and tuk-tuk touts are particularly brutal and it's difficult to walk any great distance without any tagging along offering their services.

Embassy, Lawyer & Amphoe
After negotiating a fare of 300 baht (we failed to find a metered taxi), we travelled across town to the U.S. Embassy which is on Wireless Road close to Lumpini Park. This area has many embassies and other government offices. The taxi ride was interesting as about half of the time we were driving through areas we had previously walked through.

The U.S. Embassy compound is very large with a white wall encircling it. We actually entered a gate marked "Embassy Annex" after waiting a half-hour or so in the security line. It seemed as if I was the only American as everyone else were Thai people or other Asians queuing up for their visa interviews. All of them carried huge folders of documents. They had one Thai guard at the security desk and he would diligently check through all of your bags (he never left a compartment unchecked), confiscating certain items that weren't allowed inside. In our case, he took Tim's mobile phone and umbrella and my iPod and camera. He wrapped these up in a large rubber band and gave us a numbered receipt. Another guard opened the gate for us and we were inside at last.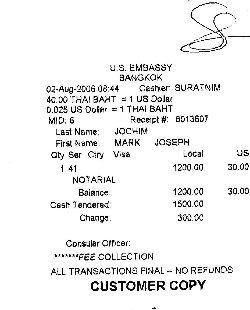 From my research, I knew that we had to go to the American Citizens Services building; luckily, there were signs that directed us. The grounds of the embassy were rather pretty with several ponds and fountains; I wished I'd been allowed to bring my camera inside (next time I'll put it in a pocket because we weren't patted-down). Once inside the ACS section, there were no visible instructions on what to do next. So it was with some trial-and-error that I was able to get the correct forms to fill out, pay the appropriate fee (1200 baht or USD $30), hand in a copy of the receipt showing I had paid this fee (all at different windows), and then settle down for a long wait. Unfortunately, this waiting room was also very overpowering with the air-conditioning and I was once again happy I'd dragged a jacket along. While there, I also took the opportunity to have more pages added to my passport (free). After waiting for more than two hours, I was called to a window and a very young female vice counsel asked if I was sure I had never been married before; she had me raise my right hand and swear an oath stating that all I had stated on my affidavit was true and correct to the best of my knowledge.

Our next task was to find a translation agency to make a Thai-language translation of the Affadavit for Eligibility to Marry. Attached to the form was a U.S. Embassy list of nearby companies that could do this along with sample fees (most were in the 400-500 baht range). However, Tim and I were approached by a man outside of the Embassy gate who asked if we needed a firm to translate our affadavit. He quoted a price of 300 baht and took us into Tower 3 of the Sindhorn Building across the street. While we waited in the lobby, we were approached by a lady working for the company who asked if we wanted to get married that day. Suspecting a wedding version of the famous Bangkok gem scams, I told her that I knew the process we had to go through involved getting the translation legalized at the Immigration Department (which takes three to five business days). The firm turned out to be a legal firm specializing in "fast-track" Thai-foreigner marriage legalizations. For a fee of 12,000 baht (a little more than $300 U.S.), they would translate the affadavit, their lawyer would take this to the Immigration Department for their stamped approval which would take just an hour or two (thus saving at least four expensive taxi trips several days apart), then they would take us to the local amphoe office for the marriage registration. Finally, they would provide an English translation of the registration forms and certificate for me.

It sounded good to me and the cost wasn't too bad. True, we probably could have done it all ourselves for a far lesser cost but I figured that the time and frustration we would save would be worth greater. I told Tim that the decision was entirely up to her and she readily agreed. However, later, she seemed a bit confused when she asked "we get marry today?" but I think that was mostly due to the exhaustion we were both feeling at the time. The actual process took less time than they had estimated and a little before noon we piled into a taxi with one of the company's lawyers (still carrying our backpacks with all of our clothes for the week — one of the straps had broken on mine so I had to carry it like a baby).

We were taken to the amphoe for Bang Rak (บางรัก) District. This translates as "village of love" and is the most popular place in Thailand to register a marriage, particularly on Valentine's Day. It's a typical Thai government office (think of portrayals of offices in American movies from the 1950's and you'll be close) and the section for marriages is at the far end from the entrance. There are three desks and sets of chairs for the brides and grooms.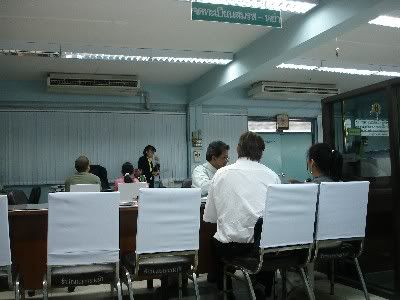 After an hour or so wait, it was our turn. We signed several documents and copies were made of these. There was some question on rendering my name into Thai at this point so I pulled out my new name cards and all agreed that the Thai translation on these was particularly good although it pronounces my name as "Joe-chim" rather than the correct "Yo-kum". However, they don't seem to be able to render that pronunciation into Thai (or perhaps it means something inappropriate). I'm happy with whatever they put and I've spent my entire life listening to people saying my last name different ways (so I'm quite numb to it by now). The head officer of the district (I assume he's like a mayor) then fed our marriage certificate into a printer so our names and other information could be added. Finally, he signed two certificates and inserted all of the documents into a rather impressive folder with a gold Thai emblem on the cover (I told Tim she could choose the color of the folder; she selected black). He then presented the certificates to us and shook my hand saying, "Congratulations," in perfect English. That was it. We took a couple of photos and went in search of a restroom (Tim and I had been needing to use the facilities since not finding one at the bus station many hours before).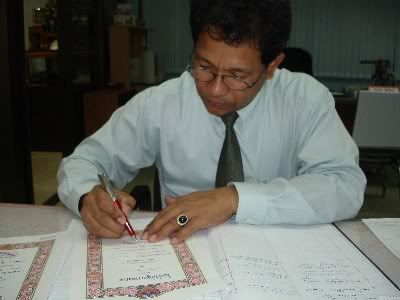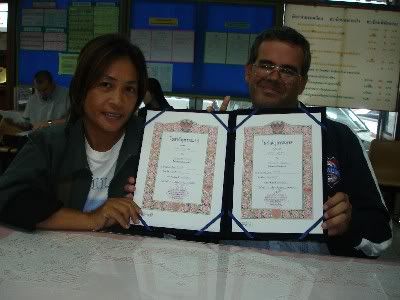 Up to Ayutthaya
Feeling much better, we then got into a taxi leaving our lawyer at the amphoe with one of our marriage registration forms and certificate (they will mail me those along with English translations later this week). We had decided to take the train to Ayutthaya so we headed to Hualamphong Station (where we actually had our first meal as a married couple — rice and chicken in the ground-floor cafeteria). The third-class tickets to Ayutthaya cost 15 baht (a little less than 40 cents) and the trip took around 90 minutes during which I actually managed to fall asleep. I really love the third class Thai trains which are old wooden rolling stock with creaky windows (most of which remain open) and plenty of interesting passengers.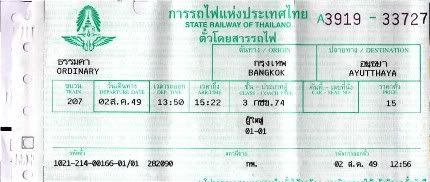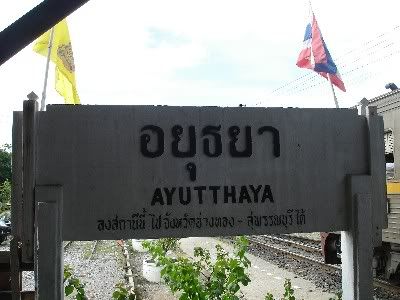 We arrived in Thailand's old capitol (founded in 1350, destroyed by the Burmese army in 1767) around 3:30 in the afternoon. The train station is just to the east of the island where the old city (and most of the ruins) lay. The easiest way to get to the island is walk across the street behind the station and a short distance west in order to board a 2-baht ferry across the Pa Sak River. However, by the time I got my bearings and started heading that way Tim had already flagged down a tuk-tuk (again, different from the Bangkok and Phuket styles) and negotiated a ride to our accommodations, the Baan Suan Guesthouse.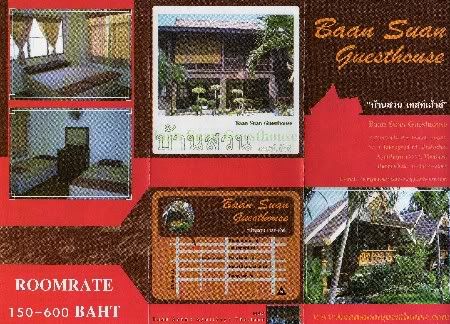 This was a very nice Thai-style guesthouse in a lovely garden setting on Thanon Jakrapard. There is a small open-air bar at the front, flanked by a nice sala for relaxing. A sidewalk towards the main building passes three large bungalows (which all have private bathrooms). The main house has 13 rooms on two floors with a shared bathroom on each floor (the one on the second level had two toilets, two showers, and one sink). The rooms we had (numbers 11 and 12) were fairly basic with a double-bed in each plus a dresser for clothes (and peg hooks for hanging wet towels, etc.). There was also a wall-mounted fan (very powerful) and air-conditioner situated above the head of the bed (which could get the room very cold if you're not careful). The large communal balcony included a large wooden bench and several mats with head cushions as well as a television (connected to cable which we never used). Our two double air-con rooms cost 350 baht each per night (less than $10 U.S.) and was quite a bargain. A definite plus was the friendliness of the owner/operator (who seemed to be the only worker during our stay other than the nighttime bartender).

Once we got settled-in, we took a tuk-tuk down to Bang Pa-In in order to pick up Tim's daughter, granddaughter, and son-in-law. We loaded everything back in and returned to Ayutthaya in time to walk a short distance down to Narasuan Road for dinner. I made a special point of ordering tom kha gai (coconut soup with chicken) and also shared in the rice and other Thai food. It was great meeting Noo-Dang — the first time I held her she peed on me — and talking to Miao and Ant (he's very quiet). We did spend a little time hanging out on the balcony back at the guesthouse but I soon went to sleep and Tim followed shortly after.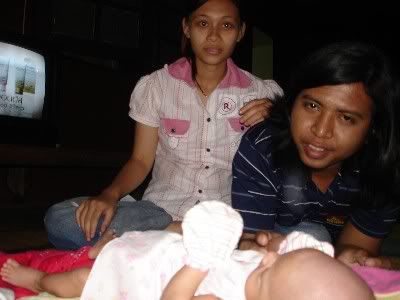 The next morning, Ant had to go to work. However, he couldn't leave as early as he wanted to because of a padlock on the front door to the main house. This was really the only not-quite-good thing about the guesthouse as it left me worrying about what would happen in the case of a fire (we checked: the balcony was too high to safely jump off of). With Ant finally away an hour late and breakfast out-of-the way (toast with jam and Ovaltine), the rest of us set out for some early morning sightseeing.

Exploring Ayutthaya's Ruins
Our first destination was Wat Ratchaburana, a short walk away to the west. As usual, Westerners are charged a higher admission price than Thai people — I paid 30 baht while Tim and Miao paid 10 baht each.



This large temple was built after King Intharachathirat passed away in 1424 at the site of his and his two sons' cremation (the sons killed each other in a battle to determine which of them accede the throne). Although much of the wat was destroyed by the Burmese in the 18th century, the main prang (Khmer-style tower) still stands — the crypt inside was looted in 1957 and the following year the Fine Arts Department discovered many Buddha images and gold artifacts that had been missed. I climbed up into this prang but the steep stairway leading down into the darkness to the crypt kept me from exploring further.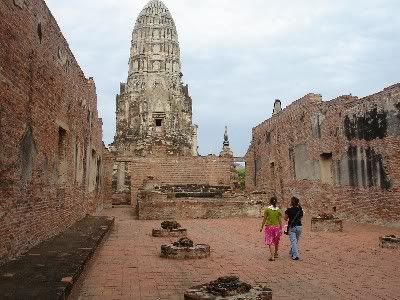 After spending a good hour exploring this first set of ruins (I took almost a hundred photos), we walked across the street to the south to Wat Mahathat. The construction of this temple began during the rein of King Borommarachathirat in 1374 but completed during the reign of King Ramesuan (1388-1395). It featured one of the first Khmer-style prang constructed in the capital; this collapsed in the early 17th century and was restored shortly afterwards (during which it's height was considerably increased). When Ayutthaya was sacked by the Burmese in 1767, the wat was burnt and has been in ruins ever since.



Wat Mahathat was a royal monastery and served as the seat of the Sangaraja, the head of the Buddhist monks of the Kamavasi Sect. It used to house an unusual Buddhist image made of green stone but this was moved to Wat Naphrameru during the rein of King Rama III. During the rein of King Rama VI, around 1911, the main prang collapsed once again and looters seized the opportunity to dig for treasure (Ayutthaya had been left abandoned after the Burmese sacking and was overgrown with trees and other vegetation at this time). It wasn't until 1956 that the Fine Arts Department excavated the area around the center of the wat; Buddha relics were found in the stupa within a seven-layer reliquary.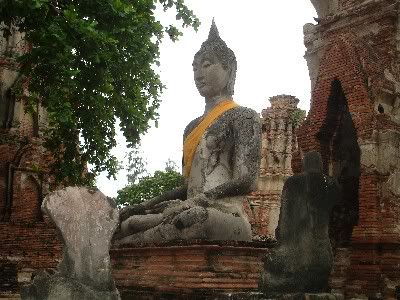 One of the most photographed sites in Ayutthaya is found at Wat Mathatha — a stone Buddha head engulfed by finger-like tree roots. Apparently, the body was also visible as recently as 60 years ago but that has since disappeared.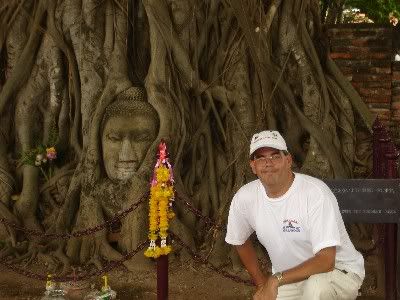 I was very impressed with the interest Tim showed while walking through these ruins. I studied archaeology while in college so I find many of the similar-appearing remains fascinating and I recognize many others might find them boring. But Tim was constantly exploring around corners and pointing out things she thought I should photograph (not that I was having trouble finding worthwhile subjects myself!). She also bought several booklets at the information kiosks detailing the history of the sites (plus a few postcards and English-language booklets for me). All the time, she was carrying Noo-Dang around; I don't know where she got the strength!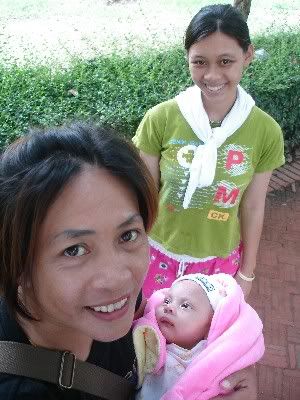 Shortly before noon, we returned to the guesthouse for a break. I can't remember if we ate lunch or not but Tim and Miao soon decided they both wanted to get a massage. There was a masseuse next door to the guesthouse so they left Noo-Dang in my care and headed off. When Tim returned, I had fallen asleep and my granddaughter was reaching for my nose! I think you can tell from these two photos that she really likes her grandpa... While waiting for Miao to finish her massage, Tim fed Noo-Dang scaped-off bits of banana.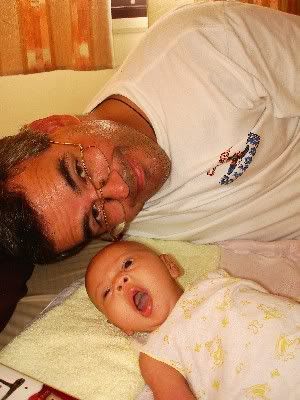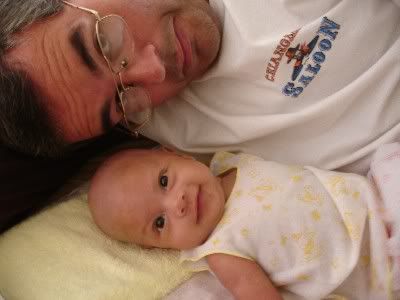 In the early afternoon, we had a tuk-tuk take us to the Chedi of Queen Suriyothai on the western part of the island. This is a grand monument built by King Chakrapat honoring this most famous of Thai heroines. She is the subject of the excellent "The Legend Of Suriyothai", the first truly Thai-made movie epic (it was produced by Francis Ford Coppola) and I highly recommend seeking it out. Here's a summary of the story, as told in one of our kiosk-purchased booklets:
Queen Suriyothai was a wife of King Chakrapat. King Chakrapat ascended to the throne when he was 36 years old.
Just seven months after his coronation, in 1548, King Tabengshweti of Burma attacked Ayuthaya. King Tabengshweti was resentful that his earlier attempt to take over the Siamese city of Chiang Kraan during King Chainarachathiraja's reign had failed.
In the first battle, which was intended to test the strength of the Burmese army, King Chakrapat led the army himself, followed by his sons, Prince Ramesuan and Prince Mahintarathiraj. Worried about her husband, Queen Suriyothai secretly dressed as a soldier and rode out to battle on an elephant with the rest of the army.
When the Ayuthaya army clashed with the Burmese army from Hongsawadee, led by General Brae, King Chakrapat immediately rode towards General Brae to engage him in battle. However, King Chakrapat's elephant stumbled, giving General Brae the advantage. Just as General Brae raided his halberd to stab King Chakrapat, Queen Suriyothai, who was watching from nearby, suddenly decided to intervene to try to save the king. Her elephant also lost its balance, and she was fatally stabbed by General Brae's halberd. She died while still on the elephant's neck. Prince Ramesuan and Prince Mahintarathiraj took her body back to the capitol.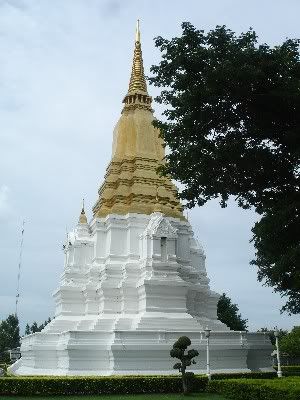 I couldn't find any reference stating when exactly the chedi was constructed but, as you can see, it's been nicely restored and looks to be in fine shape. There was a small shrine nearby (where both Tim and Miao lit joss sticks and paid homage) including a number of images of Queen Suriyothai.

I next wanted to visit Wat Lokayasutharam, featuring a huge reclining Buddha image, which looked to be right behind the Chedi of Queen Suriyothai. However, we discovered the land we needed to cross was part of a military reservation so we had to take a long circuitous tuk-tuk ride. It proved to be a worthwhile journey. The Buddha image, called Phra Bhuddhasaiyart, measures 37 meters long and 8 meters high. Facing east, it is constructed of bricks and cement in the art style of the Middle Ayutthaya Period. The head is placed on a lotus and the legs overlap squarely to show the equalized toes. It was restored in 1954 with funding from the Alcoholic Beverage Factory and the Department of Fine Arts. The ancient temple grounds behind the Buddha image include the remains of 24 cathedral posts, three cathedrals, a stupa, a Buddhist temple hall, a pagoda and a bell tower. Across the street facing the Buddha are several stalls selling amulets, small Buddha images, and some clothing and drinks. It seems to be a lively place and we saw many more farang (mainly backpackers) than we'd seen anywhere else in Ayutthaya.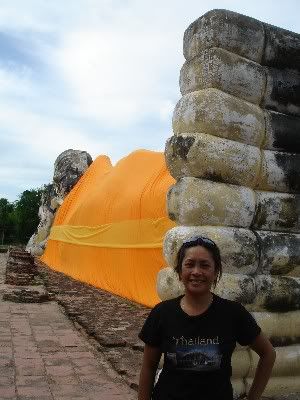 At this point, we decided to return to our guesthouse but since this last wat seemed rather remote, we began walking towards a large gathering just to the north. This turned out to be Wat Worachetha Ram (which also seems to be called Wat Worapoh on maps); I couldn't find out any information about this particular temple but there was quite a celebration going on within the ruins when we arrived. From what I could gather, nine very important monks were all celebrating their birthday on the same day (but I could be wrong here). Anyway, there were several temporary pavilions set up with chairs (and overhead lengths of string for the faithful to unravel and hold), several — I assume nine — fancy (red velvet with gold framing) chairs on a dais, a table where you could order commemorative shirts for 500 baht or coin amulets (medallions) at 1,000 baht (plus another 1,500 baht for a chain), a large section of sacred red cloth which people were signing with black magic marker, plus plenty of police and news film crews milling around. I walked around taking photos (several schoolgirls asked if I wanted them to take my photo!), including my best-yet picture of monks (a skinny one and a fat one with a tattoo). As we were leaving, several helicopters were hovering overhead.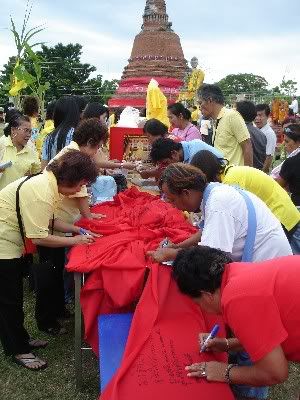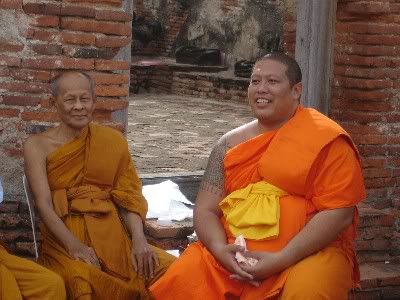 We still had some trouble finding a tuk-tuk; we discovered several empty ones but the drivers apparently were participating in the ceremonies at the wat. We came across another set of temple ruins which featured a large seated Buddha image and several smaller Buddhas; this was patrolled by several stray dogs that looked fairly vicious so we didn't linger long. We walked a great distance south along Khlong Tho before finally hailing a tuk-tuk. Immediately after climbing aboard, four empty tuk-tuk's passed by. Our ride back to the guesthouse took us past the Royal Elephant Kraal and there were many elephants in full regalia plus riders. Unfortunately, the tuk-tuk was going too fast and was too bumpy for me to take a decent photo (I did try).

When Ant returned to Baan Suan after work, we took a long tuk-tuk to Tesco-Lotus (way on the southeastern part of the modern city). I'd decided that I wanted to buy some things for the baby, especially a pram (stroller) and one of those baby carriers the mother can strap across her chest. I also bought a bunch of diapers, plenty of clothes (a steal at 50 baht or so each), some toys, etc. In all, I spent a little under 3000 baht (about USD $80) which doesn't seem like much but we had two shopping carts full of stuff. Miao and Ant were very appreciative (I love when she says "Thank you, papa" and wai's me in graditude). We did have some trouble finding our way out of the hypermart, getting lost in the basement parking garage and then coming out on the wrong side of the building from the tuk-tuk stand.

Return To Phuket
We all called it quits fairly early (this was Thursday evening). The next morning, we loaded up a tuk-tuk with the newly-purchased baby stuff and bid our goodbyes to Miao, Ant, and Noo-Dang as they returned to Bang Pa-In.

Tim and I then got cleaned up, checked out of the guest house, and walked down to Naresuan Road. This is where the long-distance bus "terminal" is located; however, these busses take you to Bangkok's Northern Bus Terminal so you still need to find another way to get to the Southern Bus Terminal for any destinations south and west of the capitol. There are no easy public transportation links between the two. The owner of the guesthouse had told us that there are also minibusses that take you straight to the Southern Bus Terminal; we soon found a string of minibusses parked along the road — a homemade sign under a tree stated this was where to catch the one we needed. The price was 65 baht (USD $1.72) each and we arrived in Bangkok about 70 minutes later.

The minibus doesn't actually take you to the Southern Bus Terminal — you go right by it and then you stop at a gas station on the opposite side of the very busy highway and down a block or two. Thus, you need to take a very hot hike to get to the long-distance busses; at least there was an over-the- highway pedestrian crossing about halfway down the street. It was only a little after 10:00 and the earliest bus leaving for Phuket didn't depart until 2:00; this, however, was a non-air conditioned bus which would take at least 15 hours to travel the distance and make many stops along the way. The price difference was only 300 baht so we decided to wait for the 6:00 VIP bus. The long wait at the terminal wasn't so bad. We picked a bench where we had a nice breeze and we could stretch out. I managed to read several stories in the book I'd brought along (a collection of Jeffrey Deaver mysteries called Twisted).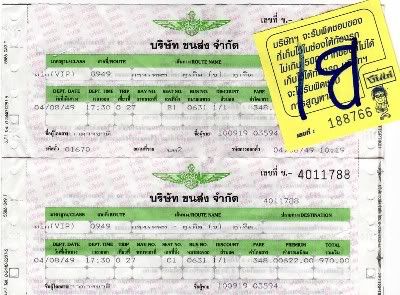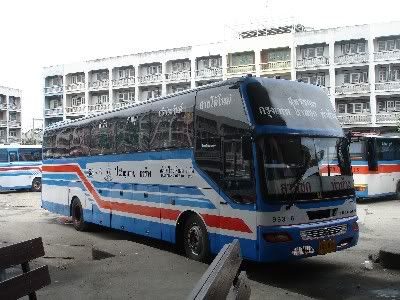 Our bus on the return journey was a bit bigger than the one we'd come to Bangkok on. It was a double-decker but the only thing on the lower level was the tiny bathroom (smaller than even those on a Boeing 737). Tim and I had the first two seats on the right-hand side (I again took the window seat as I love to watch the traffic and countryside go by). They gave us a little box containing pound cake with almonds (yum!) plus bottled water and soy milk. It began to rain even before we got out of Bangkok and continued to do so until we arrived on Phuket early in the morning. Again, we didn't opt for the set meal at the middle-of-the-trip pit stop; this time, they gave us a slice of pound cake, a bag of coffee-flavored peanuts, and some orange juice.

Tim and I both slept through most of the night . I did wake up when we made a quick stop to let off a passenger in Hua Hin; from what I could see, it's a very pretty city with all the buildings lit up with strands of lights. It looked like Christmas! This is one of the places that Tim has told me she would like to visit sometime so perhaps we'll have to make a special trip — all I know right now is that this is where King Bumiphol spends most of his time and that's there's a big jazz festival here every year.

We actually arrived back at the terminal in Phuket Town about 10 minutes early. The driver had been driving like a madman through the night — I first woke up when he was taking the curves in the mountains of western Phang Nga province a bit too quick and the bus was tilting over considerably. We waited a few minutes before Franz arrived to drive us back home. I thought we'd sleep all day but we both woke up again around 10:00; we ran a few errands (post office, market, 7-Eleven) and generally took it easy. It's nice to be back home...