Late yesterday afternoon, Tim and I set off on a photo safari. I'd wanted to get some pre-sunset pictures at a particular nearby wat but when we arrived the light wasn't what I was looking for. We continued down Chaofa East Road and I craned my neck from side to side looking for other suitable photography subjects. Eventually, we turned south on the road leading to Cape Panwa while I continued to search for temples close to the road. We did pass one Chinese temple and a couple of mosques but none were very photogenic.

Close to Ao Makham where the Port of Phuket is located, I caught a glimpse of a large white ship through the trees. I figured that it was just the MV Doulos, the world's oldest passenger ship, which had called at Phuket for an extended visit and we'd explored/photographed back in June. However, Tim turned into the port area and we were soon face to face with...The World.


This is no ordinary cruise ship — I'll explain why in a moment — and is one of the largest passenger vessels ever to visit Phuket. She's 644.2 feet (196.35 meters) long, 97.8 feet (29.8 meters) wide, and has a gross tonnage of 43,524. (For comparison, the Titanic's dimensions were 882.9 feet/269 meters long by 92.5 feet/28 meters wide and 46,328 GRT.) The ship was delivered to her operators, ResidenSea Ltd., by the builders, Fosen Mek. Verksteder A/S of Rissa, Norway, in March 2002.

Now for the unique part: The World is a private residential community that sails the globe. She is owned by the residents, who paid between USD $825,000 (30.9 million baht) and USD $6.3 million (almost 236 million baht) for any of 106 private apartments (ranging in size from 1,106 to 3,242 square feet), 19 studio apartments (675 to 1011 square feet), or 40 studios (averaging 350 square feet). The ship has an average occupancy of 150-200 residents and guests, served by 250 crew; the Titanic carried 2,233 passengers and 899 crew. As of November 2005, 95 percent of the residences had been sold (the residents actually have owned the ship herself since October 2003) although most are available for rent (a minimum six-night stay is required and rates begin at USD $1,200/45,116.08 THB per night).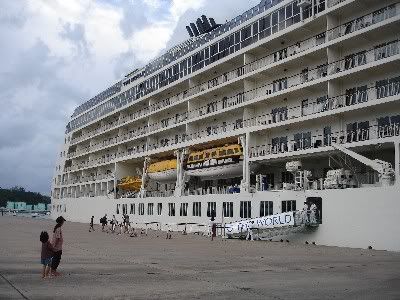 The itinerary is impressive. Between May and December 2006, I count almost 90 distinct ports-of-call (plus a few intriguingly labeled "Captain's Choice") most of which are in Southeast Asia, Oceania, the South Pacific, and the west coast of South America. A stop at my all-time number one travel goal, Pitcairn Island, is scheduled just few days after my birthday. The posted itinerary for 2007 includes sees The World travelling down to Antarctica, up the east coast of South American, through the Caribbean, across the Atlantic to southern Europe, off the coast of Spain for the America's Cup, into northern European waters including Scandinavia and Russia, off to England and ending the year back in the Mediterranean (including stops in Libya and several ports in Morocco). Christmas will be spent in the Canary Islands and New Year's at Funchal, the capitol of Portugal's Madeira Islands. I daresay, however, they might want to cancel the November 3-7 stay in Beirut (I pray the current conflict between Israel and Lebanon is long over by then).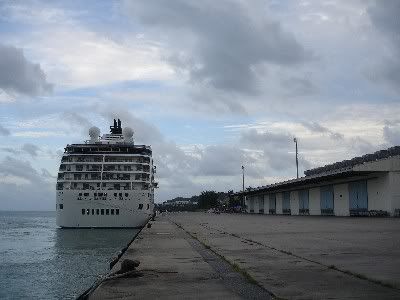 The ship's facilities are extensive as well. There's a large medical clinic with doctors and nurses on call 24 hours per day, four large restaurants, several bars and nightclubs, a movie theatre, housekeeping, laundry, dry cleaning, gourmet market and deli (for groceries to cook in the nice kitchens each of the apartments and studio apartments include), two swimming pools, retractable marina, full-size tennis court, driving range and putting green, health spa and fitness center, Internet cafe, large library, etc.

If only I had that kind of cash... Not only is the ship a fully-equipped residence with everything you could possibly need on board but it takes you virtually everywhere you'd ever want to go (no need to pay to travel anywhere ever again). My only question is how do you get your mail (but I'm sure they've got that covered as well).

More information about The World can be found at aboardtheworld.com.

Tim and I had a really nice time checking out the ship from the Port of Phuket quay and I took a number of photos. I've always been fascinated by ships and the sea, particularly ocean liners and cruise ships. We were just lucky to stumble across this particular ship and I wonder if there's anyplace where we can learn of future visits by others. I think I'll write a letter to the Phuket Gazette and suggest they include a list of upcoming cruise ship stops.