The end of our first week in school coincided with the birthday of one of our fellow students yesterday — Ben turned 32 (plus, his wife gave birth just one week ago). After class, we all headed across the street to Mr. Tu's for a few drinks and an early dinner. Here's the gang: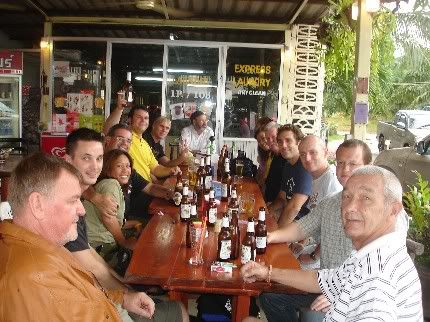 (left to right:) Dio from South Africa, Adrian from London, Tim and myself, birthday boy Ben from England, Rowan from Australia, our teacher Bob from Australia, Bob's wife, Lan, Paul — the school's director (he's married to Lan), Doug from New York, Chris from Northern Ireland, Michael from Glasgow, and Gary from Sheffield. The other Mark (from Nottingham) took the photo.

In the early evening, we separated and promised to meet up later at Funky's (on Rat-U-Thit 200 Pee Road). Surprisingly enough, almost everyone actually made it. Tim and I arrived around 9:00 and stayed until after two in the morning. We took Jum along and she seemed to hit it off with Shan, a Canadian who recently graduated from the TEFL course. The night was really a great way to let off some steam at the end of a very intensive week. My fellow students are a great group of guys and we plan to have a number of get-togethers throughout the course (next up: a barbecue tomorrow afternoon).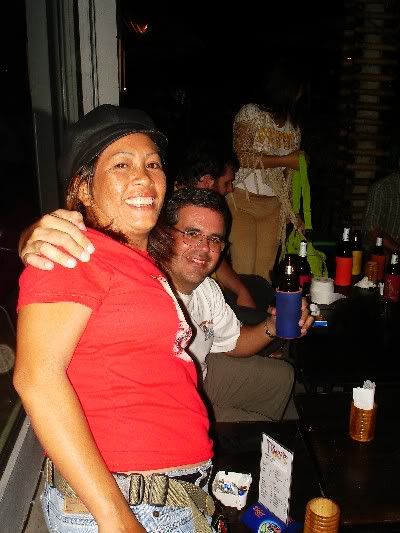 Tim and I enjoying our evening at Funky's. Ben's wife is in the background — she also does knitting and I think Tim and her are planning to bounce ideas off of each other.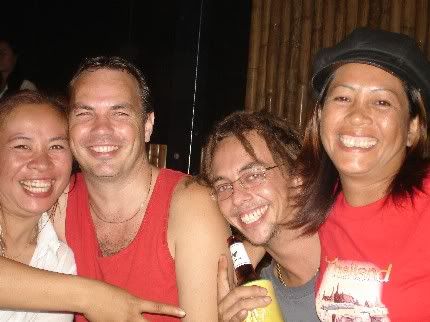 (left to right:) Jum, Shan, Mark from Notthingham, my wife Tim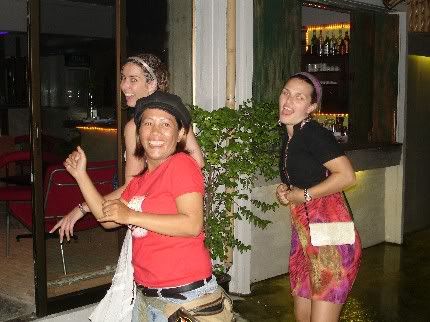 Tim showing off her dance moves with a couple of Australian women. My wife really has a lot of fun at these types of gatherings and she makes sure everyone else enjoys themselves as well.