Tthe next several blog entries will be primarily photo blogs as I catch up the past couple of weeks. I'm going to go in reverse order, starting with yesterday's TEFL course graduation.

Following six weeks of intensive classroom work and real-world teaching practice, we graduated from the Text & Talk Academy TEFL Certification course in a ceremony at the school. It was a bit anticlimatic, however, as our certificates didn't arrive from Bangkok in time (they've since arrived and I suppose I'll pick mine up tomorrow or Monday). We did get our final grades and had a chance to look over our final exams (a four-hour marathon held Tuesday; I scored a 97.5% on mine, plus another 10 points for the bonus section); my overall grade for the course was a 92%. We filled out teacher/course evaluation forms, watched our instructor — Bob — open a gift from the class, and took some group and individual photos: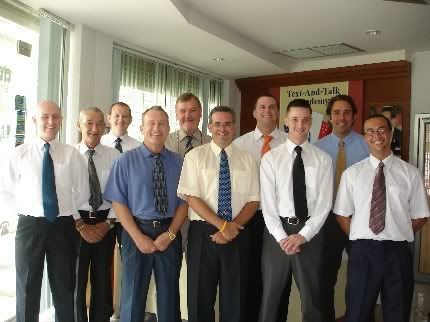 After the brief "ceremony", we all journeyed to the Summer Breeze Hotel in Soi Sansabai for a nice lunch arranged by "Vegas" Gary. Here, Tim and I are relaxing after the meal: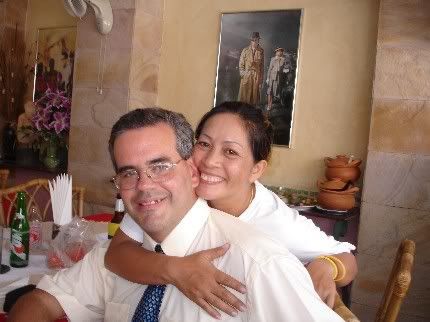 We tired of waiting for the certificates to arrive (Paul was to bring them to the Summer Breeze as soon as they were delivered), so Mark, Adrian, Doug, Tim, and I set out for Laem Sing — a small beach between Kamala and Surin — where we spent several hours just chilling out. The surf was extremely high due to the latest cyclone making it's way across the region but, despite the red warning flags we still swam in the ocean and had a great time body surfing the big waves. Chris arrived in the early evening and we ended up taking some group photos. This photo shows the south part of the beach area, a location with powerful rip tides where several people have died recently: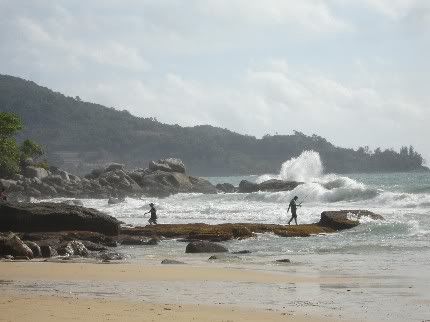 Returning to Patong (with one of my "new" little sisters — Jiab — joining us), a few of us had dinner at Pop Thai — our favorite Thai restaurant near the school — and later met up with the rest of the gang at Hole In The Wall Bar near the hospital. Jiab and I played a game of pool that last almost an hour (neither of us are any good and I actually won). We wrapped the evening up at the Summer Time Bar in Soi Eric, owned by another T&T graduate who spent a few months teaching last year and decided he wanted to own a bar instead. While there, we ran into a couple of students of our free English course at the school, Jas and Ging: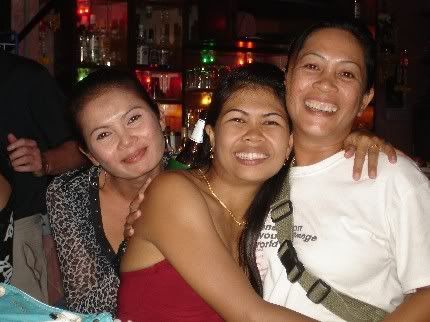 Tim loves going out partying with "the boys" and is often the life of the party, dancing up a storm: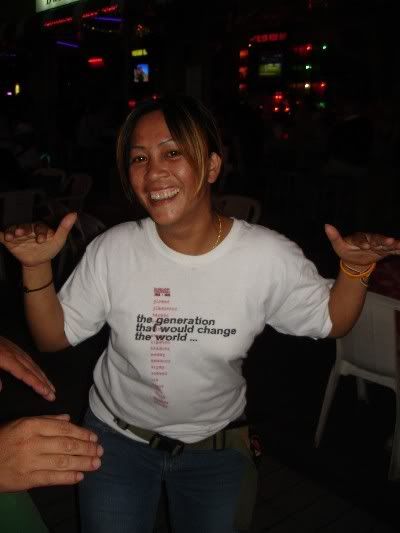 Even one of our teaching assessors got into the act; here, Tony hams it up with one of the bar's hostesses: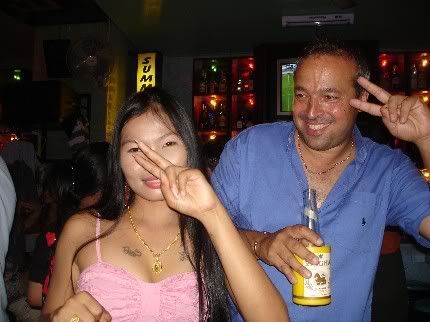 And I was surprised at how little sister Jiab, normally extremely shy and reserved when it comes to dancing, began to open up as the night wore on: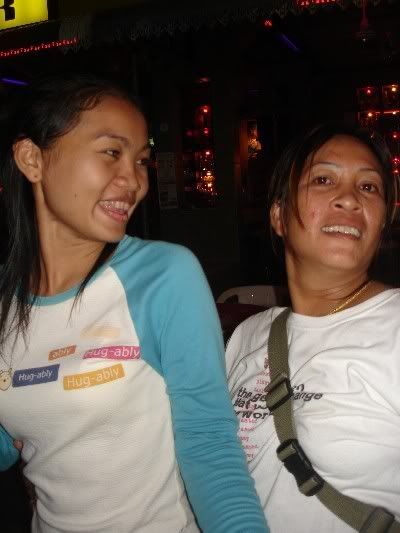 The evening lasted until the wee hours of the morning; when Tim, Jiab and I left Soi Eric, everything had closed down and the vendor carts were serving the bar staffs while elderly women with bamboo brooms began sweeping the trash into manageable piles. We dropped off Jiab around four in the morning and drove the "Central route" home in light (but very cold) rain...

It was certainly a more satisfying "last hurrah" than our post-exam evening on Tuesday.