Last weekend was our most active yet with back-to-back parties and my visa run to Ranong.

Friday night, the majority of my fellow TEFL students ventured out to Chalong where Tim and I hosted a dinner and party. Chris, Doug, Adrian, Michael, and Ben were there for the duration; Mark and his friend Pooky arrived later. We grilled some steaks I'd purchased at Tops in Central Festival (Thai-French beef which is very good), cooked brautwurst and Italian sausages, and French fried potatoes served with salad. Everyone was very impressed with the meal (the first farang-style home-cooking many had had since arriving in Thailand).

The party lasted until the wee hours of the morning; I hadn't planned on the lateness of it due to the fact that Ben, Mark, and I were leaving for Myanmar around seven (which ended up being closer to eight).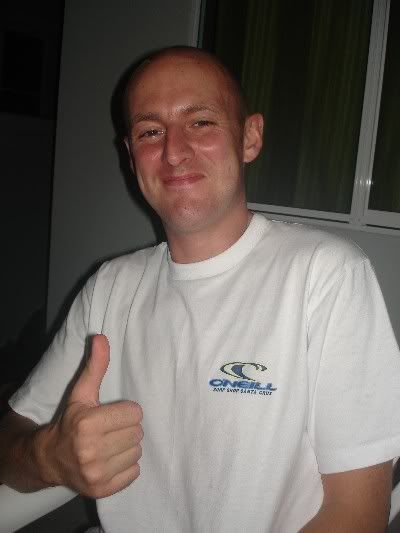 Chris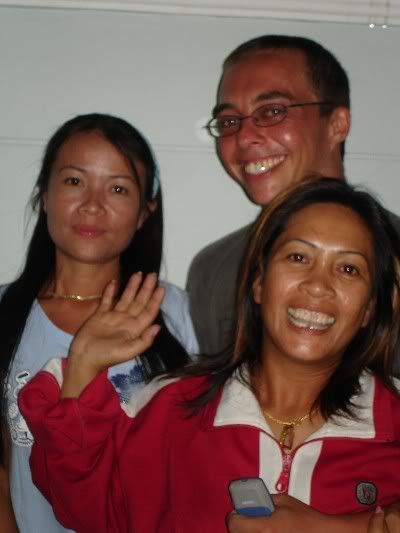 Pooky, Mark, and Tim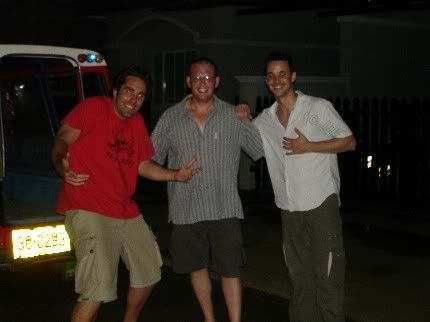 Doug, Michael, and Adrian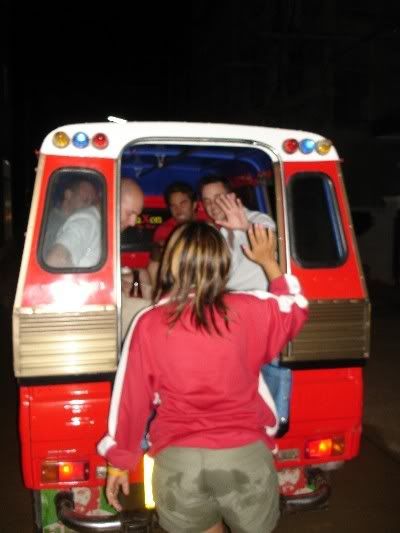 Tim waving "goodbye" to our guests

Saturday morning dawned cold and rainy and the first couple of hours saw us driving north in a torrential downpour, the result of a particularly stubborn typhoon which had been stalled over Burma for several days. We saw a lot of flooding along the way but it began to clear up by the time we reached Khao Lak. We found the patrol boat that had been thrown about 2km inland by the tsunami, stopped and took a few photos.

We arrived at Ranong shortly after one in the afternoon, got our exit stamps at Immigration, and picked up our guide who sold us U.S. five dollar bills (to pay the $10 consular fee in Myanmar). We made our way to the harbor where we boarded a longtail boat for the trip across the channel; it was a lot more fun than my previous passage on a much larger ferryboat. The waves were fairly calm and we didn't get very wet on the way over to Kawthung. They now make you get out of the boat rather than having a runner take your passports up; we had our passports perused, received the Myanmar entry and exit stamps, paid our USD $10 fees, and got our photographs taken (new procedures at this checkpoint). The return to Thai soil was a bit wetter than the crossing to Myanmar and the skies threated rain by the time we arrived back in Ranong. Another stop at Immigration and we were making our way back south to Phuket by 2:30.

The return journey saw us going through many more Royal Thai Army and Police checkpoints than my previous visa run, a visible reminder of the coup two weeks ago. However, since it was raining, most of the soldiers simply waved us through after a cursory glance inside. We stopped for dinner at a very nice resort in Kuraburi; I was so impressed by it that I plan to take Tim there for a weekend away at some point in the near future.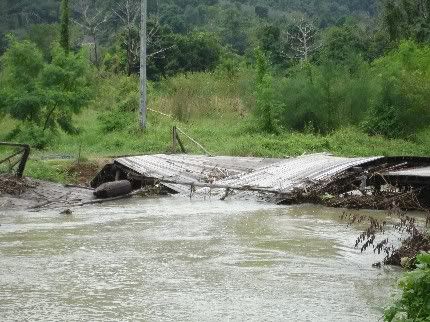 swollen river from the floods near Khao Lak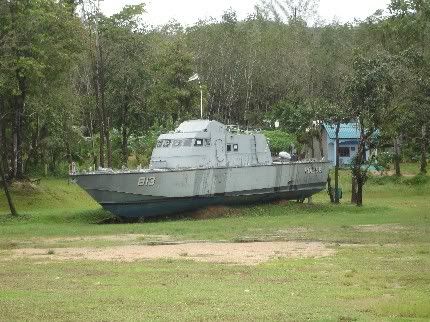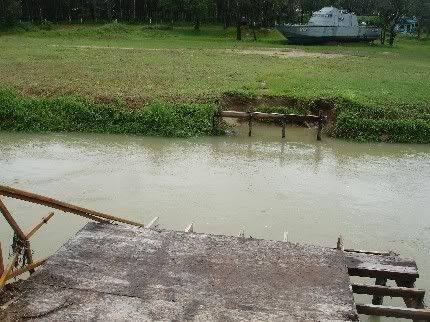 Royal Thai Police patrol boat which was thrown to this location by the 26 December 2004 tsunami; it's around 2km inland now and is being left in place as a reminder of the tragedy — more people perished in Khao Lak than anywhere else in Thailand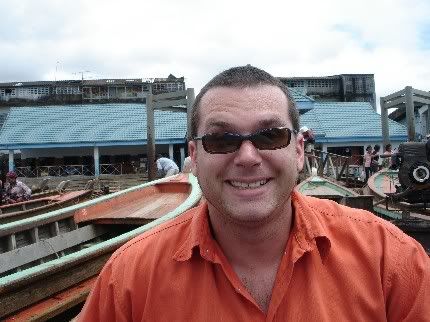 Ben doing his best Jack Nicholson impersonation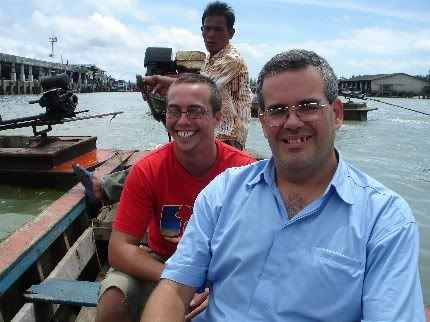 Mark and Mark in the back of our longtail boat to Burma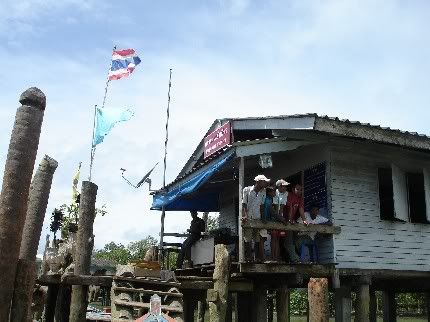 Thai Immigration checkpoint on the Ranong side of the strait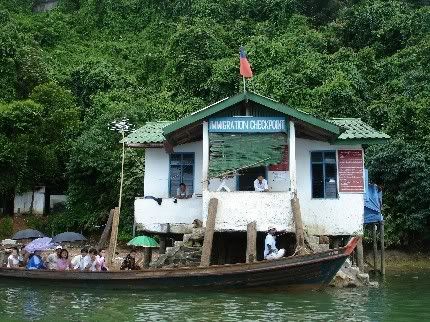 Myanmar Immigration checkpoint on the Kawthung side of the strait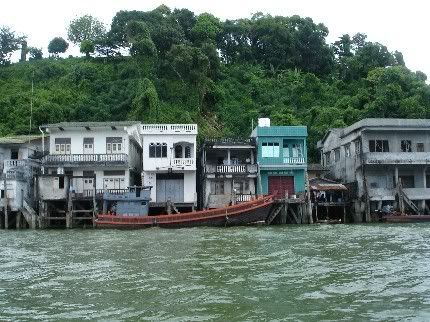 Kawthung (Myanmar/Burma) waterfront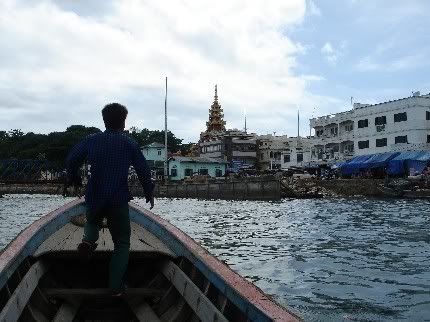 approaching the pier in Kawthung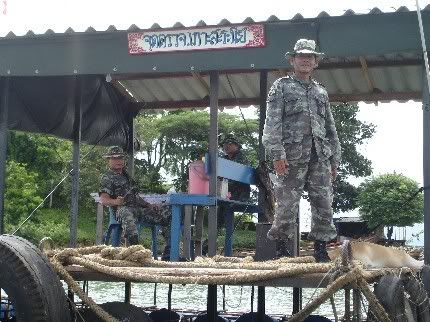 on our way back to Thailand, Royal Thai Army soldier make sure we don't have any illegal Burmese workers stowed in the bottom of our boat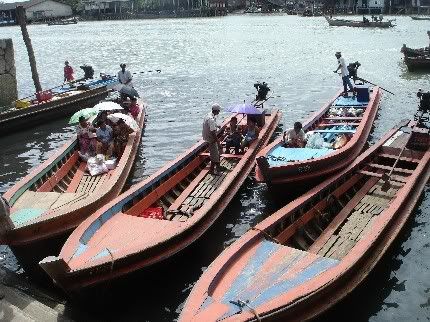 the longtail boats tied up at Ranong harbor; you have to walk across the rows of boats when you dock to reach the pier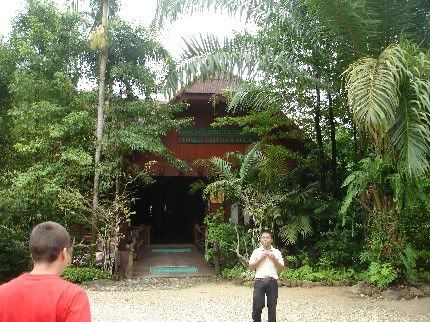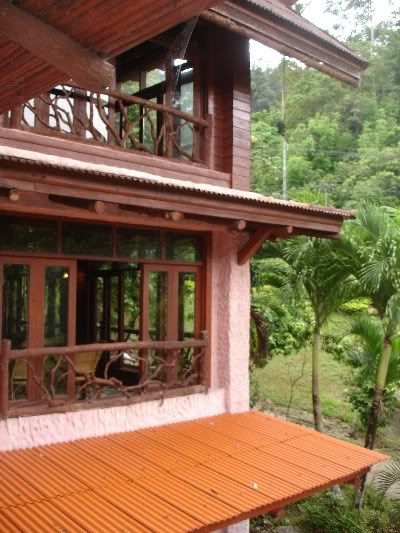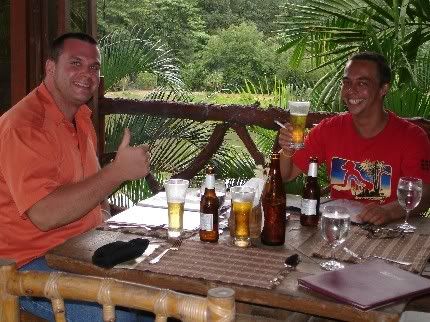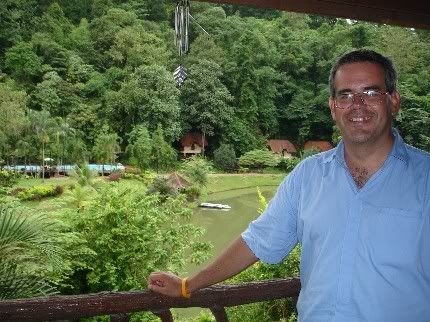 we had an excellent dinner at the Kuraburi Gardenview Resort, north of Khao Lak

We finally got back to Chalong after eight in the evening to find Tim was hosting another party for several of the Thai students of our free English classes. Ben's wife Nit was there, as were my two sisters Nadee and Jiab with Joe and Opat from the class. They were singing along to Thai karaoke VCD's and the remains of a picnic dinner were still on the living room floor (along with numerous bottles of beer and Thai whiskey). Mark, Ben, and I joined in and it soon became an all-night affair. With drinking and the weather being a concern, we let everyone stay the night and set them up with blankets and pillows.

Sunday morning, I woke up to find everyone asleep on the living room floor, except for Nadee and Jiab who were sharing the small bed in the back bedroom. It really reminded me of a typical Thai household where the entire family sleeps in the same room together. I tried to quietly begin doing some laundry (it had been piling up all the previous week as Tim and I had been so busy) and to clean the kitchen. But my sisters soon woke up and shooed me away, insisting they would clean up. The others began waking and soon everyone was helping out with either laundry or dishes while Tim remained asleep in the master bedroom. The place was spotless by the time she woke up and she was really pleased!

We all spent most of the day talking, eating, watching a movie ("The Incredibles") and a VCD (footage of the tsunami aftermath), and looking at photos. It really was nice to be surrounded by so many genuinely nice people. I'm especially enamored with Nadee and Jiab who worship the ground Tim walks on and really seem to look up to me as well. They aren't you're typical Thai girls who don't know anything of the world outside — Jiab, particularly is very well-informed (we were having a fairly extensive conversation about the breakup of Yugoslavia the other day!). Anyway, I had a nice time hosting everyone during the entire weekend but Sunday was definitely the most enjoyable.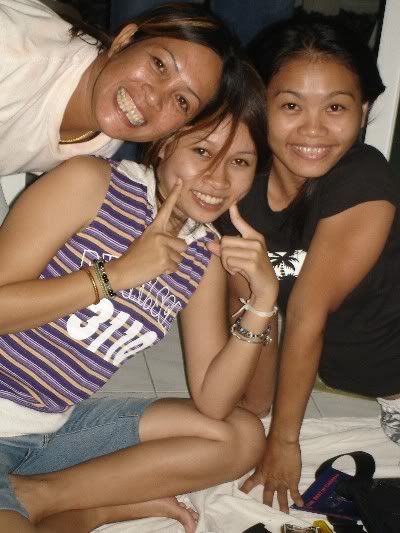 sisters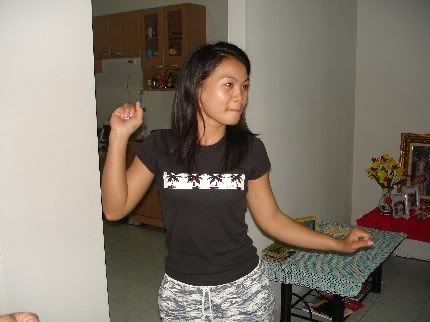 the usually very shy Jiab dancing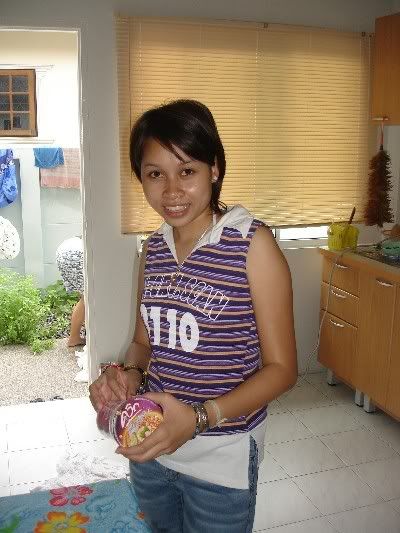 Nadee helping to clean our kitchen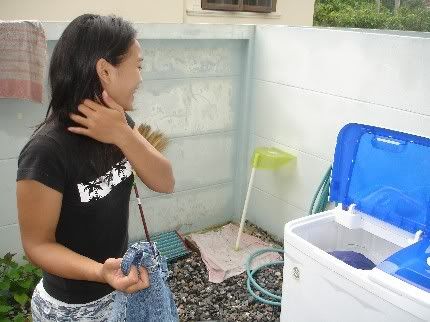 Jiab manning the washing machine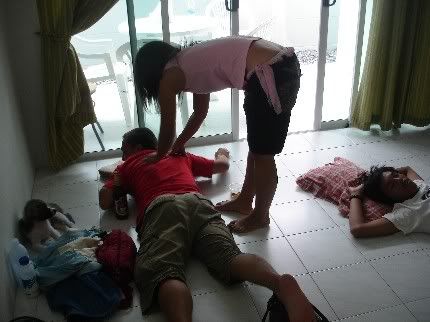 Jiab trying to wake up Mark as Joe sleeps on into the afternoon; the dog is a new addition to the "family"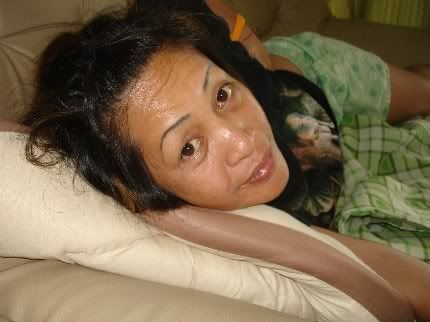 Tim wakes up from a well-deserved nap taken while we were watching a movie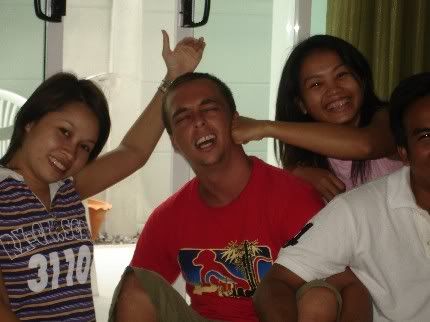 Nadee, Mark, Jiab, and half of Opat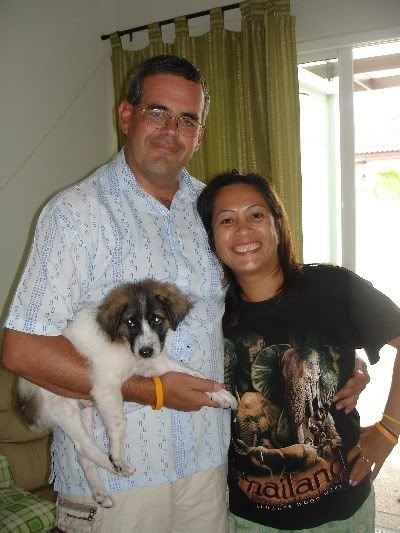 the gracious hosts of the weekend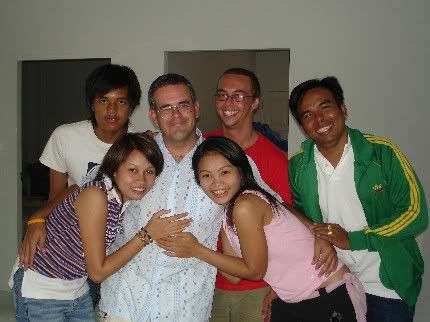 Joe, Nadee, me, Jiab, Mark, Opat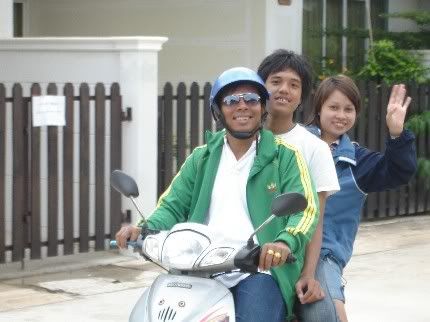 Opat, Joe, and Nadee wave goodbye on their way home (after 3pm on Sunday after they'd arrived sometime Saturday afternoon)