After almost eleven months of living on Phuket I have yet to take a decent photograph of the Heroines Monument. Located at the Tha Rua Intersection north of Phuket City, this marble plinth with life-sized statues honors the two heroic sisters, Jan and Mook, who were instrumental in the defeat of the Burmese in 1785.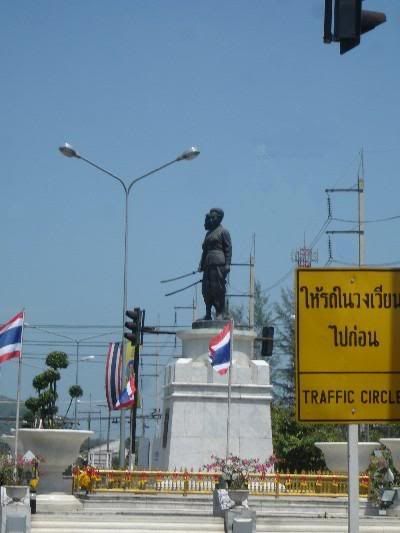 After the Burmese destroyed the Siamese capital of Ayutthaya (พระนครศรีอยุธยา) in 1767, King Taksin reunified the country and drove out the invaders. The Burmese later outfitted a fleet to attack the southern provinces and carry off the populations to slavery in Burma. Kunying Jan and Mook are credited with organizing the successful defense of Phuket against the Burmese invaders by disguising hundreds of women in army uniforms and parading them through town. This tricked the enemy into believing that they were troop reinforcements from the new capital at Bangkok and they withdrew their attack.

To acknowledge their bravery and leadership, King Buddha Yodfa Chulaloke (Rama I) conferred on Kunying Jan the honorific appellation Thao Thep Kasattri — a title of nobility usually reserved for royalty — and her sister became Thao Sri Soontorn. The event is well-known throughout Thailand and is Phuket's greatest historic claim to fame. The monument was built by local residents and dedicated on May 23, 1967. A fair commemorating the bravery of the two sisters is held each year on March 13th.

Part of the reason that I can never get a halfway decent photograph is that the monument is at the center of a very busy traffic circle. The traffic here is so chaotic that it's all we can do to avoid having an accident as we maneuver around the monument. Sometimes I have my camera ready but Tim always seems to serve or jerk the motorbike just as I snap the shutter. I suppose I could ask her to pull over sometime or I could attempt to walk out to the monument from the side of the road. But to do so would risk being flattened by one or another of the many speeding motorbikes, cars, tuk-tuks, trucks, and busses that whiz through here night and day...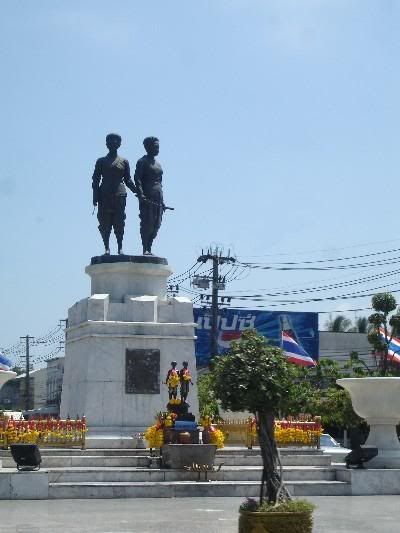 I did get sort of "lucky" with one of the photos that accompany this entry. As a way to reduce traffic accidents here, the police are beginning to set up cones around the intersection during the morning and afternoon rush hours which force traffic to travel up the various surrounding streets before they can make a turn. It was a little less chaotic, but not by much so I was able to snap a couple of fairly non-blurry photos of the monument. They're the best I've been able to take in the many times I've tried. Believe me...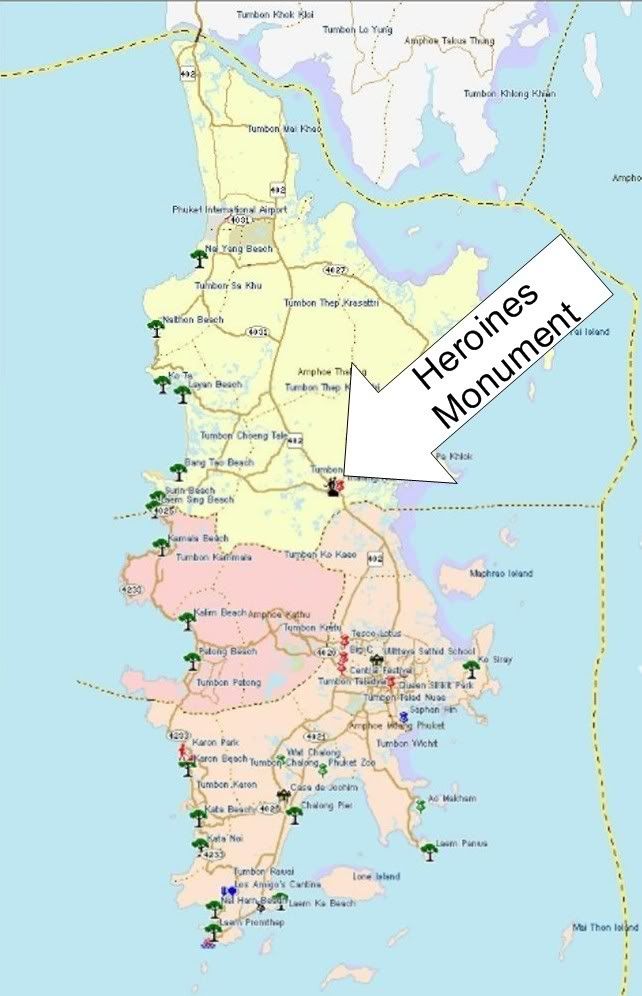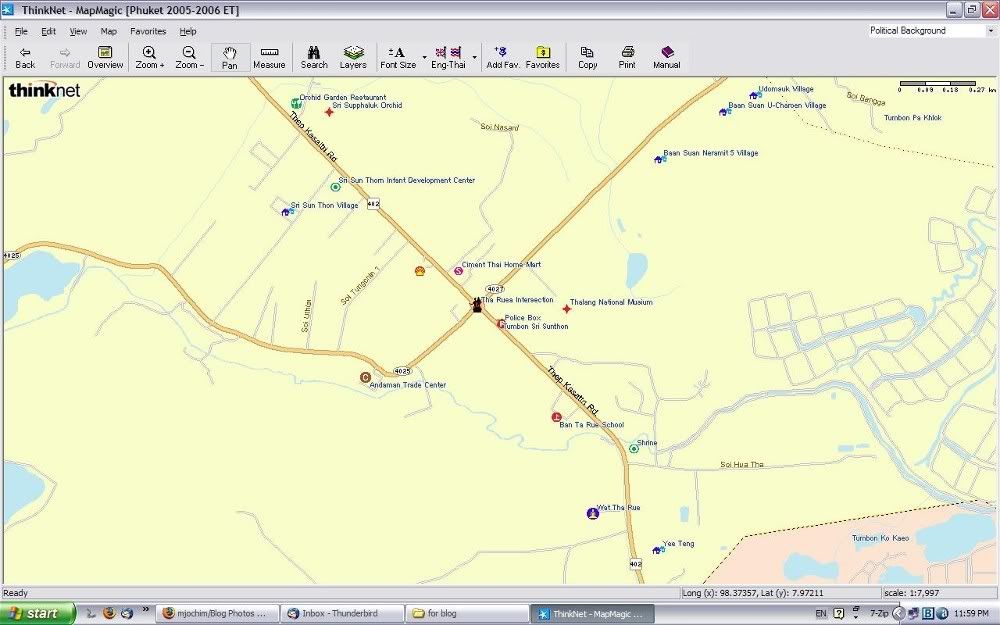 Click on the maps for a more detailed view.