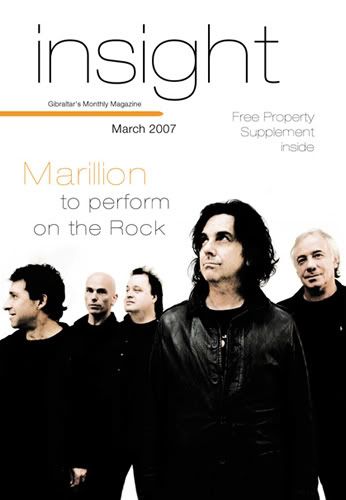 An interesting article about Marillion has appeared in the March issue of Gibraltar's Insight Magazine about their upcoming tour-opening show on the Rock:
MARILLION: set to take Gibraltar "somewhere else"
Our part of the world is privileged in many ways, but the hosting of big-name concerts is sadly not one of them. When major acts visit the Iberian Peninsula, it's rare for them to venture further south than Madrid, with major acts that have visited Gibraltar having done so on a special, one-off basis (Santana back in 1992 or Elton John joining the Tercentenary Celebrations). All that is about to change on 14th April, when British Rock/Alternative/Progressive act Marillion visit the Rock.

Not only will this be the first time that Gibraltar has been included as part of a major Rock ensemble's international tour, but it also represents the inaugural date of an extensive European trek in support of forthcoming album "Somewhere Else". Fans can witness Marillion's legendary live prowess in London, Paris, Rome, Munich or Budapest, but they'll have longer to wait: Things kick off here at the Tercentenary Sports Hall, the first time these new facilities have been used for an event of this type.

Marillion's frontman Steve Hogarth has already performed locally, having delivered a stunning, stripped-down solo set at a packed St Michael's Cave during last year's National Week celebrations. The concert on 14th April is, however, something altogether different: a spectacular light show, large stage and suitably impressive sound to accompany the band's uncompromising, uplifting, thought-provoking and powerful music. Steve Hogarth is, quite simply, one of the most talented singers and songwriters in the world. Behind him stand four musicians who perform with more flair and conviction than the majority of other acts. Keyboardist Mark Kelly is — if you'll excuse the pun — instrumental in delivering the special flourishes that make the identifiable Marillion sound, while bass player Pete Trewavas and drummer Ian Mosley provide the solid rhythmic backing for the sometimes complex layers. But it is guitarist Steve Rothery, in particular, who commands the musical focus with his inimitable style and breathless solos. If you're not familiar with Marillion's work, I dare you to turn up at the gig and not be amazed at the sound emanating from Rothery's guitars.

Of course, despite already having released a staggering nine albums with Hogarth at the helm (the tenth is issued just days prior to the Gibraltar concert), misconceptions still exist. Fish quit way back in 1988, after just four albums, so don't expect to hear "Kayleigh". Contrary to the "80's Prog-Metal" tag they are sometimes still wrongly lumbered with, Marillion are a relevant, groundbreaking and brave Rock outfit who continue to evolve, with even touches of Radiohead or Keane ensuring that the Rock blueprint continues to venture into new musical territories.

So, what can the Gibraltar audience expect? If you're already a fan, you know that the recent "Marbles" album (including singles "You're Gone" and "Don't Hurt Yourself", which reached the top end of the UK Charts) is a masterpiece, but then again the same can be said of brilliant records like "Seasons End", "Holidays In Eden", "Anoraknophobia" or the epic "Brave". If you're not yet a follower, give them a chance and you won't be disappointed. How could you go wrong with a band that Classic Rock magazine describes as "an enduring and undervalued treasure" or whose sound The Guardian defined as "highly dramatic, emotional, dynamic stuff"? "There are a million bands who kick ass," says Kerrang magazine, "but just a few, like Marillion, who really move people."

Remember: to those who already know Marillion, they're something special; to everyone else, they're a love affair waiting to happen.

Marillion play live at the Tercentenary Sports Hall on Saturday 14th April. The concert is organised by the Ministry of Culture and Planet Projects, thanks to the support of the Bonita Trust, Party Gaming and Ocean Village. The support band is Super Wookie. Tickets, priced at £17, are on sale at Vijay and Marble Arc or through www.marilliongib.com.
Another sampler track from
Somewhere Else
:
Somewhere Else
[Disclaimer: mp3s will be posted for a limited time and are for evaluation only — if the music moves you buy their albums, support the musicians]
Preorder
Somewhere Else
from
Townshend Records
.