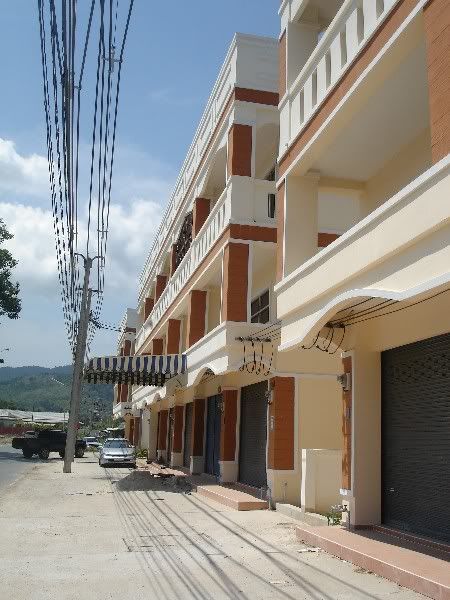 As I wait for my wife and son to wake up following last night's birthday party (it's already noon!), I thought I'd post a few photos of our new shophouse. I'm a bit anxious to get over to Big C and buy some cleaning supplies so I can tackle the dust today but that can wait as we have plenty of time...

In this first photo, our house is to the far right. There's a fairly wide space between the two buildings which is nice because we have windows (and more ventilation) along that side and there's a walkway to the rear. It's all gravel now but I'd like to put in soil and plant grass with a teak or flagstone path, possibly lined with leafy tropical plants (Mark the gardener!). I'm thinking about purchasing an awning similar to the one seen farther down the row to offer shade for outside dining for Tim's eventual restaurant (in a later entry, I'll post a few photos of a shophouse restaurant similar to what she plans).

The ground floor of the house is a wide open space with a balcony from the second storey about halfway towards the rear. The washing area (for a Thai-style kitchen, etc.) is actually outside at the back — typical for most Thai homes — and there's a small restroom under the stairs.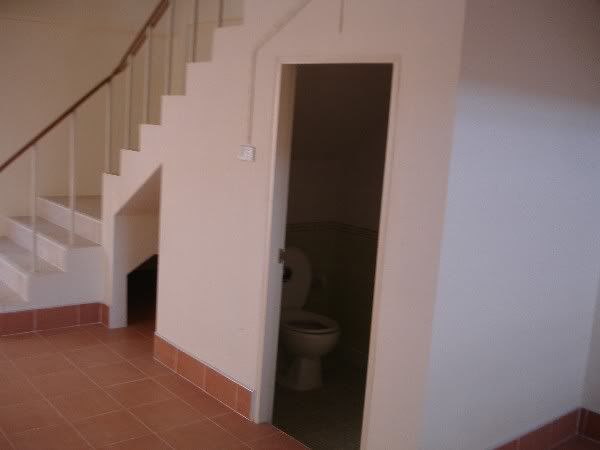 The ground floor restroom is tiny — just a small sink and a toilet. The small storage alcove under the stairs can either hold cases of beer or serve as a spot for Alex to spend his "time outs" (just kidding!).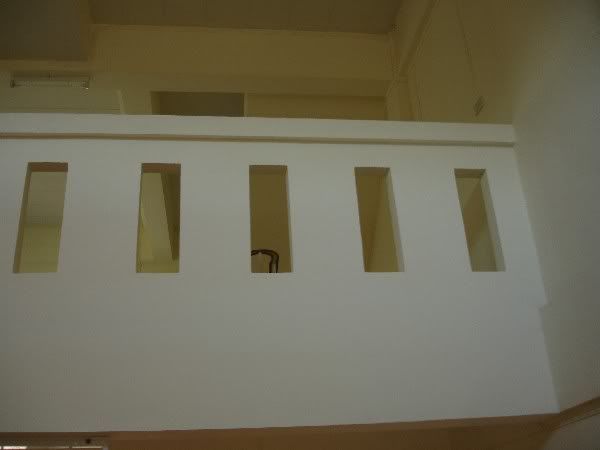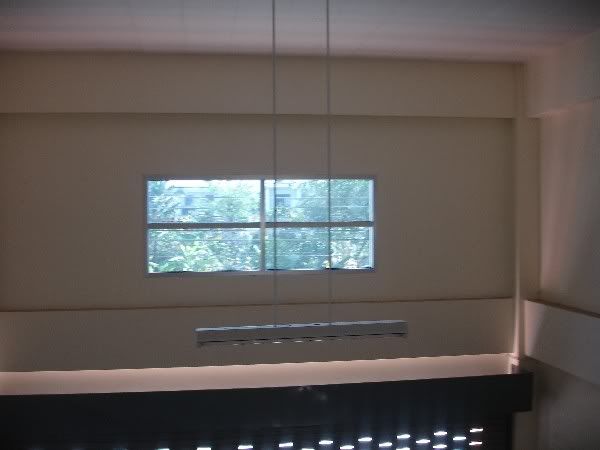 These photos show the second-floor balcony from the ground floor and the view towards the front from that balcony. The half-sized second storey is actually fairly spacious with two windows in the rear corner opposite of the stairs. I can see putting a wraparound sofa here and television for a family room. One of my first purchases towards the house will be a tall ladder so I can get up to those ledges above the front entrance. You can probably see the heavy accumulation of dust that I'd like to scrub away as soon as possible. Also, that's the only way to get to the second level's small outdoor balcony (where I want to place a flagpole and see if it's suitable to use as storage space).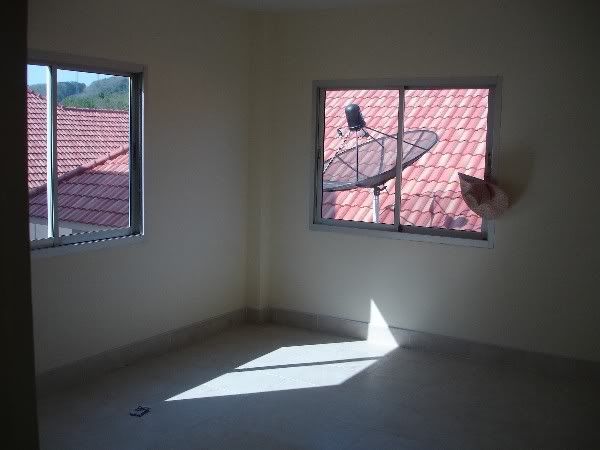 This is the back bedroom on the third floor which is larger than it appears in this corner shot. The houses behind us are a bit close but at least they're lower so nobody can look in the windows! Also, they aren't close enough where Alex would be able to climb out on their roofs. We forgot to ask the landlady if cable television was available in the area as I absolutely refuse to give UBC/True Move any money for the unreliable satellite hookup (which doesn't work at all when it rains and judging from last year's lengthy rainy season that would be more than 60% of the year!). There's a large bathroom with shower between the two bedrooms and space enough as well for a small sitting room on the third storey.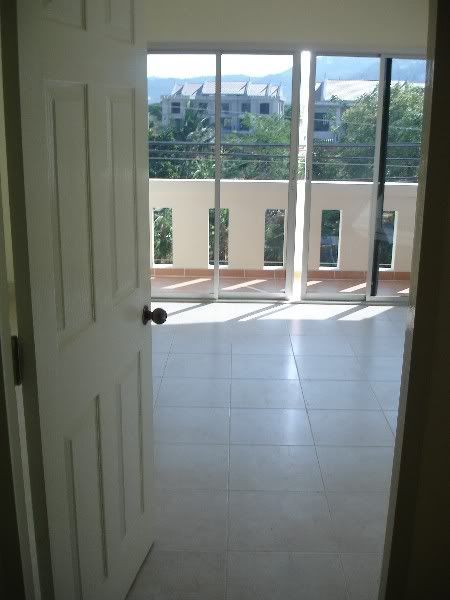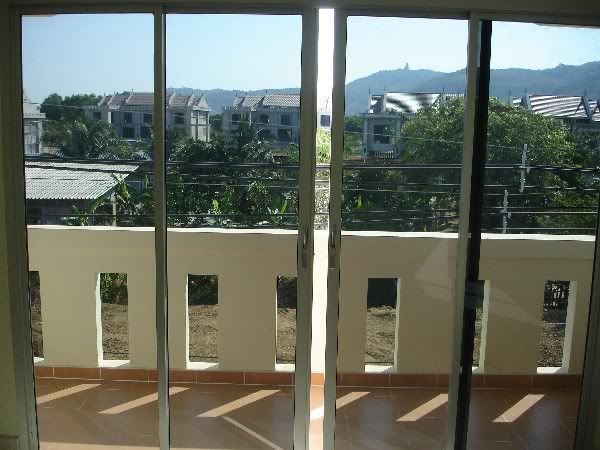 A couple of shots of the master bedroom on the third floor. Finally a house with a decent view! I'm looking forward to having a nice comfortable chair on the balcony where I sit with my laptop writing out lesson plans... Tim suggested that I get a small refrigerator to put in the room or on the balcony so I wouldn't have too go far to replenish my ever-present mug of cola.


I need to start making a list of items we'll need to purchase for the house. We plan to get moved into the home before we begin to worry about the restaurant. Since it's completely empty — there's not even a kitchen counter — we really are starting from scratch. That's both liberating and overwhelming at the same time. At the bare minimum, we'll need a large refrigerator for downstairs (I'm starting the fridge fund now — any donations are gladly accepted; just view it as assuring you'll have a holder for the icecold beer you'll be enjoying at our combination housewarming/Songkran/Tim's birthday party next month!) and the aforementioned sofa (although we can get by for now with a few Thai-style pillows on the floor). Oh yes, a new wardrobe as well as a bed (I'm really going to miss our rental bed).

Now, if I just get my wife out of bed so we can get out-and-about. I think I'll suggest Home Pro rather than Big C...